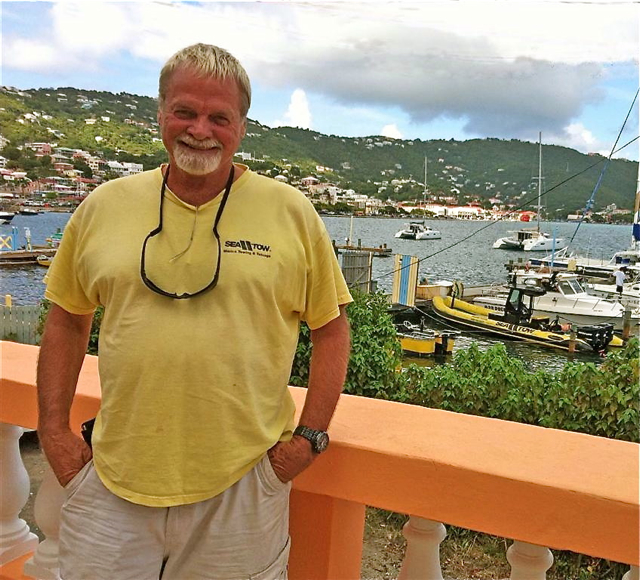 When Capt. Alan Wentworth moved to St. Thomas five years ago to start the Sea Tow Virgin Islands franchise, he was glad to get out of the Rhode Island winters, he says.
That's not an unusual comment for folks relocating to the islands. But what has turned out to be more unusual than the weather is the nature of the work here.
Wentworth has years of marine experience on Narragansett Bay, running the Sea Tow franchise there, and managing a 200-boat marina and other marine enterprises. But before reaching the Caribbean he had never had occasion to rescue a passenger ferry.
His work these days runs from blazing foot trails on Hassel Island, a voluntary pursuit, to diving on four ferries in as many years, towing a disabled sea plane, replacing or repairing underwater pipes, to various beach cleanups or midnight tows, off rocks or out of gas. And that's for openers.
"I still have a home in Rhode Island," Wentworth says, "but I'm happy here."
He employs a team of three divers headed by Capt. Anne Allard, as well as a boat and captain on St. Croix.
Wentworth is a tall, relaxed kind of guy, in spite of his round-the-clock occupation, or maybe because of it; he's been at this for years. He appears to take things in stride, an essential trait in his business.
He talks about the water, the land, the wrecks, and, a little, about himself and his family. Since he and his wife Laurie moved here, they have quickly become part of the local marine community, as has their daughter, Catherine, who works in restoration on Hassel Island for the St. Thomas Historical Trust,
Sea Tow operates out of his home and office, a large orange building overlooking the Frenchtown marina, where he keeps his fleet.
Shortly after moving here in 2007, Wentworth was awarded the government contract for the massive clean up of the Hassel Island, which took about five months. Sea Tow removed more than 40 tons of debris and trash from the shore line.
And he's still at it.
In fact, Wentworth says, "I just finished the last work on the Hassel Island trail yesterday, clearing it with my Bobcat."
Wentworth is no stranger to cleanup operations. The well-being of the planet is part and parcel of his work. He and another Narragansett mariner, Capt. Ed Hughes, formed Clean the Bay, a not-for-profit in 2005, after doing a survey and finding hundreds of tons of debris. The two took their findings to the proper authorities and wound up with a $150,000 NOAA grant for a bay cleanup.
Wentworth has attacked Hassel Island with that same energy. His expertise with salvage and cleanup earned Sea Tow a contract last year for wreck removal operations of uninsured vessels that have been displaced and damaged as a result of natural disasters within the territorial limits of the territory.
The project, a daunting one, began in July this year.
"We removed 30 vessels in four weeks," Wentworth says with a pleased grin.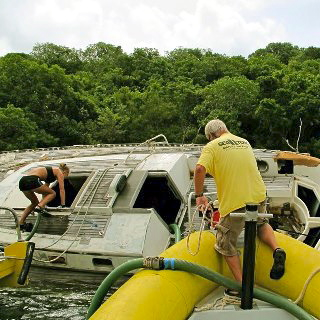 They have removed boats damaged during Hurricane Earl in 2010 from Cruz Bay, Great Cruz Bay, Stevens Chocolate Hole, Charlotte Amalie Harbor, Honeymoon Bay, Krum Bay and Hassel Island.
They hauled the boats to a staging area at the deep water pier on Water Island, Wentworth says, where contractor Billy Shea crushed them with his Bobcat. Then they were picked up for disposal in Puerto Rico or New York.
The most challenging of his experiences, or at least the most dramatic, has been the diving on and rescue of the ferries, a delicate task.
"We use air bags to bring the boats out of the water carefully, so as not to damage the local environment, the reefs," Wentworth says.
The four ferries were:
• The American Pride in 2007, grounded on Triangle Reef, which had to be cut in two before being put on a barge and sent back to its home port in the British Virgin Islands;
• The Westin Breeze, which hit a reef in 2010 and had to be towed to Tortola for repairs;
• The Road Town Fast Ferry Makana, which earlier this year took on water and began to sink with no passengers aboard
• But by far the hairiest was helping rescue passengers from the 89-foot Royal Miss Belmar, which collided with the rocks of Great St. James at 10 p.m July 4, 2011, with a full passenger load.
"We were one of the first on the scene," Wentworth says. "We were able to get closer with our main vessel, the 33 foot Aquascan. It's a rigid-hulled inflatable boat so it can get closer than other boats. There were six- to nine-foot seas that night. I had one crew member and we'd fill the boat up, transferring them to the other nearby boats, and go back for more. We were there all night."
Late Saturday, Wentworth returned from a day of transporting cleaning crews to Hassel Island for the first day of the annual Coast Weeks cleanup, where he volunteers his services. He says they removed several hundred pounds of trash, mostly plastics, from the shoreline.
Charles Consolvo, longtime St. Thomas Historical Trust board member who is intimate with almost every brick and stone on the island, says of Wentworth: "We wouldn't be where we are in the restoration work on Hassel Island without Alan's energy, his passion and his generosity. Whether as a paid contractor or donating his services, Alan is always there. If I need to take someone over the island on the spur or the moment, he's there. He really cares."
Sea Tow is an international corporation, formed in 1983 with U.S. Coast Guard licensed captains available nationwide. It offers services from towing, jump starts, fuel drops, prop disentanglements or most any other sea mishap.
"We're like the AAA of the sea," Wentworth says. Yearly memberships are $165.
In April, Sea Tow launched its free app offering users fingertip access to up-to-date marine weather forecasts, alerts and radar; tide tables and graphs, GPS location, speed and heading and a link to 24-hour on-water assistance. It is not necessary to be a Sea Tow member to use the service. More information on the company is available online at http://www.seatow.com/news-and-events/press-releases/view/28449