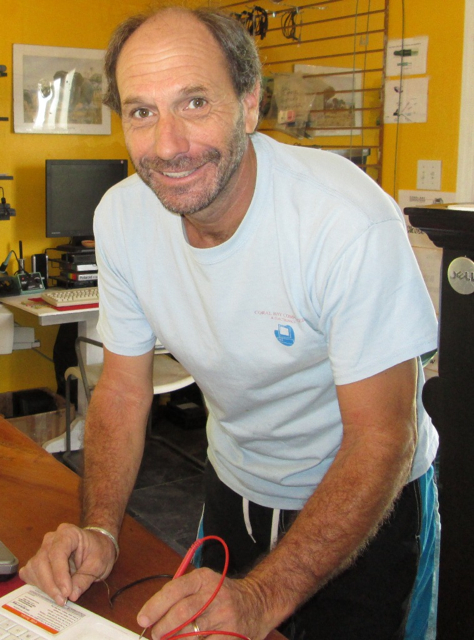 Coral Bay Computers and Electronics provides one-stop shopping for computers, other electronics and computer repairs from its store in the Cocoloba Shopping Center in Coral Bay.
For a small shop, it has an extensive list of items, with many of them refurbished and for sale at low prices.
"We cater to tourists and locals," owner Doug Weaver said.
When printers die in the middle of a big job, Coral Bay Computers can sell you one. The television poops out just before the big game? Coral Bay Computers has several big screen ones on hand. Drop your phone in the water? Weaver said the SIM chip probably survived even though the phone didn't. He can take out the SIM chip and put in in another phone.
He sells DVD players, refills ink cartridges, has computer paper on hand, and even has a couple of used microwave ovens for sale. With power outages a problem, Weaver said it pays to have a corded phone that works without electricity. He has them too.
Instead of trashing things like desktop and laptop computers, Weaver fixes them for resale. Coral Bay Computers might also be the best place to go for smaller items like cell phone chargers, iPod cords and the like. They're all items that are easily lost, and buying them at Coral Bay Computers saves shoppers a trip to St. Thomas to buy them at stores there or a wait for mail order delivery.
Cellphone chargers are a brisk-selling item, Weaver said, because they're one item tourists often forget to bring. He said they also often forget the cables that connect their electronic devices.
"All cables at $10," he said.
Electronic devices don't last as long in the islands as they do in non-tropical climates, often falling prey to corrosion and moisture and dirt, so Weaver focuses on keeping dead electronics out of the landfill.
"We take e-waste," he said.
E-waste is not supposed to be disposed of in landfills because it contain a stew of toxic chemicals, including lead and mercury, which can end up in the soil and the groundwater. Weaver suggests people drop them off at his store. He doesn't pay for them, but this service helps keep the chemicals out of the environment, and he usually manages to find usable parts among the trash. He either finds a use for them with his St. John customers or sells them on eBay.
On the repair side, Weaver and his part-time technician, Derrick Love, are on the job.
A circuitous route took Weaver, 50, to this point in his life. Born in Virginia, he dabbled briefly in humanities and philosophy at a community college before heading to California. He worked in quality assurance for electronics manufacturer Plantronics before returning to Virginia. He then started an historical renovation and restoration company, but after a few years of that began selling wine for Virginia-based companies Prince Michel and Ingleside.
He got his first taste of the Caribbean while visiting a high school friend who owned the Jolly Roger Hotel and Restaurant on nearby Tortola.
"After that first visit, I said I would buy a sailboat and move to the Caribbean," he said.
He did just that in 1999 aboard his Tartan 33, Runaway. He quickly snapped up a bartending job at Shipwreck Restaurant, but in 2005, he and the woman who would become his wife, Clare Bole, opened Donkey Diner restaurant in Coral Bay.
The restaurant was closed in the afternoons, and Weaver began repairing computers. In 2008, they sold Donkey Diner and Weaver moved Coral Bay Computers to a small space in Cocoloba Shopping Center. He moved across the courtyard to his current shop in 2009.
Along the way, he and his wife became parents to Audie, now 2½.
The computer store, his part-time job as a villa maintenance person and the occasional sailing trip keep Weaver busy.
"Spare time? I have a 2½ year old," he said, laughing.
Coral Bay Computers is open from noon to 6 p.m. Monday through Saturday and can be reached by calling 1-340-244-5393.