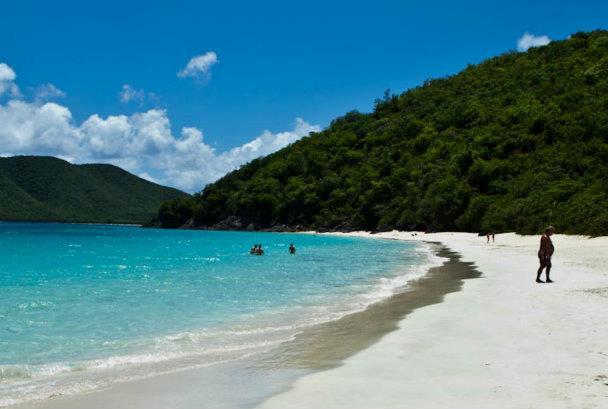 With the May 15 closure date for Maho Bay Camps on St. John less than five months away, owner Stanley Selengut and his staff asked for ideas on where its equipment and furnishings will find a new home.
"We want to keep as much as we can on-island," Maho Manager Adrian Davis said.
Maho is especially interested in hearing from groups such as nonprofit organizations. Selengut added that he hopes that volunteers will band together to identify St. John residents with a need for some of the items.
Maho is folding its 114 tents May 15 because Selengut was unable to get a new long-term lease from the owners, the Giri-Giri Corp. The resort has been open for 37 years. The adjacent 12-unit Harmony Studios, which is on land owned by Selengut, will also close because it uses the Maho restaurant, beach and other infrastructure.
Selengut said the closure will put about 60 people out of work. He said the impact will also be felt at companies like car rentals, restaurants, the ferries and airlines that deal with Maho guests.
Davis said that while no one involved with Maho knows what will happen to the property, over the past several months surveys and environmental assessment reports were done on the property as buyers complete their due diligence.
"It's extremely close to changing hands but we have no clue," Davis said.
Knowing that the lease on Maho's land might run out, Selengut opened Concordia Eco-Resort about 20 years ago, he said. Located on the island's southeast tip, it has 42 units. He said he'd like to expand it but a Coastal Zone Management permit for an additional eight units expired while Selengut waited for the economy to improve so he'll have to request a new permit. However, Selengut said, the process would take at least a year and, at age 83, it's hard for him to think long term.
Selengut said he is thinking ahead to the day when he's gone and that he'd probably sell Concordia to a person who shares his vision for the environmentally friendly resort.
Davis said that whatever can be recycled from Maho into items usable at Concordia will happen before items are given away. The quantities are vast.
"We have 152 two-burner propane stoves," Davis said.
In addition to the stoves, the list includes bedding, mattresses, linens, chairs, table, propane tanks, an ice machine and refrigeration equipment.
In an email from Selengut that asked for ideas, he wrote that Maho will have to dispose of more than "500 mattresses, mattress protectors, pillows, blankets, chairs" and more than "100 tables, camp stoves, propane bottles, coolers, etc. plus countless linens, tools, tableware, on and on."
"I could organize a yard sale but these things might be a blessing in Haiti, a refugee camp or other places of need," Selengut said.
He wrote that he abhors waste. The campground set the pace for St. John's efforts in keeping items out of the landfill through the Trash to Treasure program that, among its numerous efforts, recycled glass bottles into decorative objects and old sheets into clothing and gift items.
However, with only 42 units, Selengut said Concordia can't support programs like Trash to Treasure currently operated at Maho.
"I'm going to try to move it to another resort," he said.
Selengut asked that any charity or organization willing transport and distribute the goods contact him at stanley@maho.org.