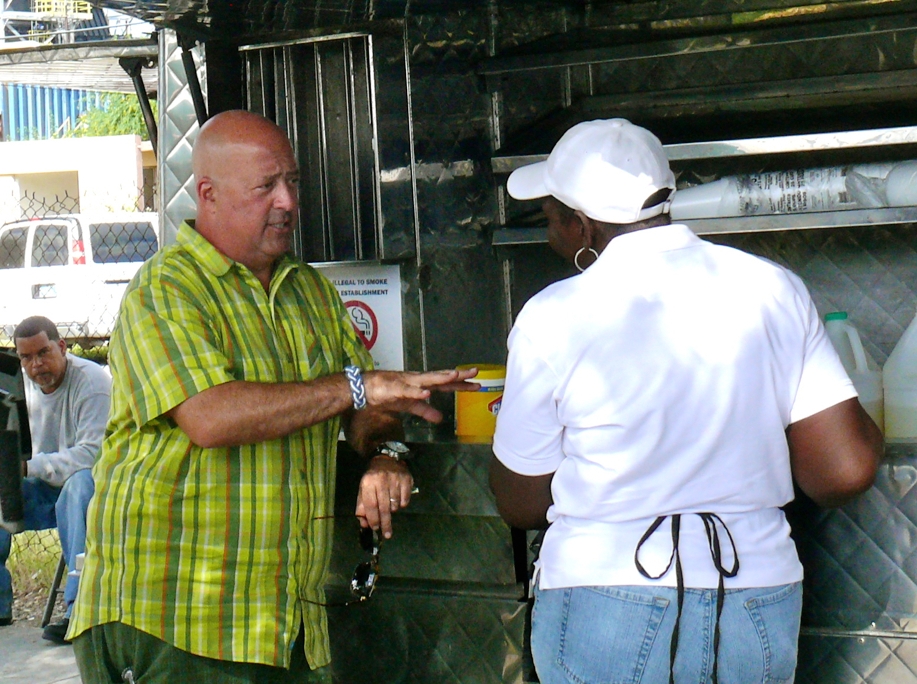 St. Croix has a great food culture that tourists may often be missing, believes Andrew Zimmern, the well-known host of The Travel Channel's adventurous eating show. The popular host with the readily recognizable friendly smile, smooth-shaved head and jolly round features spent the last week exploring the ins and outs of the big island's food culture, from land crabs to bull foot soup, for his show Bizarre Foods America with Andrew Zimmern.
"This is my gazillionth trip to St. Croix," he said during a short interview before a shoot with the Thomases' food van outside of the V.I. Water and Power Authority. Zimmern said he used to visit St. John a lot with his mother when he was younger and would always come to St. Croix for a four or five days.
"St. Croix has changed a lot over the years but the thing that fascinates me the most about it and the thing that makes great television is that it is a real island with real people and a real culture, definable culture," he said. "I love St. John. We, every three or four years or so, find ourselves renting a house on that island and taking a family vacation. There is a great state park, a couple of fantastic hotels and restaurants. Cruz Bay is a great little town. But I wouldn't call it a hotbed of indigenous or local cultures, right?"
Bigger islands, like St. Croix, with a local population and a workforce that is not tied entirely to tourism, make for a better food culture and better television, he said. And St. Croix delivers with an array of really good, distinctive and unusual food options. And local restaurants, hotels and farmers could all benefit by bringing more of it to the table, Zimmern believes.
"I don't understand the tourism business but I do understand the food business and, for my taste, I do not want to come down to the islands for a half-baked version of French or Italian food. You see it in every island. St. Croix is not alone in that regard. There is no island that is immune to that disease," he said.
"I think people need to stay true to themselves. I want to eat the meal that I had last night under a mangrove tree with some guys who foraged for all their food. I want to eat that meal at my hotel. It doesn't mean the hotel is bad. Just these guys put five or six species of local reef fish onto the grill with some fantastic crab rice and some grilled local octopus and some homemade local hot sauce and limes. It's remarkable. That is what I want at my hotel," he said.
"There are no pates on the menu at the hotel. I don't understand that. I think pates should be on the menu at every hotel. Local food is a selling point for tourism. … I can have a club sandwich at home. But a great grilled fish sandwich on fry bread with a little tamarind sauce, I mean that is what I was served in someone's home the other day. It was a fantastic sandwich," he said.
That sort of focus could help bring visitors and put people to work, he suggested. "It would rejuvenate the economy here, putting farmers back to work, communities back to work. Keeping local things local. We stopped at a farm stand on Queen Mary's yesterday … GLG Plants and produce, with a husband and wife who are teaching their sons how to farm. That to me is the economic model for success here."
He put a good word in for some local restaurants he felt really brought some great local flavor.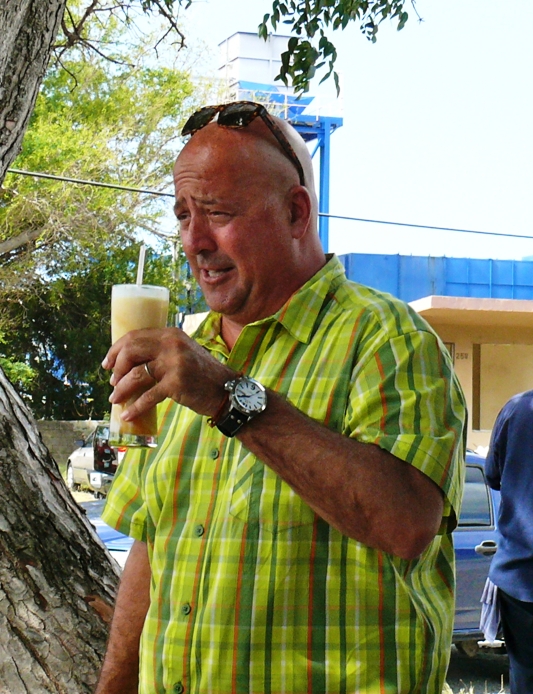 "Yesterday I just had chicken up the road at the (La Reine) Chicken Shack. I mean, their rice, those side dishes. Those beans are a miracle. I want that chicken dish at my hotel. And you know Rukie's Rotis, the roti truck on Queen Mary's? That guy has five or six types of rotis, and dobbles and things that are just fantastic," he said.
The Thomases' food van is at the top of his list of great eating spots. "It's not just the best bull foot soup on the island, but the best soup, period!" he enthused during his photo shoot at the van Tuesday. He had a serving of stewed saltfish with stewed okra and some sweet potato and coconut dumplings – a variation on doucana.
"The combination of the saltfish and the sweet potato is fabulous. … It's so ridiculously good," he said.
"If you put this on a plate in a fancy faux Caribbean restaurant in Miami, we'd be writing about it for years," he said.
He endorsed the Thomases' take on local drinks, imbibing some sorrel and gingerbeer mixed, and a "man-drink" – a healthful concoction of peanut punch, sea moss, soursop, oatmeal and pumpkin.
"The sorrel is sweet and fragrant. It is like jumping into a field of wildflowers," he said.
Using food as a vehicle, Zimmern said he hopes to tell a larger story about life in the islands.
"Take two characters we've met here: Captain (Thomas) Daly, who has a boat that sails out of Christiansted and Mr. and Mrs. (Isaac and Claudette) Thomas, whose truck is here. When you start to unravel their story, you start to hear about the challenges that they have had in life," he said.
Hurricane Hugo hits and "Mr. Daly stops being a dry cleaner because his business is gone and his customers had to leave. He has a family to feed, so he starts his food truck." Daly lost his first boat in a fire and had to slowly work to get the next boat running, Zimmern said. "These are the types of stories and people that are emblematic of a life on an island that is fragile in many cases," he said.
From a different angle, the story of St. Croix's Senepol cattle tell a story about the modern economy and our food supply, he said.
"The story on Senepol cattle is about the people here who have seen their herd shrink and their business for fresh meat shrink. And they are almost out of business because of cheaper meat from the states. So they have to start to sell their breed as real livestock for people around the world to see how great their heat resistant species is here in the islands. That's a great story!" he said.
"Seeing those kinds of cultural stories and how they turn out — this is a wonderful place to tell stories and I adore it. I love St. Croix. It's beautiful and the weather is great. But the people are what make it," he said.
Asked what the most bizarre item he's seen, in keeping with the theme of the show, Zimmern said that was in the eye of the beholder.
"What is weird to some people is not weird to others. Nothing we eat here in this show is bizarre for any Crucian. But … if you've seen how they take land crabs out of the ground. The process would be shocking for someone in Kansas," he said. "What is bizarre? The dictionary definition is unique and interesting. There is no pejorative connotation to it and I take great pleasure in riding that thin line."
On Wednesday the Bizarre Foods crew will be hitting some more local food spots, sampling some pasteles and other Latin fare favored by St. Croix's Viequense population at Villa Morales and other well-known local spots according to members of the show's ground team. Then it's off to the next location for Zimmern and crew.