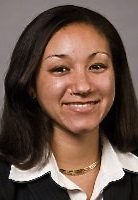 St. Thomas native Monique Liburd has been named one of the nation's 40 best young legal advocates in an annual program sponsored by the National Bar Association.
Liburd and the other "40 Under 40" winners will be honored at the association's award gala July 27 in Miami.
Liburd is the daughter of Levi Liburd of St. John and Anna Fisher, also known as Nancy Fish Liburd, of Los Angeles. Born on St Thomas, Liburd spent her early years on St. John as well as summers and later as a court extern for the U.S. District Court of the Virgin Islands. She earned her law degree at the University of California, Berkeley, School of Law and is now an associate trademark counsel for Google Inc.
The Nation's Best Advocates award is presented annually by the NBA and IMPACT, a nonprofit organization whose mission is to engage and build a network of young professionals of color to foster civic engagement, increase knowledge of the political and legislative processes, and enhance economic empowerment opportunities.
The National Bar Association was founded in 1925 and is the nation's oldest and largest national network of predominantly African American attorneys and judges. It represents approximately 44,000 lawyers, judges, law professors and law students and has more than 80 affiliate chapters throughout the United States and around the world.
The award recognizes talented individuals age 40 and younger within the African American legal community who have achieved prominence and distinction, professionally and philanthropically, according to a news release from the NBA. Selected nominees represent a cross-section of legal professionals: solo practitioners, government lawyers, judges, academicians, corporate counsels, young elected officials, and other lawyers using their degree in innovative ways.
Nominees were chosen based on their achievement, innovation, vision, leadership, and legal community involvement.
"The NBA is proud to partner again with IMPACT for this year's 40 Lawyers Under 40 event," said said NBA President John Page. "We applaud the awardees for their significant accomplishments and contributions towards the legal profession and community. We look forward to honoring these awardees during our 88th Annual Convention in Miami and most importantly, we look forward to sustaining our mission of service and ensuring that justice is achieved by all."
More information about the award is online at www.NationsBestAdvocates.com. Additional information about the National Bar Association can be found at www.nationalbar.org, and IMPACT's website is at www.IMPACT-dc.com.