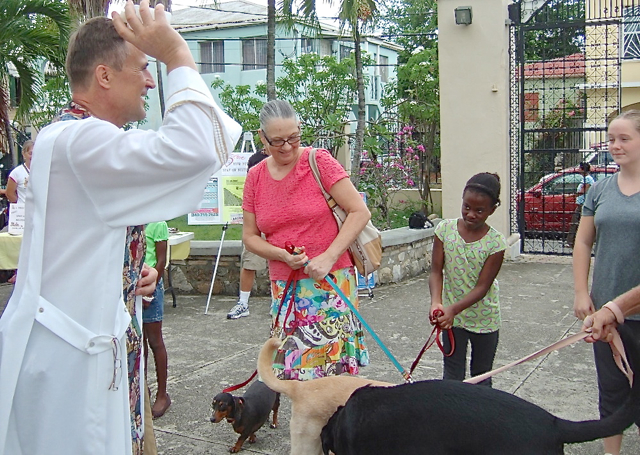 For more than a decade, people and their pets have gathered for the annual Blessing of the Pets ceremony at Holy Cross Catholic Church on St. Croix. This year the crowd was smaller than usual but the animals and their masters upheld the tradition of impeccable manners.
While the Rev. John Juszczak spoke from the steps of the church, people and the pets sat quietly with only a few excited giggles from children when a new animal arrived. This year, Juszczak spoke about animals as "part of the covenant of God" and how they bring joy to humans and help fight loneliness.
"Blessed are the creatures that draw us towards your love," he said.
Juszczak then called the owners with their animals forward to the bottom of the church steps and performed the formal blessing. As he sprinkled holy water and intoned the blessing, humans tried to bow their heads and keep their pets still.
After the ceremony there was a happy free-for-all – dogs sniffing, jumping and playing – while owners tried to untangle them. One very big dog puppy-bowed to an older, smaller dog, and the little dogs bounced around on their short legs.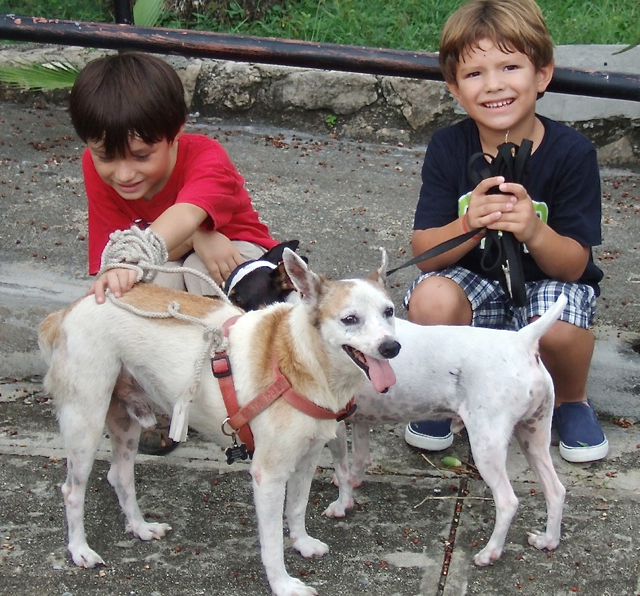 People surrounded Trestan Hermon, 7, hoping for a closer look at his little white bunny, "Murray." Trestan's father Kenneth Hermon, pointed to the rabbit and said "that's my grandson."
Juszczak led the event with help from the students. Parents from St. Mary's Catholic School sold hotdogs, sweets and drinks to make money for the school.
Two St. Mary's students, standing on the steps of the church with Juszczak, read sections from the Bible. Maya Griffith, 8, read a passage from the book of Genesis about the beginning and "great creatures of the sea," "every winged bird" and "creatures that move along the ground." She and her mother brought their dog, "Surprise" to be blessed for the second year.
Griffith said she was a little nervous about reading in front of a crowd.
Chenille Hendricks, 12, said she was selected to read scriptures because her teacher thinks she is a good reader. Hendricks also brought her dog to be blessed at the ceremony.
After blessing the animals, Juszczak talked about respecting and preserving nature in general to sustain animal species and mankind.
"It's great to have animals around us because they are such great creations of God," the priest said.
The new pope, Francis, who took his name to honor St. Francis of Assisi, "is really emphasizing nature," Juszczak added.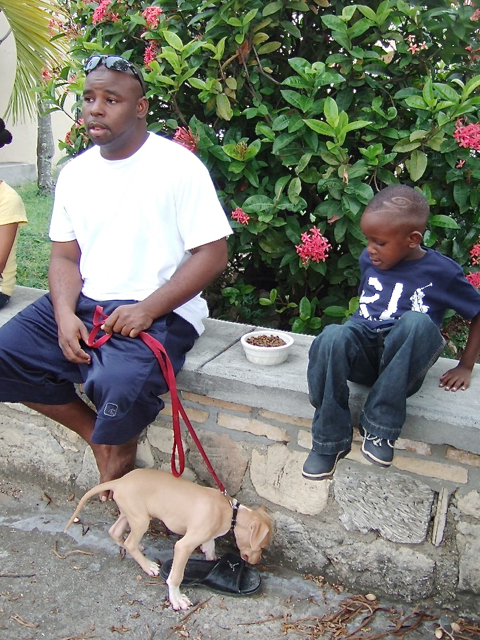 St. Francis of Assisi is the patron saint of animals. He is honored by religious denominations around the world on Oct. 4 and by the annual Blessing of the Pets every year on the first Saturday of October. St. Francis was born in 1118 in Italy is the founder of the Franciscan men's order.
Also attending the event were animal rescue and education organizations with literature and representatives who answered questions about pet care. Donna Cascarelli of Pets from Paradise said her community-service intern, Prescott Walker, was learning how to work with injured and disabled pets.
They talked to people about adopting "Ozzie," a hit and run victim rescued by a "good Samaritan," according to Cascarelli. The fluffy white dog is healing from his injuries and may have found a permanent home, she added.
Therese Donarski of the V.I. Humane Learning Center had a group of students who wandered through the audience with coupons for free spay/neuter services from the Fixit Foundation. The St. Mary's students won a movie-theater coupon when they registered 10 pet owners. There are more prizes as more pet owners commit to neuter their dog or cat. The program is open to all schools on St. Croix, Donarski said.
The Fixit Foundation is a non-profit organization with the mission to eliminate pet overpopulation. Fixit was founded in 2009 and is funded by donations. It is based in Norfolk, Va. Its mobile "Spay Waggin" visits various neighborhoods to perform the surgeries. They can be contacted at 1-340-715-7629.