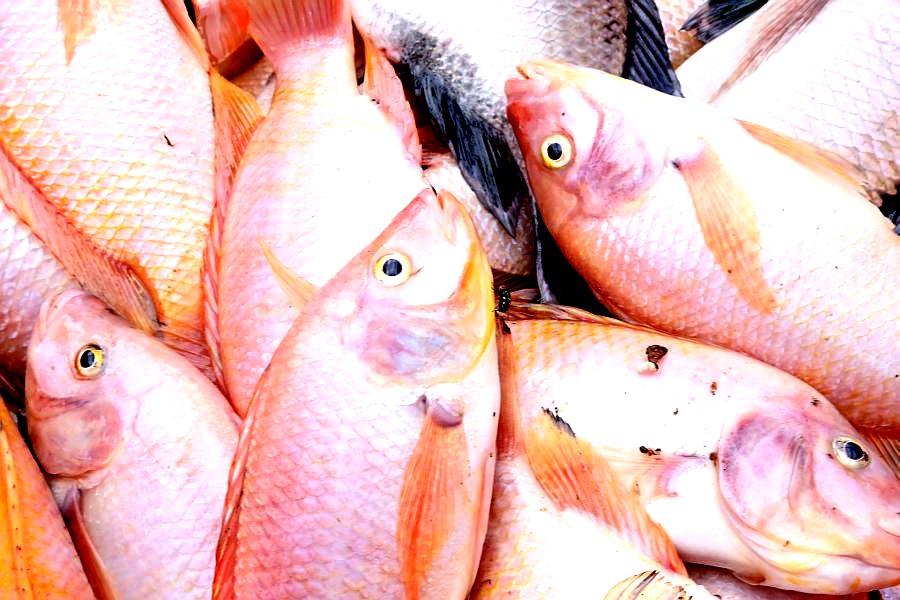 After being nationally recognized a few months ago for its innovative aquaponics program, Ivanna Eudora Kean High was dealt a blow Wednesday after students discovered that all the fish housed at the school's tilapia farm on St. Thomas had been poisoned.
Students coming in to the farm early Wednesday afternoon found hundreds of fish strewn across the floor of the tilapia farm.
Staff members checking the tanks later said that an oily film was seen floating on top of the water.
The only container left intact was not hooked up to the system and contained approximately 100 hatchlings that Kean science teacher Kirk E. Lewis would be now be used to rebuild the farm.
"It is so disappointing, coming in and seeing this," Lewis said Wednesday. "But this program is too important to our school and our community to just give up. We have to start over, and I think the best response now is to show that we are not going to let this keep us down."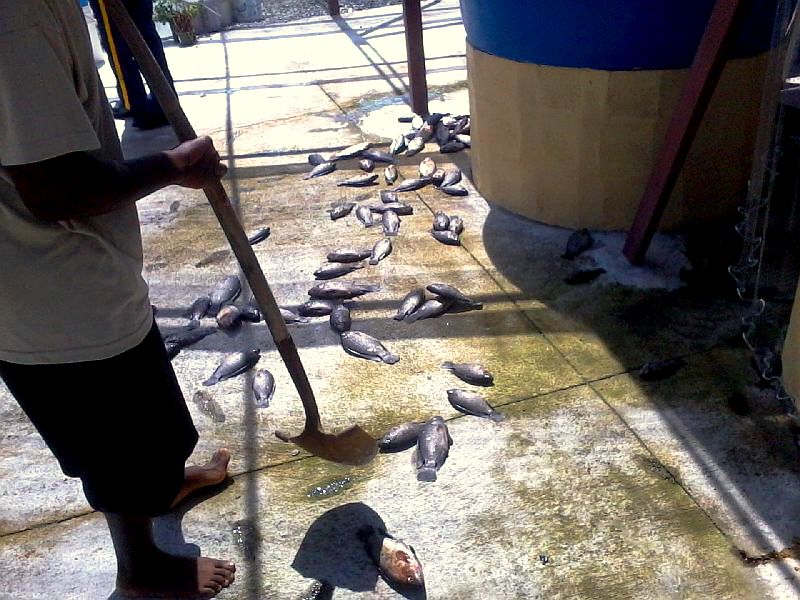 Kean Principal Sharon McCollum said she was alerted by Lewis around noon Wednesday about the situation.
"Mr. Lewis came to me to tell me that fish were dead, and I thought he was speaking only of two or three fish, but then he went on to explain the magnitude of it," she said.
"I got up, I went over there and I'm dismayed. I'm shocked and, initially I had to leave the area because I was just so overwhelmed and disappointed," McCollum said.
By approximately 3 p.m., the fish were piled in containers and Kean staff were in the tilapia farm cleaning up the floors and hydroponic garden, which Lewis said only had a few vegetables growing in it when the farm was vandalized.
McCollum said that whoever broke in came over the top of the fence on one side of the facility. The nets on top of the fish tanks were cut, while the poisonous substance was poured into the farm's filtration system.
Barbed wire was put around the top Wednesday afternoon to prevent further damage overnight.
McCollum said that a police report had been filed and that Planning and Natural Resources staff would be coming in Friday to run chemical tests on the fish and water samples from the tanks. Kean High opened the farm in April 2012 with approximately 45 hatchlings, and Lewis said the population had grown to about 800 full grown fish.
The school held its first harvest in March, and Lewis said Wednesday that Kean would have to wait until at least June for the remaining hatchlings to reach full maturity.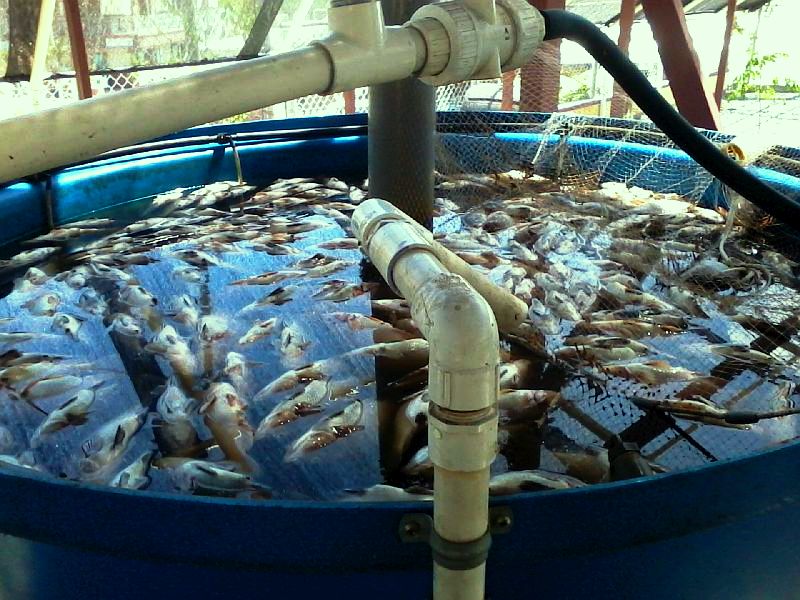 As news of the incident broke Wednesday, various government officials decried the vandalism, with Acting Education Commissioner Donna Frett-Gregory even speaking about it while testifying during a Senate hearing on St. Thomas. In a statement released Wednesday night, Frett-Gregory said she was outraged by the vandalism, and asked for support from the community to "make sure incidents such as these don't happen again."
"It is incredibly disappointing and outrageous that someone would deliberately compromise an initiative that is so beneficial for our students, who have invested much time and effort into developing the farm, raising and harvesting the fish and creating a sustainable agriculture and aquaponics program that just received national acclaim from First Lady Michelle Obama and the U.S. Department of Agriculture, which spotlighted the program in its recent fall newsletter," Frett-Gregory said.
Frett-Gregory added that "heinous acts such as these must not be condoned" and said that she would be putting her "full trust" in local law enforcement officials as "they work to catch whoever is responsible for this horrible act."
Gov. John deJongh Jr. was also briefed earlier in the day by McCollum and described, in a statement Wednesday evening, Kean's tilapia farm and aquaponics program as a "source of much pride for the school population."
"It is truly unfortunate that persons determined to wreak havoc on our schools would force their way on the campuses under the cover of darkness and bring about the destruction of facilities which educate our children," deJongh said.
The governor and Frett-Gregory also spoke Wednesday about a separate burglary at St. Croix's John H. Woodson Junior High School, which was discovered early in the morning as staff and students began arriving on campus.
"The complete and utter destruction of the farm coupled with an overnight burglary at Woodson Junior High School on St. Croix is demoralizing to our students and school administrators," deJongh said.
A statement issued by Education Wednesday morning indicates that only the main office at Woodson was hit by burglars, who took supplies ranging from laptops to radios. In the statement, the school's principal, Vaughn Hewitt, said that no classrooms on the campus were broken into and that the school was operating normally.
In both incidents, school officials said they were working with the V.I. Police Department to review surveillance footage of the campus from Tuesday evening into Wednesday.