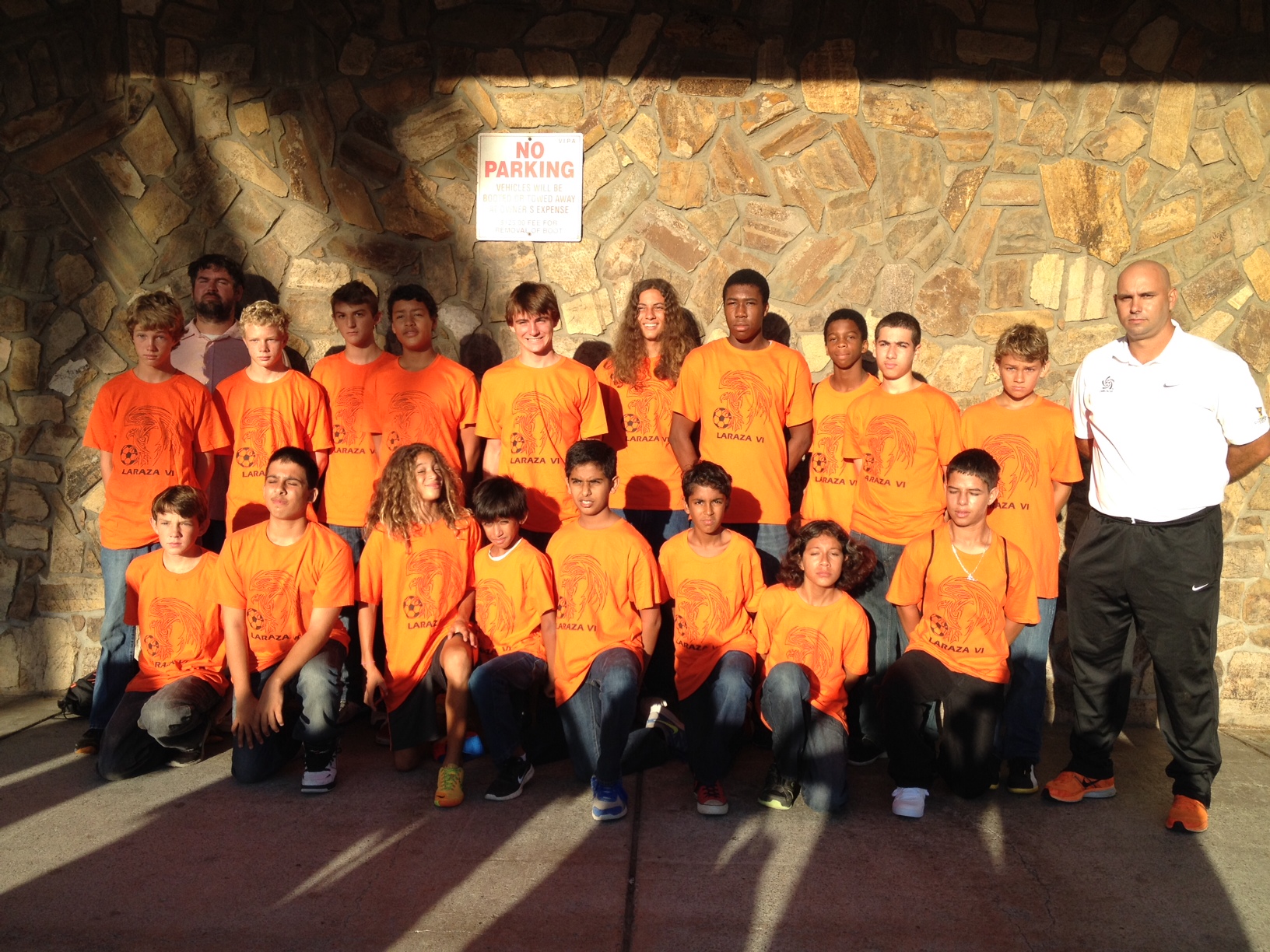 Thirty five young soccer players, representing all four Virgin Islands, traveled to compete in the Dominican Republic in a four-team tournament hosted by the Casa de Espana Football Club. The boys, ages 15 and under, have been practicing and competing together internationally for a little over six months.
The team of 19, traveling from St. Thomas, St. John and Water Island, coached by Joe Limeburner, a former member of the USVI Men's National Soccer Team, and Joey Elger, a varsity soccer coach at the VI Montessori and Peter Gruber International Academy, joined a team of 13 players from St. Croix. The St. Croix players are coached by Brian Blaschka, whose contacts as a former major league soccer player led to a special invitation to participate in this particular Dominican Republic tournament.
The St. Thomas, St. John and Water Island boys are members of the LaRaza Football Club. The club supports grassroots, youth soccer as well as a men's team that plays in the V.I. Soccer Association league.
The young Virgin Islanders and their coaches have competed recently in several international soccer games and tournaments. The teams have played in Tortola, at the Disney Cup International Youth Soccer Tournament presented by AS ROMA in Orlando, Florida, and have represented the U.S.V.I. as the first U15 USVI National Team at the FIFA sponsored CONCACAF tournament in the Cayman Islands in August. This has led to additional invitations and many opportunities for the young team to develop.
The game play consisted of two 25-minute halves with team A finishing second and team B fourth. Highlights in the A teams match against Casa de Espana included a shut out by goal keeper Nick Colon, a goal by Ramses and a solid defensive game by Evan Jones, ending in a 1-0 La Raza win.
Their second game against Escuela Bauge, which is considered the top club in Santo Domingo, saw Nick Colon save a penalty kick and Luke Patrie score a goal that was later ruled out for a foul. The game ended in a 3-0 loss for LaRaza.
The B team's first match was against the Santo Domingo's top club Escuela Bauger. It saw Grant Farrell and Seidon Nemeth collaborated on a solid striking play, which beat two defensive players and ended in a goal strike by Farrell from 15 yards out that was saved by the Bauger keeper. Escuela Bauger won 8-0. The Casa de Espana match saw Nemeth again in the mix, this time with Jesse Wyatt whose throw was flicked on by Nemeth off a Casa defender and into the net. Unfortunately the midday sun and the back to back game play took its toll on the boys and they gave up two late game goals, resulting in a 2-1 loss.
For further information on the LaRaza Soccer Club or how to become a sponsor, contact Joe Limeburner at 626-0760.