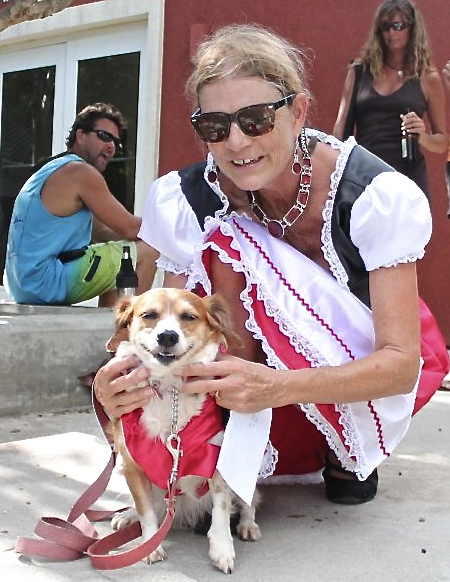 Some 100 colorfully clad pets and their owners roamed the Humane Society campus Sunday for the Humane Society of St. Thomas' 2013 Barktober Fest.
About 300 people mingled with the stars of the show: dogs of all sizes and breeds running back and forth, cooling off in inflatable pools and showing off lively costumes.
Local vendors supported the event, setting up colorful stalls offering a range of services, from solar power technology and telecommunications to massage services. Food stalls boasting Halloween themes, mostly set up by Humane Society members, sold drinks and snacks to people taking a break from the bustle.
The annual Barktober Fest, now on its 10th year, started as a fundraiser for the Humane Society. It has since attracted crowds, mostly families, that gave the event another purpose.
"It's not so much about raising money this time but about opening up to the children," said Humane Society director Rhea Vasconcellos. "It is a family-oriented event that's inexpensive. The kids get to view the animals while having hotdogs and hamburgers."
Last year's Barktober Fest was held at a beach, which, according to Humane Society board director Joe Aubain, limited the number of shelter animals they could display to about six animals, compared to the 30 they are able to display at the Humane Society's grounds.
"What's important about this event is we get people who haven't been to the campus yet, and we get to show off all the animals available for adoption," said Aubain.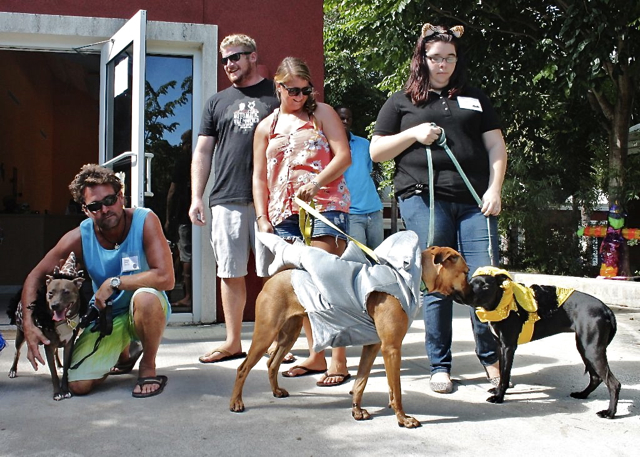 The different pet contests were a hit with children and adults. The funniest pet costume category displayed canine contestants in imaginative costumes, including a shark, a giraffe, a bumblebee, and a Wonder Woman who promptly slipped out of her suit after the contest.
Signing up for best pet/owner combo were teams dressed as an Alpine rescue unit, twin Red Riding Hoods, and Star Wars characters featuring a canine robot and a four-month-old baby dressed as Yoda.
The best kisser contest showed pet owners getting affectionate licks from their pooches for extended periods of time.
Barktober Fest also featured a scarecrow-making station for children and guided tours through a "haunted" trail that wound around the campus. The No-Flea Boutique, the Humane Society's second-hand goods store, was also in operation.
Toward the end of the event, attendees lined the parking lot for a much-awaited highlight: a canine demonstration by the V.I. Police Department's K-9 unit, led by Lt. Elton Grant. Officers Ecedro Lindquist and Akeem Frett showed control over their canines, Ingor and Max, who successfully tracked hidden narcotics, obeyed commands in different languages, and apprehended an officer posing as a criminal.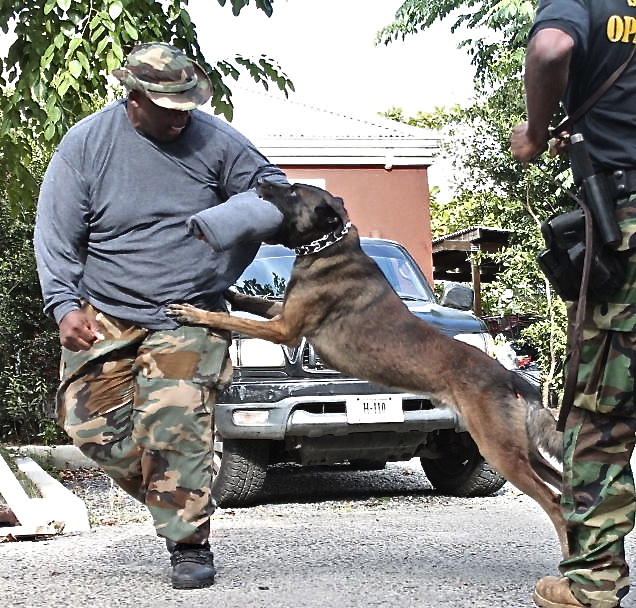 Grant also publicly thanked Michael Sheesley, owner of Virgin Arms, a local firearms store, for donating seven ballistic vests to the K-9 unit in May 2012.
"We are very grateful for Mr. Sheesley's donation," Grant told the public. "When our dogs go to apprehend a criminal, they could also put on a vest to protect them."
The donated vests provide police dogs Level 2 protection, the same as those worn by police officers.
"It was an opportunity for us to provide some protection to the dogs, who are also officers," said Sheesley, who recalled the shooting of a police dog in St. Croix just after he donated the bulletproof vests to the Police Department. "The penalty for assaulting a police dog is the same as assaulting a police officer."
Beyond raising funds, according to Aubain, at the end of the day it all goes back to showcasing the shelter animals, one of the most important functions of the Barktober Fest.
"I'm hoping we'll get 10 to 12 adoptions," said Aubain. "What we find is during the week, people will come back and say, 'I saw this dog at Barktober Fest.'"