The annual Veterans Day 5K/Virgin Islands Cross-Country Championships were held on the University of the Virgin Islands St. Croix Campus on a bright and sunny Saturday morning. Over a hundred runners in various age groups competed in distances of 1 mile to 3.1 miles on Nov. 2.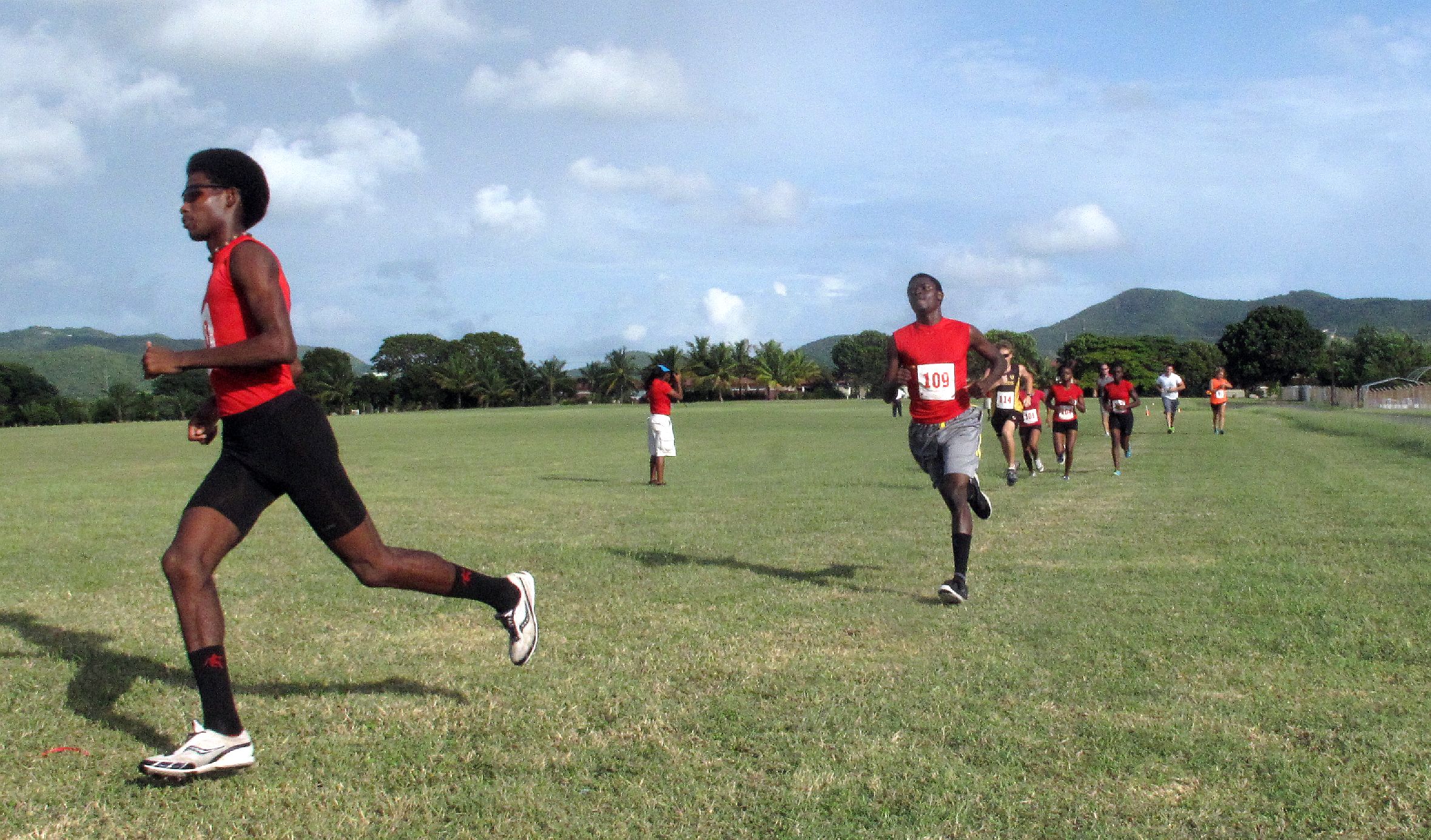 5K Open/Under 20/Masters (Male)…3.1 Miles
The three groups of males and females who ran this race got to test a few muddy spots on the course resultant from the overnight showers and perhaps representative of slower times.
Malique Smith of the St. Croix Track Club led the race from the start and wasn't challenged as he coasted to the finish with a time of 19:11. Smith, a sophomore at The St. Croix Educational Complex High School, won each of the races in the annual 4H/V.I.Pace Runners Cross-Country Series and his personal record is 17:57 for the 3.1 mile distance run on Oct. 23. Ducan Coles of Good Hope Country Day was second 23:18, and his teammate Lex Devlin was third in 26:20. Smith is also the St. Croix Cross-Country Champion.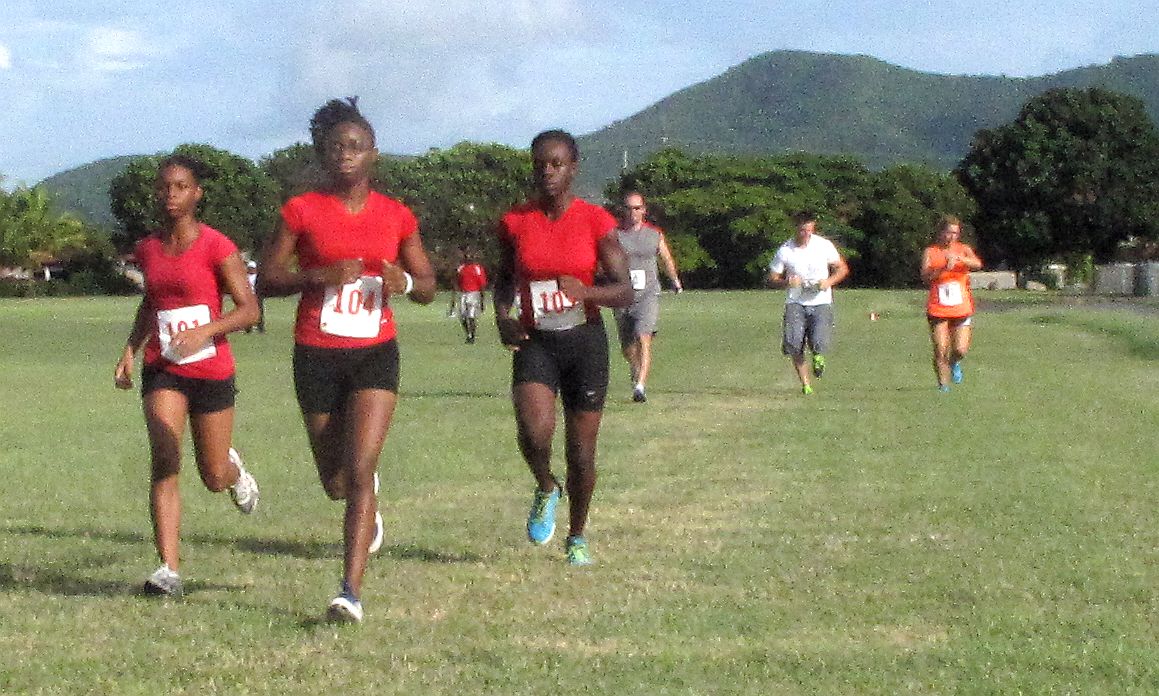 5K Open/Under 20/Masters (Female)…3.1 Miles
Deanna Roumo of the St. Croix Track Club (SCTC) took first place in the race with a time of 25:31. Her best performance on the course this year was 24:47 on Oct. 23 as she won two of the three 4H/V.I.Pace Runners series. Karen Dascent of SCTC finished second in 27:10 and Ashley Paddy, also of SCTC, was third in 31:33.
Open 3.1 Miles
Kelvin Benjamin of the St. Croix Track Club led the way with a time of 20:08; Chris Helman, unattached, was second in 28:04; Bryan Tichenor, unattached, was third in 31:37.
Under 16 Male…2 Miles
On what appeared to be a drier and faster course and after running the first mile in well under six minutes, Rodney Griffin of the SCTC took first place with a time 11:39 to remain undefeated for the cross-country season. His best time was 11:30 set on Oct. 23. Barthelemey Peter, also of SCTC, was second.
Under 16 Female…2 Miles
Rachael Conhoff of SCTC breezed through the girls under 16 2-mile race, which she ran in 13:39 seconds. She won two of three of the cross-country series; her best time was 13:04. Krystahl Gordon of the SCTC was second in 16:15; Nikkolya Cromwell, her teammate, was third in 16:53.
Girls Under 14…1 Mile
Mikaela Smith of the SCTC, the St. Croix Champion in the Elementrary School Junior Varsity 2 Mile, chose to compete in this race; she ran a personal and course record for her age group as she won the under 14 category for girls with a time of 5:53. It was the first time she has gone under 6 minutes in a mile race. Jusenia Tuitt of Claude O. Markoe, winner of the 4H/V.I.Pace Runners Elementary series Championships, was consistent with her time as she ran the mile in 6:43; her teammate Nabria Ritter took third in 7:09.
Girls Under 10…1 Mile
In a very competitive race, seven-year-old Michele Smith of the SCTC blazed through the one- mile course to take first place with a time of 7:16; Batoul Abdallah of Pearle B. Larsen took second place in 7:25 Aria Moses of Good Hope Country Day finished third in 7:29


Boys Under 14…1 Mile
Valence Modeste of the SCTC had to put in some work to hold off Angel Torres of Guanita Guardine and Elton Richards of Freewill Baptist, who was on the heels of Richards as Modeste took the top medal with a time of 6:09 for the mile. Torres finished in 6:19 and Richards clocked 6:26.
Boys Under 10…1 Mile
The boys from Freewill Baptist battled for the top three spots in this race as James Beck FWB took first place with a time of 6:48 to edge out his brother Stephen, who finished second in 7:04; Mike Dezon-Baumann of Good Hope Country Day was third in 7:06.
Notes:
1] The Virgin Islands Track and Field Federation has received its annual invitation to compete in the NACAC Cross-Country Championships to be held in Tobabo, Trinidad & Tobago in February. Consideration for forming a V.I. National Cross-Country Team for that competition is under review. Ideally, team selection would proceed with the evaluation of the results of the V.I. National Cross-Country Championships. Since no competitors from St. Thomas-St. John were able to compete on Saturday, that plan will be revised.
2] Clarification on the rules of the V.I. National Cross-Country Championships…the following categories were contested: Open male/female 3.1 miles; Master male/female (40 and older) 3.1 miles; Under 20 male/female 3.1 miles (all runners in this category run in the same race); under 16 male/female 2 miles (all the runners in this category run in the same race); Under 14 male/female 1 mile; Under 10 male/female 1 mile (separate races for girls and boys but under 14 girls and under 10 girls run in same race and under and the under 10 boys run in the same race).
The age of the athlete that designates what age-group he/she is in depends on how old the runner is on Dec. 31 of 2013.
3] Les Devlin, a student/athlete at Good Hope Country Day School, designed and built a Veterans Walkway to pay tribute to those who served in the armed forces. It was an Eagle Scout Project and is situated on the South of the Research and Technology Park on the University of the Virgin Islands St. Croix Campus.
4] Acknowledgements:
The UVI – St. Croix Campus | The 4H Program of the Cooperative Extension Service | The St. Croix Interscholastic Athletic Association | runners, coaches: Freewill Baptist School, Pearle B. Larsen School, Claude O. Markoe School, Alfredo Andrews School, Alexander Henderson School, Ricardo Richards School, Juanita Guardine School, Good Hope Country Day School, Eulalie Rivera School, Evelyn Williams School, AZ Academy, Good Shepard School, St. Croix Central High School, St. Croix Educational Complex School | The St. Croix Track Club | The Virgin Islands Pace Runners | The Virgin Islands Track and Field Federation | parents and volunteers | print and electronic media.
For information contact: The Virgin Islands Pace Runners: 643-2557 | http://virginislandspace.org | wallacewilliams@msn.com
Complete results for the 4H/V.I.Pace Runners Series can be found at: http://virginislandspace.org | http://www.eteamz.com/stxtc/ | http://virginislandstrackandfield.org