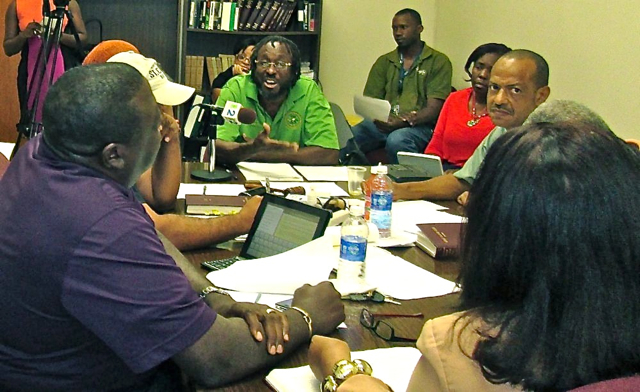 The St. Croix Board of Elections voted to authorize Supervisor of Elections Caroline Fawkes and elections staff to create a new mock ballot for demonstration purposes, during its regular meeting Tuesday.
Fawkes said the sample ballot they have to demonstrate the election system's brand new paper ballot digital tabulators only has two names on it. That, she said, does not really help voters in the Virgin Islands, where typically there are dozens of candidates from several parties for several different offices, from Legislature to Board of Education, on the ballot. Instead, she said she feels it should resemble a real V.I. ballot as much as possible.
Board members discussed various ways to set up a sample ballot, whether with fake names, names of vegetables or with some other format.
"The problem here is we are trying to do the job of the supervisor. We should just authorize her to make the ballots," said board member Rupert Ross. The board then approved a motion doing that, without objection.
Board Chairman Adelbert Bryan said two stenographers had been waiting to be paid for work done many months ago. Bryan said he had mentioned it previously, but staff had called then-Supervisor of Elections John Abramson. Executive Assistant to the Board Tricia Johnson said Abramson had responded that he was not aware there was a stenographer and "he did not authorize payment."
Fawkes said this was the first time she was hearing of this, and Johnson said she could give the paperwork to Fawkes that same day.
Afterward, the board debated whether it needed a stenographer or if a better tape recorder would suffice, and whether the board needed to make that decision or if the chairman could make it unilaterally.
Fawkes said a new tape recorder was being ordered already.
Member Liliana Belardo de O'Neal moved that the board institute a policy of always using a stenographer. Lisa Moorhead objected, asking for some discussion. Bryan ignored the objection, putting it up for an immediate vote without discussion. Voting to use stenographers were: Belardo, Bryan, Glenn Webster, Raymond Williams and Roland Moolenaar. Moorhead and Rupert Ross abstained.
Bryan moved to have the St. Croix Board adopt a candidate questionnaire, with 12 questions, asking candidates if they have ever been convicted of any crime, a crime of moral turpitude, possession of drugs and others. Williams objected to the list being put together by Bryan solely, rather than by the board. Several members questioned whether the board had the power to establish qualifications for office, as the questionnaire appears to do.
Bryan and Moolenaar both said they believe the board has that power, citing passages in the Revised Organic Act and V.I. code. Those passages establish minimum qualifications for candidates and also establish the powers of the territory's two boards of elections. The section establishing the boards' powers (V.I. Code Title 18, Chapter 47) has a long list of broad powers granted to the board, but does not mention a power to set candidate qualifications. The other sections cited are statutory candidate requirements established by the U.S. Congress and V.I. Legislature.
Belardo moved to adopt the questionnaire and the motion died for lack of a second. At the end of the meeting, the board approved a motion to consider the questionnaire again at the next board meeting.
Saying he could not accept not being able to personally give instructions to Election System staff, Bryan also moved to have the board transfer Johnson from working for the board to just the Election System, and then to hire an executive assistant that was only answerable to the board, not the Election System and supervisor of elections.
"We must have our own employee that we control," Bryan said.
Several members objected that there was no legal way for one district board to accomplish that goal, and that a new position would have to be budgeted and approved by the Legislature.
The motion failed. Voting in favor of Bryan's proposal were: Bryan, Moolenaar and Belardo. Voting no were Moorhead, Ross, Webster and Williams.
In other business, Fawkes reported that during October the St. Croix district finished culling the voter registration lists, compiling a list of more than 3,000 names of voters who have not voted in the last two elections. This process is required by law and is performed every two years.
Meanwhile, 101 new St. Croix voters were registered in October, she said.