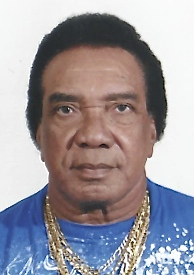 Clinton Rawlins, also known as "Tooks," "Tukuloo" and "O'Boy," of Estate Sion Farm died on Oct. 31. He was born April 25, 1940, in Trinidad, West Indies.
He is survived by his wife, Sara Pena Jaimes; daughters: Charmaine Rawlins, Christina Rawlins and Melinda Encarnacion; sons: Collins and Neil Rawlins; grandchildren: Shamelle, Janei, Sjoelle, Nelson, Antonio, Le'Sandra, Stephanie, Christopher Jr., Mekhi, Keonde, Brandon, Alyssa, Isabella and Jack; great-grandchild, Justyce; and special children: Tamara Bermudez, Valencia Thomas, Yaisa Charles, Oswald Thomas and Winston Charles; extended grandchildren: Akeibo, Damani, Dequan, Tyrique, N'Kosi, N'Koya, J'Shaun and Akeishah.
He is also survived by his sisters: Christine Eckstein (Trinidad), Joyce (deceased), Ella (deceased) and Elisha "Grace" (deceased); brothers: Elias "Magic" Rampersad (St. Maartin) and Augustus Rampersad (deceased); nieces: Michelle, Brenda, Shirley, Diana, Angela, Ella, Camille, Cherly and Marlene; nephews: Winston, Daryl, Brian, Richard, Ronnie, David, Frankie, Gerald, Junior, Yoland, Pyeo and Julio; special friends: Oliver and Sylvia Farrow, Clive and Martha Regis, Reuben Edwards and Pekoso; as well as other cousins, relatives and friends too numerous to mention.
A celebration of his life will be held on Wednesday Nov. 13, at St. Ann's Catholic Church, Estate Barren's Spot. The viewing will start at 9 a.m. and the service at 10 a.m. There will be no interment after the service.
Arrangements are entrusted to Divine Funeral Services, where beauty softens your grief. Tel: 773-0003/fax 773-3003.