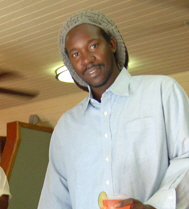 The Virgin Islands' own chef extraordinaire Theo Gumbs will be featured on "The Better Show" for a special U.S. Virgin Islands-themed televised cooking segment. It will air at 11 a.m. and 6 p.m. local time on Tuesday via the Hallmark Channel. It can be seen locally on WCVI, the Tourism Department said in a press release.
"Chef Theo Gumbs is a great ambassador for this opportunity. He is an accomplished chef who has played an important role in raising the profile of the U.S. Virgin Islands in the culinary world," Tourism Commissioner Beverly Nicholson-Doty said.
"Having an expert spokesperson on a national channel will no doubt engage the millions of viewers watching the segment. We thank everyone who helped produce this segment and look forward to developing more opportunities that showcase the USVI's diverse offerings."
Gumbs is an internationally renowned chef who is known for combining his love of regional flavors with world cuisine. A seasoned professional, Gumbs spent the last 15 years bringing local West Indian signature dishes to the forefront of Caribbean cuisine.
He served as an island ambassador while featured on national broadcast stations such as NBC's "Today Show," Canada's CTV and CW's Newsfix. Gumbs has been an integral part of the St. Croix Food and Wine Experience, which has been named one of the Ten Best International Food and Wine Festivals by Forbes Travel for the past five years. At the Wine Experience, he served as a judge and was three time winner.
With co-hosts JD Roberto and Rebecca Budig at his side on "The Better Show," Gumbs will prepare Caribbean pumpkin fritters and saltfish with a citrus avocado cucumber.