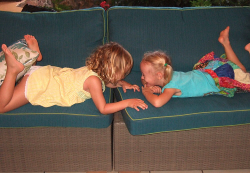 The beauty of the Virgin Islands' most precious resource – its "awesome," "super-happy" children – will be seen around the world after Pottery Barn Kids photographs scenes and children from all three islands for their summer catalog. The giant kids décor retailer began shooting photos Monday, scouting locations and will return to the territory several times during the next several months.
Two Pottery Barn Kids executives were on St. Croix Sunday screening children between the ages of 6 months and 8-years old. Gretchen Clark, vice president of Creative Services for Pottery Barn Kids, and Jill Jackman, creative director interviewed children on St. John and St. Thomas. For the end product, a glossy, highly colored multi-paged catalog, they anticipate selecting between 30-50 Virgin Islander youth.
In just 2-1/2 hours Sunday, Clark, with the company since its beginning 15 years ago, and Jackman, a 13-year employee, quickly screened 70 kids, taking photos of each and asking a few questions.
Sunday's children were selected for the callback from photos submitted through email. The child models will be chosen based their outgoing personalities and enthusiasm, among other traits.
"Good energy comes through in the shoots – that's number one. And kids that are really excited to be there," Jackman said were important criteria.
The BPK teams have been touring the territory looking for outdoor and indoor locations. Photos of children in homes, buildings and natural settings will serve as backdrops for the company's products. Clark said the catalogue creates an environment for parents to decorate with BPK products.
"A lot of people use our catalog to be inspired," she said.
Shooting began on St. John Monday and will last about two weeks, Jackman said. The film crew will spend about three weeks on St. Croix in January.
Asked what separated Virgin Islands youth from other children they have interviewed, Clark said, "The kids are awesome – super-happy. It must be something about the sunshine."
Since the catalog is created during the winter months on the mainland, the company always travels to warmer climates for work on the summer catalogue, Clark said. Previously, catalogs were filmed in Hawaii, Florida and last year in the Bahamas. The Virgin Islands was chosen this year because of the warm weather, natural light and beautiful backgrounds, Jackman said.
The Pottery Barn Kids family includes the flagship Williams-Sonoma, founded in 1956 and known for luxury furniture, gourmet cookery and specialty food and wine products. Other retailers include Pottery Barn and Rejuvenation, Mark and Graham, PBteen and West Elm.