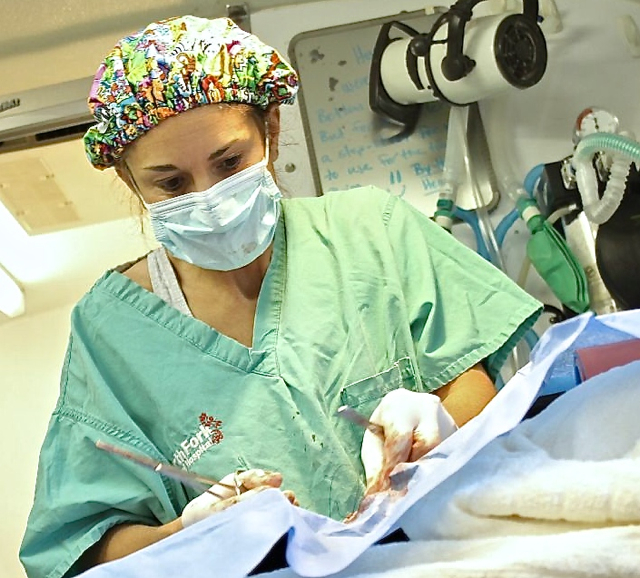 The Spay/Neuter Island Pets (SNIP) event held at the Humane Society of St. Thomas Campus over the weekend took aim at animal overpopulation on on the island, spaying and neutering some 140 cats and dogs.
"Prevention is far better than destruction," said SNIP organizer Dellia Holodenschi, who sees the overpopulation of stray or feral animals in the territory as a serious and ever-growing problem with a simple solution: reproductive control.
Holodenschi founded Lucky Paws Foundation, a non-profit community organization that aims to save the lives of homeless animals by providing the community with low-cost spaying and neutering services. Regular spaying or neutering can cost as much as $100 at private veterinarians. At SNIP, residents can have a cat or dog neutered at the cost of a $25 donation.
For this year's event, Lucky Paws had two veterinarians and three vet technicians, all volunteers, flown in from Boston to perform the surgeries over a span of two days.
Most of the work is done inside the "Spay Waggin," a mobile operating room for pets, equipped with hardware and supplies needed for surgery. A donation from Boston Animal Rescue, the "Spay Waggin" sometimes travels to St. Croix, taking the spay/neuter services to the community instead of waiting for residents to bring in animals.
Over the weekend, so many residents came with their pets, or with ferals and strays found hanging around their homes, that SNIP organizers had to turn some away, especially those who did not have appointments, because it was virtually impossible for the two veterinarians to keep up.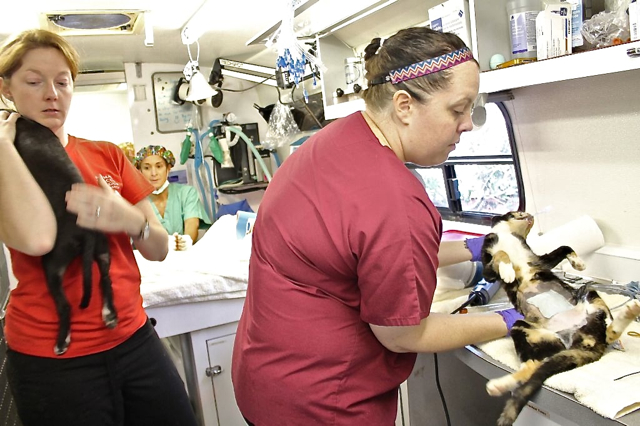 The animals that did get spayed or neutered went through the process in stages. First, they were taken to a room inside the Humane Society Adoption Center for sedation. Second, they were turned over to the "Spay Waggin," where a vet technician did pre-surgery preparation: give eye drops to keep the eyes lubricated since the animals could not blink on their own while sedated; purge all fluids from the bladder to make it easier to find internal organs; and shave the area where the incision will be made.
A veterinarian then took over, draping sterile cloth over the animals, making the needed incisions, and finally, performing the surgery.
The process took all of five minutes for males, 15 minutes for females. The sedative wears off in a few hours, and the animals heal within 10 days.
Veterinarian Kate Gollon said that beside preventing overpopulation, spaying and neutering also benefits the animals.
"If you do it before their first heat, it can reduce the risk of mammary cancer and uterine infection," Gollon explained while bent over the operating table, deftly stitching up a newly spayed cat. "It can also prevent unwanted behavior among male cats."
Setting up spay/neuter events like SNIP is expensive, according to philanthropist and businessman Randy Knight, who personally shoulders a bulk of the weekend event's expenditures. Knight had been actively involved in all SNIP events since they started in 2012, and each event, he said, easily cost $10,000 to $15,000.
Knight insisted, however, that spaying and neutering have to be done, and sooner rather than later.
"Between the Humane Society in St. Thomas and the St. Croix Animal Welfare, about 5,000 animals can get put down every year," Knight said while handing over one sedated cat after another to vet technicians.
Holodenschi said this is unacceptable.
"The mentality is, 'Oh, I'll just let her have the litter. It's God's way,'" she said about the reluctance people generally show toward spaying and neutering. "Yes, it may be God's way, but God would be happy when everyone has a home. Until that happens, we have to make sure that we stop it."
Humane Society general manager Rhea Vasconcellos agreed.
"No matter how much we may love animals, we're just overpopulated," she said. "Every dog and cat that is born does not have the happy ending of finding a home."
More information about low-cost spaying and neutering services can be obtained by contacting the Humane Society at 1-340-775-0599 or on the website: www.hsstt.com. Those interested also can contact Lucky Paws Foundation at 1-340-513-1845 or their website: www.luckypawssttvi.com.