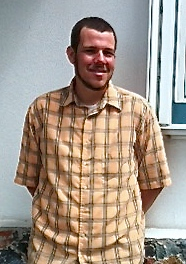 Maybe you haven't met him yet, but you will. Timothy Olive will soon officially enter adulthood – turning 21 on Nov. 22 – and he's already one of the busiest men on St. Thomas. He's rather quiet about it though, preferring to work in the trenches than wave a flag in the front.
As he says, "I am not the type of person who likes a lot of noise."
Budding entrepreneur, youth leader, church activist, amateur musician, self-taught techie, and, oh yes, a pilot, Olive sat still long enough for an interview following services at his parish, Our Lady of Perpetual Help in Mafolie, one recent Sunday – with occasional interruptions to greet fellow parishioners and to give instructions to teens conducting a soup sale.
"My main focus is the business," he said, explaining why he has curtailed some of his hobbies lately.
Olive works with Caribbean Gift Center, a business his father, Steve Olive, started in 1985. It supplies souvenirs, sun block, over the counter medicines, rum cakes, magnets, "anything a tourist needs" to retail stores in the Virgin Islands and to outlets down the island chain. The items are shipped to St. Thomas, warehoused and then distributed.
The younger Olive gets to travel to the U.S., the Cayman Islands and Trinidad on buying trips. He also frequently travels to St. Barths, where his grandfather was born, and where the Olives have plenty of relatives. Stores there order through Caribbean Gift Center too, but their shipments come direct.
"If you love what you do, you're not really working at all," Olive said. "I try to put fun into everything."
He's serious about some things too, notably his religious beliefs.
He can't remember exactly when he became an altar server, but says it must have been in the second or third grade. It was almost inevitable since his father trains the servers for the diocese on St. Thomas. How long will he continue? "Probably the rest of my life, I would say."
Or, he may become a deacon. That is a far greater commitment and one he wouldn't make before marriage since married men may become deacons, but deacons can't get married after they are ordained.
"I'm trying to find my future wife," Olive said with a smile.
For now, his church activism revolves around the diocese's pro-life youth group. He says he sort of fell into the movement, attracted at first to the idea of traveling to Washington, D.C., and attending a Mass at the cathedral there along with tens of thousands of pro-life demonstrators.
He went with video camera in hand, just another of his hobbies. He said all he really was interested in was getting inside the cathedral for the special Mass at the end of the march and all the speeches. But something more happened.
"I was taking a video of the whole thing" and later, when he started editing it, listening to the speakers and watching the participants, he got inspired.
Now, he's president of the Virgin Islands group and spends time talking with students about why they should join. The first year the V.I. contingent to the national march consisted of 28 people. It picked up a few more the following year. And this time around, it looks like it will be more than 70, he said. The trip will be in January.
Another serious interest for Olive is flying. He earned his pilot's license a couple of years ago.
"Flying has changed my life," he said. It takes total concentration and demands that you continually expect the unexpected. "Your decision-making process becomes first nature …You know the dangers, but put it out of your mind."
Olive took flying lessons at the airport flight school, but he said "most of the stuff I learn I do on my own." That includes working with a video camera, and with computers, and playing the organ.
After graduation from Sts. Peter and Paul High School in 2010, Olive took courses in business math and economics.