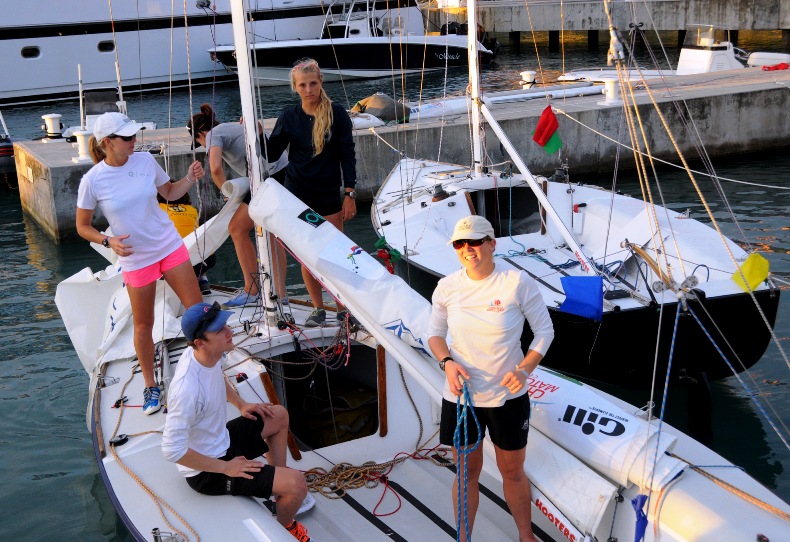 Ten teams featuring some of the world's top-ranked match racers and their crews are in St. Thomas for the Sixth Annual Carlos Aguilar Match Race, which will test Charlotte Amalie's tricky winds through Sunday.
"We heard it was shifty here and practice today met our expectations," said Jennifer Wilson of the U.S., winner of the 2013 U.S. Women's Match Race Championships. Speaking after Thursday's practice round, she said, "Shifty can be frustrating but it's also fun. It means there is always a chance to come back. It mixes things up."
The event's other woman match racer is Stephanie Roble. Roble is the top-ranked U.S. female match racer and the fifth-ranked woman match racer in the world. She competes on the Global Women's Match Racing Circuit.
Finland's Antti Luhta, who is ranked 25th in the world, is sailing in the U.S. Virgin Islands for the first time.
He said, "I like shifty winds. What I don't like so much is snow and ice. That's what we have to sail in back home in Helsinki right now."
Rounding out the elite fleet of match racers are the USA's Don Wilson, ranked 24th in the world and the No 1 ranked U.S. match racer, as well as founder of the CMRC; Chris Poole, U.S., ranked 27th; Greece's Stratis Andreadis; the USVI's Olympic silver medalist and America's Cup sailor, Peter Holmberg; the USA's Dave Dellenbaugh, who most recently won the 2013 U.S. Match Racing Championships; the USA's Dave Perry, author of Understanding the Racing Rules of Sailing Through 2016; and the British Virgin Islands' Colin Rathbun.
Match racing pits one identical boat against another on a short course, often near the shore.
Umpires on the water make instant calls and enforce the rules, according to the news release from the organizing group.
"The result is very exciting racing up and down the Charlotte Amalie waterfront," according to the release.
The race format will be a double round-robin series leading to the semi-finals and finals. Spectators can watch the racing under tented bleacher seating, which will feature live narration. Viewers around the world can watch via a live webcast on www.carlosmatchrace.com.
A group of Virgin Island's school children will have an opportunity to try match racing during the Carlos Aguilar Match Race Youth Regatta, which will take place between 11:30 a.m. and 1:30 p.m. Saturday.
The Virgin Islands Sailing Association is the organizing authority for the CAMR, named for the late Carlos Aguilar, who was an avid sailor. The Chicago Match Race Center is a major sponsor.
Other sponsors include the U.S. Virgin Islands Department of Tourism, Heineken Beer and Captain Morgan, Bellows International, Budget Marine, Hooters, Patron, Premier Distributors, Choice Communications, Bolongo Bay Beach Resort, Yacht Haven Grande, Gill, and St. Thomas Yacht Club.