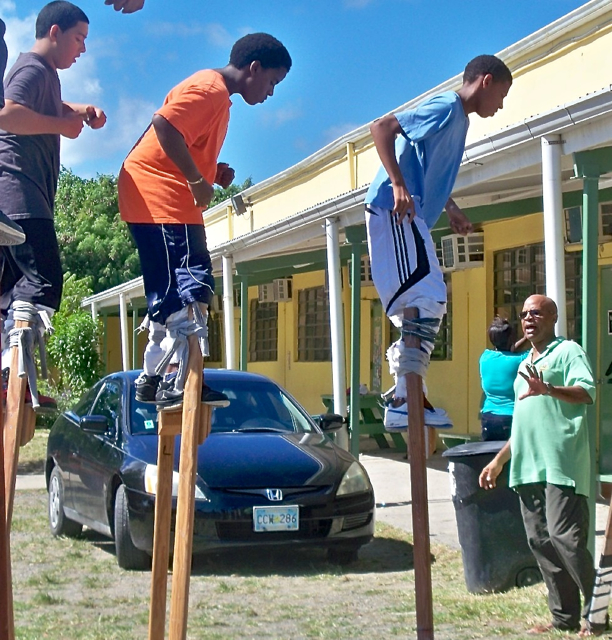 If one has the desire and discipline to become a stilt-dancing moko jumbie, the Moko Jumbie Academy is where to begin training.
Students ages 10 to 65 are learning the entertaining and colorful cultural art form on St. Croix.
The colorful art form came to the Caribbean when enslaved West Africans brought in their culture and indigenous religion. The moko or mocker was the spiritual guardian of African villages. Moko jumbies were tall enough to reach the evil spirits and drive them off by mocking them with supernatural magical powers, according to tradition. It's believed the moko jumbie's goal was to frighten children into adulthood.
Master Moko Jumbie Willard John, cultural tradition bearer of the Guardians of Culture and principal of St. Croix Educational Complex, and Anna Thompson, retired Ricardo Richards Elementary School counselor, started the academy in 1993. John said more than 150 students have attended the academy.
"When we learn and master something we need to pass it on to the next generation," Thompson said as she tended to academy paperwork Saturday. "Stilt dancing is an art form that must continue."
John has been involved in the art of stilt dancing for more than 35 years. He has made it his life's work to pass on the art form and to preserve the moko jumbie legacy.
"This art form is not from me, it comes through me," John said. "It's my responsibility to pass it on, to appreciate and express my ancestry.
The students were perfecting their skills Saturday, preparing for the annual Thanksgiving Jump Up in Christiansted Friday and the St. Croix Christmas Carnival parade. John said if the students miss practice they might as well stay home. He told the students if they aren't in shape they won't get through the parade.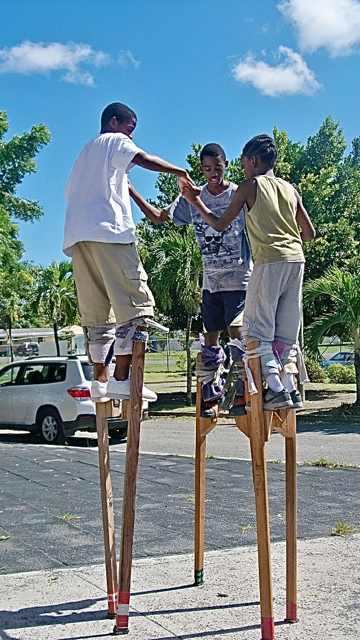 "We aren't going half way," John shouted. "We need to look good all the time."
He was calling out moves, gesturing and encouraging the students to add pizazz as they danced.
Professional Guardians of Culture, Benjamin Rios and Nicholas Ledesma were assisting John. John said he is blessed to have assistants at this stage in his life.
Ledesma, 21-years-old and a jumbie for half those years, said they have a few hard workers in the class.
"They aren't afraid," Ledesma says. "You can see it in their faces."
John and his assistants teach future jumbies to skillfully combine dancing and acrobatics with complex synchronized choreography. He said the students are taught routines but they always throw in an element of surprise in their dances.
When asked about how serious the students, are John responded the students know and filter themselves out.
Donnise Nicholas says her son, Amari Sewer, a beginner, has learned a lot about the history and the reason behind the moko jumbie. She adds the best part is he is learning discipline.
"The lessons have really helped him learn to discipline himself," Nicholas said. "He has set a goal to learn stilt dancing before the children's parade and he's pushing himself toward that."
Sewer, 11-years-old, said it was scary the first time he walked on stilts alone, but he he quickly overcame his fear. Beginners are on short stilts and professionals generally stand 12 to 14 feet high.
John said Ricardo Richards Elementary School is the student. The Ricardo Richards School Troupe is the first level, with beginners and amateurs. John said the students can graduate to the professional Guardians of Culture.
The lessons are held from 9 a.m. to noon every Saturday at Ricardo Richards. They begin practice with a warm up, stretching and walking. The school is perfect for practice; beginners on stilts can walk the length of the gallery holding onto exposed beams in the gallery ceiling.
The students are expected to practice two times a week. Beginners aren't allowed to take home their stilts because John is always concerned about the student's safety.
John said new students can enroll in February and August. The lessons, stilts and costumes are provided free. John makes the stilts, and his wife, Corliss Solomon-John, designs and creates color-coordinated costumes.
Thompson said the group is always looking for sponsors. The Guardians of Culture perform at all sorts of events for a fee. Money generated from shows goes back into the academy in a general fund.
Anyone who wants to book a show or become a sponsor can call John at 1-340-690-7145.
Veronica Gordon, known as the Bush Lady, is the 65 -year-old student in the academy. Gordon said she is not out to join in competition or performing at events. She just wants to become skilled in another cultural art form, adding to her repertoire as a culture bearer.
Thompson said Gordon has more energy than some of the youngsters.
Bertram Sands, 14-year-old student at St. Croix Central High School, said the best part is performing at Jump Up.
"The people love it when we dance," Sands said. He added he is happy to be in the next generation of moko jumbies carrying on the art form.