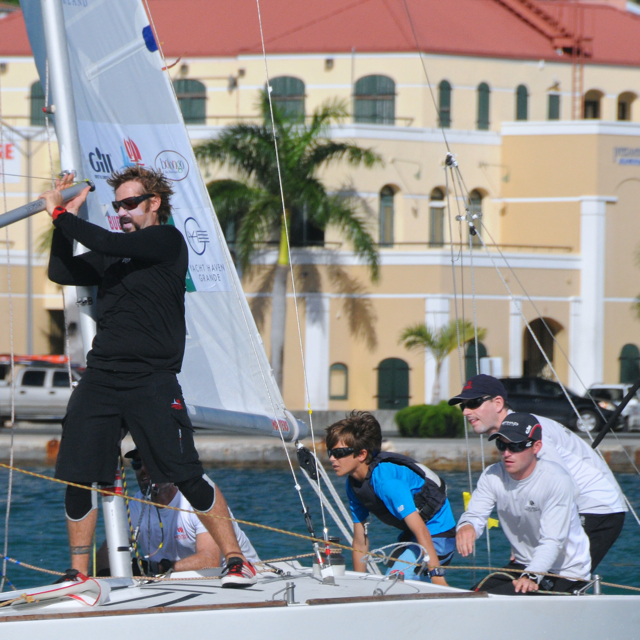 He had never sailed in the U.S. Virgin Islands, nor in an IC-24 or with this combination of crew. Yet, Chicago's Don Wilson proved his match-racing prowess by winning the Sixth Annual Carlos Aguilar Match Race Sunday in Charlotte Amalie harbor.
Wilson defeated the USA's Dave Perry 2-1 in a first-to-two-wins final, according to the race organizers.
Wilson and his crew – tactician Jordan Reece, trimmer Willem van Waay, bowman Josh McCaffrey, and two Antilles High School students who served as floaters, Teddy Nicolosi and Amanda Engeman – led right out of the gate.
"We started ahead and we stayed ahead in the first race against Dave Perry. That was good," recapped Wilson, who is ranked 24th in the world and is the number-one ranked U.S. match racer as well as founder of the Chicago Match Race Center, which sponsored the CAMR.
In the second race, Wilson got a good start coming off the line compared to Perry.
"We tacked over and wanted to go right, but then Dave got some nice pressure on the left and he was able to get ahead of us. We never caught up with him after that," says Wilson. "It was really tricky. Sometimes the right was better and sometimes the left. So you really had to be on your toes."
With the score 1-1, the third match was a winner-take-all finale.
"Dave was tight going towards the committee boat at the start," Wilson explained. "So we hung there to windward of him and eventually he luffed head to wind. We felt that he actually was tacking when he went through head to wind, and then we tacked and bore off and extended. I think it was pretty close to him getting a penalty there, but he didn't. Fortunately we were able to come off the line with much better speed and then the team did a great job of finding the puffs and extending."
Wilson credited his team for the win.
"I barely sailed the boats just enough to get the hang of it by the final day," he said. "We look forward to coming back and racing next year."
Perry, a four-time winner of the U.S. Match Racing Championship and most recently rules advisor to Artemis Racing in the 2013 America's Cup, used his podium appearance as the second-place finisher to praise organizers foresight in adding youth sailors aboard each boat.
"I've talked about doing this for years and all I hear is about how it can't be done," says Perry. "Giving young sailors this opportunity is critical. They are the future of our sport."
In the petite finals, USVI's Peter Holmberg and USA's Stephanie Roble went head-to-head. Ultimately, Holmberg won 2-1 over Roble to finish third overall and Roble fourth in the final standings. Holmberg won this event in 2009.
Finland's Antti Luhta finished fifth, the BVI's Colin Rathbun sixth, the USA's Dave Dellenbaugh seventh, USA's Chris Poole eighth, Greece's Stratis Andreadis ninth and USA's Jennifer Wilson 10th
The winners received signature timepieces from St. Thomas's Cardow Jewelers.
The Virgin Islands Sailing Association was organizing authority for the CAMR, which is named for the late Carlos Aguilar, who was an avid sailor. The Chicago Match Race Center was the major sponsor.
Supporting sponsors were the U.S. Virgin Islands Department of Tourism; Heineken Beer and Captain Morgan, distributed in the U.S. Virgin Islands by Bellows International; Budget Marine; Hooters; Patron, distributed by Glazer's Premier Distributors, LLC; Choice Communications; Bolongo Bay Beach Resort; Yacht Haven Grande; Gill and St. Thomas Yacht Club.