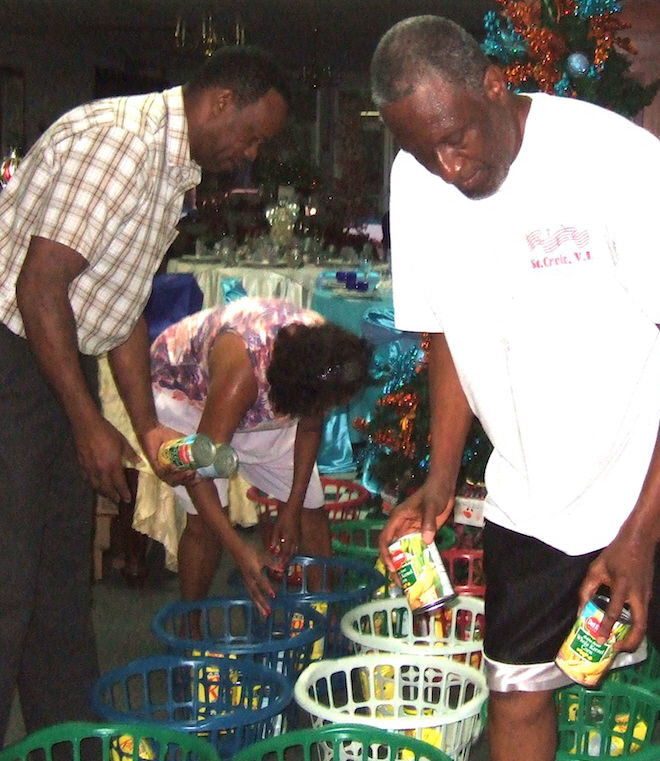 For more than a dozen years, the Rotary Club Harborside and Youth With a Mission on St. Croix have joined forces to deliver the fixings for Thanksgiving dinner to families who otherwise might not have a meal for which to be thankful.
Monday, a group of Rotarians gathered at Teddy's in Sion Farm to fill 25 baskets with large turkeys, stuffing mix, jello, vegetables, rice, gravy and of course cranberry sauce. After the baskets were packed full, they were delivered to Youth With a Mission, who will distribute the Thanksgiving baskets to needy families Wednesday.
Rotary Harborside is a small club with eight "extremely active" members, so large donations by club members are not possible, according to past president Lionel Downer, who has participated for 13 or 14 years.
"We don't have deep pockets. We're more hands-on," Downer said.
Instead, they asked for donations from businesses and individuals to fill the holiday baskets. Contributions were collected from Waste Management Agency After Five, Innovative Assets Management, Quality Foods, Divi Casino, Plaza East and Pueblo Supermarkets. Enough food was donated to fill 25 baskets when last year 18 families were fed. Downer said he likes making contact with the partners who contribute each year and finding new donors.
Cherilyn Derusha, director of Youth With a Mission, has been involved with the Thanksgiving program for the last eight years. It is up to the youth and adult volunteers to select families they work with to receive turkey dinners, she said.
"In a way, we could probably pick 100, but you look at those who get food stamps and those who don't. The super low income get food stamps but we look for those who don't, like the working daddy with six children," Derusha said.
This year, four students will help deliver the Thanksgiving packages. Derusha said too many people helping with distribution can be overwhelming.
"It's too much like charity. This is more like neighbors helping each other. That's what we want it to feel like," she said.
Youth With a Mission is the largest mission organization in the world, Derusha said. There are more than 35,000 full time volunteers in 190 countries. All have the same mission, "To know God and make Him known," but work it in different ways. In Haiti, building a water system is the focus, while eliminating sex slave traffic is the Mission work in Taiwan.
The St. Croix Youth With a Mission has a year-long program for 27 students and summer camps for more than 100 children, ages of 8 – 18. Both programs focus on personal growth and social outreach, according to Derusha.
There are 14 full time staff volunteers, who live on the campus, pay rent and buy their own food. There are also 10 children living at the great house with their parents. The inter-denominational charity teaches love through community service, Derusha said.
"It's to have an actual relationship with God themselves and to learn to love people – experienced through service," she said.