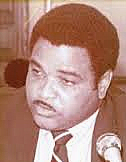 Former Director of Personnel Leslie A. Millin passed away last week, prompting notable Virgin Islanders to stop and say a few words to mark his passing on Monday.
Millin, who died Friday in Florida, is the grandson of former Sen. Lucinda Millin, son for former Lt. Gov. Henry Millin, the father of Department of Property and Procurement Commissioner Lynn A. Millin Maduro and the brother of St. Thomas – St. John district Sen. Janette Millin Young.
Millin Young announced her brother's passing on her Facebook page Monday.
"While he was my brother, he was 26 years my senior. Therefore, his treatment of me was more paternalistic as I grew up with his children. I will remember him fondly for his incredible sense of humor, his bright mind, and love for family," she said.
Gov. John deJongh Jr. said Monday that Leslie Millin can be best described as a mover and shaker in the Virgin Islands Government in the administrations of Govs. Evans, King, Luis and Schneider.
"He began a distinguished career of government service in the Evans Administration and later served as Director of Personnel and at the same time, Administrator of the Government Employees Retirement System, which he was instrumental in having established. In the mid-1990's, during the Schneider Administration, Millin served as Director of Human Resources and Comptroller in the Department of Public Works.
"Mr. Millin dedicated his life to public service and made significant contributions to the development of the Government of the Virgin Islands," deJongh said. "He will be remembered as a man with an incredible sense of humor, a brilliant mind and one who was not shy to offer his opinion. He knew government inside out and his contributions not only have their place in the rich history of the V.I. Government but will long be remembered. The people of the Virgin Islands are indebted to him for his many selfless contributions," deJongh said.
"Cecile joins me in extending our deepest sympathies to Lynn, Leslie Jr. and Laney, their mother Nilda; Daisy Mae, his wife; and the extended family and many friends. We pray for his eternal rest," the governor said.
Delegate Donna Christensen said Millin "will be remembered for his hard work and dedication to civil service here in the Virgin Islands and his commitment to improving the quality of life, not just for government employees, but for all Virgin Islanders."
Christensen said a life and career of civil service came naturally to Millin, who was the grandson of V.I. Senator Lucinda Millin and son of the territory's third elected Lieutenant Governor, Henry A. Millin.
"I offer my deepest sympathies to his family, especially his wife, Daisy Mae; to his sister, Sen. Janette Millin Young; his children, including Commissioner of V.I. Property and Procurement, Lynn Millin Maduro; and to his many other relatives, friends and colleagues, on behalf of my family, staff and the Members of the 113th Congress of the United States. The Nation and the Territory is grateful for his service," Christensen said.
Senate President Shawn-Michael Malone said "we mourn the passing of a career civil servant, community activist and committed Virgin Islander," on behalf of the V.I. Legislature.
Millin was appointed by then Gov. Melvin E. Evans in 1972 as the fourth director of Personnel during the administration of former Gov. Juan F. Luis. Under Millin's directorship, a voluntary Health Insurance Plan was established. He was the last personnel director to also administer the V.I. Government Employees Retirement System as well as the personnel functions of the central government. He retired from public service in 2000.
Millin also witnessed significant increases in collective bargaining and threats of strikes among government employees, according to the Division of Personnel website. Those include the first-ever layoff in V.I. government history in 1976, due to unsuccessful attempts to balance the government's budget.
The stressed relationship between employers and employees prompted Act No. 4440 which created the Public Employees Relation Board, as well as the Office of Collective Bargaining. At the time, Millin described the merit system in the 1980s as "a Personnel Merit System under fire," according to Personnel.