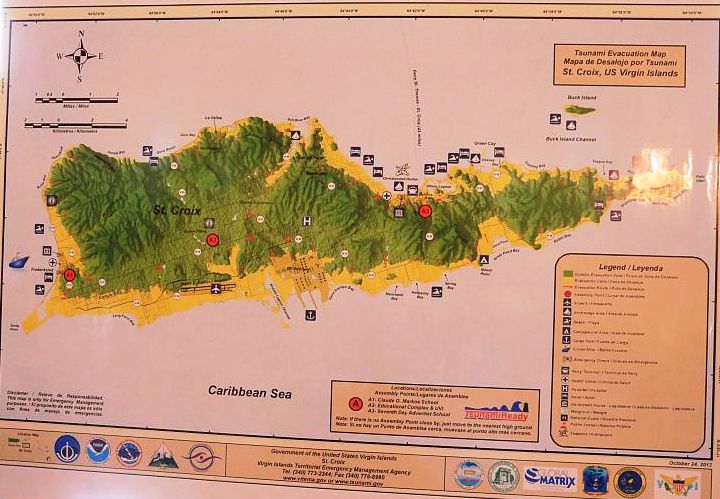 Since 2008, the V.I. government has been working to beef up and overhaul its emergency management system, and the group tasked with overseeing the efforts unveiled Wednesday its latest tool: maps that indicate safety zones, possible assembly points and guided evacuation routes for each island.
The maps, which went through 14 different versions, were approved by Gov. John deJongh Jr. in October and are now available to the public for the first time, officials announced during a press conference on St. Thomas.
The next step in the outreach process will be a public education campaign that will give residents a chance to become more familiar with the maps and help them understand what they need to do and where they need to go in the event that a tsunami hits.
"These maps answer the all important question: where am I safe, where can I go in the event of a tsunami?" said Christa von Hillebrandt-Andrade, director of the National Weather Service Caribbean Tsunami Warning Program in Puerto Rico.
"Many people think that there's no place to go, but the Virgin Islands has a lot more safe areas than danger areas – the USVI is fortunate indeed to have accessible higher ground."
Hillebrandt-Andrade said that in creating the maps, officials and experts looked at different models, historical figures and information provided by the community, and looked at where it would be best to place the proper signs and markings.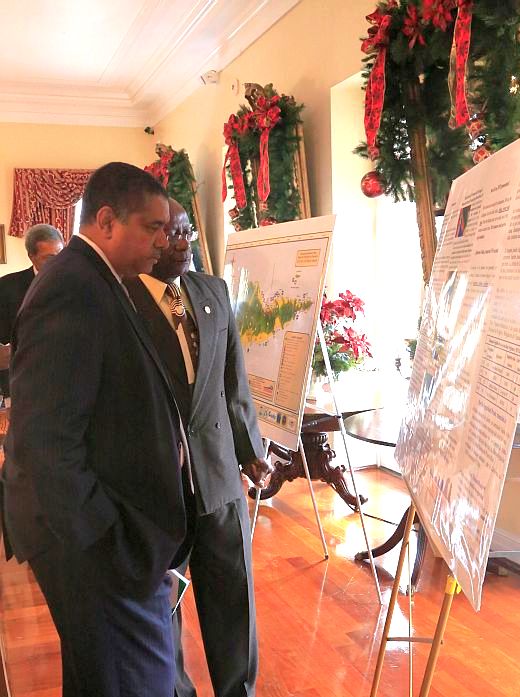 Scientists studied accounts of the territory's last tsunami, in 1867, where a 60 foot wave – the largest in the Caribbean – was observed.
V.I. Territorial Emergency Management Agency Director Elton Lewis said in defining an evacuation zone, the group used a 25-meter elevation profile that went two miles inland, based on results from studies in Puerto Rico and the British Virgin Islands.
DeJongh and other speakers also noted that the Caribbean is a seismically active zone, increasing the potential for major earthquakes and tsunamis.
"So, for us, it's not a matter of if, but a matter of when – and today, we lay the ground work not only for our residents and businesses to be ready, but to be resilient," deJongh added during the press conference.
University of the Virgin Islands professor Roy Watlington, who has worked with the group creating the maps, also said that the territory's coastal areas have become more populated, with critical facilities – such as hospitals, airports and power authority headquarters – located at or near the perimeter.
Looking ahead, Watlington said that the territory has to be "particularly attentive" when it comes to protecting these facilities and that some retrofitting or re-engineering might be necessary in the future.
Now that the maps are approved, Lewis said that VITEMA has submitted an application for the territory to be designated as a TsunamiReady community by the National Weather Service. To achieve this status, the territory has to have established a 24-hour warning point and emergency operations center; have multiple ways of receiving tsunami warnings to alert the public; developed a formal tsunami plan; and, among other things, promote public readiness through community education activities.
The maps go along with efforts made by VITEMA – in conjunction with federal partners such as the Federal Emergency Management Agency – to complete the territory's catastrophic tsunami and response plans, to install 100 different signs and evacuation route markers, and to put up more than 20 tsunami warning sirens throughout the islands.
Lewis said during the press conference that 14 more sirens will be installed, starting Monday.
A decision on the application will be made early next year, and Lewis also said he hopes to make another presentation – declaring the territory as TsunamiReady – to deJongh in May 2014, when the Virgin Islands will host the ninth session of Unesco's Intergovernmental Oceanographic Commission.
Residents looking to find out if their child's school, their home or business is located in a tsunami evacuation zone can visit www.vitema.gov for more information.