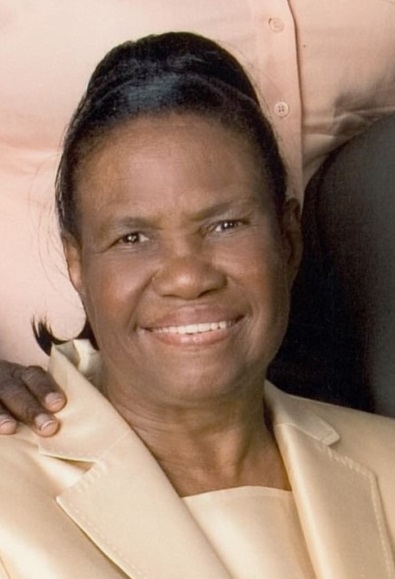 Helen Angelica Sutton Griffin of La Grande Princesse died on Nov. 26. She was 78 years old.
She was preceded in death by her mother, Olive Sutton and father, John Sutton.
She is survived by her husband, Edward E Griffin; children: Glenn A.E. Griffin, H. Claire Griffin, Jasmine A.C. Griffin, D. Bonnie-Lynn Griffin and Andrea E.C. Griffin; sons-in-law:
Cordain Cornwall and Joseph Dettloff; daughters-in-law: Andrea Davis-Griffin and Felicia Mayott-Griffin; grandchildren: Craig Maloof, Keifer Griffin, Edward N. Griffin, Croix Griffin, Aria Griffin and Angelica J. Griffin; brothers: Orville Sutton, Keithley Sutton, Edson Sutton and Antonio Assent; sisters: Enid Quinlan and Maleta Assent; and sisters-in-law: Shamrock Sutton, Isola Sutton, Beverly Sutton, Enid Hermina, Mildred Robinson, Myra Smithen, Eleanor Brooks, Nicolette Griffin, Patricia Bordeaux, Marva Griffin and Lillian Griffin.
She is also survived by brothers-in-law: Quartus Griffin, Anthony Griffin, Frederick Griffin, Franklin Griffin, Roy Brooks, Vincent Smithen and Joseph Quinlan; and nieces: Lavaun Sutton, Laurelle Sutton, Sajitha Sutton, Shavaun Sutton, Therese Sutton-Haynes, Rosie Sutton-Haynes, Diane Seton, Terri Ann Griffin, Natalie Griffin Burton, Allison Griffin, Brenya Griffin Lurried, Amma Griffin Brown, Alorna Griffin, Auralie Kelly, Opal Kelly, Selena Bordeaux, Jasmine Hermina, Lynette Sams-Hermina, Silvana Lennon, Cara Smithen, Nicole Washington, Michelle Robinson Cain, Maryanne Robinson , Annwen Johnson, Venetta Brooks, Chela Brooks, Mary Brooks, Grace Brooks and Joya Brooks.
Other survivors include nephews: Glenn Quinlan, Quincy Quinlan, McLaren Quinlan, Alistaire Quinlan, Carlyle Sutton, Oswald Sutton, Keithley Sutton Jr., Adlai Earle Sutton, Mark Griffin, Matthew Griffin, Nigel Griffin, Andrew Bordeaux, Michael Griffin, Kevin Griffin, Troy Griffin, Putiel Kelly, Theopholous Kelly, Esley Hermina, Mervin Hermina, Ludwig Hermina, Owen Hermina, Kendrick Davidson, Peter Robinson, David Robinson and Roger Brooks; other relatives and loved ones: Joseph Clarke, Marjorie Sutton, Lorna Sutton, Everette Sutton, Edris Sutton-Rodney, Ermine Liburd, Merlene Sutton, Valerie Sutton, Ken Sutton, Carlton Sutton, Howard Sutton, Edris Fellowes, Clinton Swanston, Labodie Swanston, Cassandra Sutton, Vernon Walwyn, Shirley Richardson, Josiah Maynard and Joseph Griffin; as well as many other friends and relatives too numerous to mention.
In lieu of flowers, donations should be made to: The Helen A. Griffin Higher Education Scholarship Fund, P.O. Box 224267, Christiansted, St. Croix, VI 00822. Or via: gofundme.com/mrs-griffin-scholarship
A viewing will be held at 10 a.m. followed by a funeral service at 11 a.m. on Wednesday, Dec. 18, at the Central Seventh-day Adventist Church, Estate Grove Place. Interment will be at Kingshill Cemetery.
All arrangements are by James Memorial Funeral Home Inc.