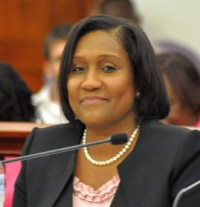 The Senate Rules and Judiciary Committee gave an early thumbs-up Monday to acting Education Commissioner Donna Frett-Gregory's nomination to fill the post permanently. And it gave initial approval to well-known St. Croix Pastor Dexter Skepple and St. Thomas author and historian David W. Knight to the Gov. Juan F. Luis Hospital governing board and V.I. Historic Preservation Commission, respectively.
Frett-Gregory has been the acting commissioner since May, when Commissioner LaVerne Terry resigned. She held the post in an acting capacity several times between 2007 and 2008, before taking the post on a more full-time basis this year.
Senators discussed the fiscal, staffing, academic and maintenance challenges facing the territory's public school system with Frett-Gregory. Sen. Donald Cole asked what the school system is doing to get more qualified teachers in the classroom despite budget cuts.
"We have to be more creative in the way we look at recruitment. As a matter of fact, today we are conducting a virtual job fair, which is something we have never done before," Frett-Gregory said. "I've learned we have a number of applicants. Of course we have to make sure the applicants meet the qualifications set by the Board of Education."
Some teachers are certified as highly qualified in one area, but have had to teach in other areas due to short staffing. The department is talking with those teachers to see if they are willing to take classes and tests to become certified as highly qualified in the area they are teaching now. Where teachers will not or do not become highly qualified, the department will ultimately recruit highly qualified replacements, she said.
From February 2008 to April 2013, Frett-Gregory held the post of assistant commissioner of operations. Before that, she held the position of deputy commissioner for fiscal and administrative services, which encompassed oversight for the territorial operations of Federal Grants and Audit, Budget Control, Business Administration, Computer Operations, and Property and Auxiliary Services divisions, as well as the warehouse.
Frett-Gregory has more than 20 years of public financial and administration experience. She holds a master's degree in public administration from the University of the Virgin Islands and a bachelor's degree in business administration from Morgan State University. She was elected to the V.I. Board of Education from January 1997 to January 2000. From 1987 to 1992 she worked in the Post Audit division of the Legislature.
Skepple's nomination to the Luis hospital board would bring it closer to having a quorum. The board has not had a quorum since July, when several members resigned under pressure from interim Chief Executive Officer Kendall Griffith and several V.I. senators. (See related links below)
Skepple has overseen the work of the non-denominational Speak the Word Ministries International since 1998. In that time, the ministry has grown from an original eight members to more than 1,000.
Over the last 15 years, his ministry has established the Potter's House, a safe home for battered women and children; Boys to Men Group Home for troubled young men; Bridge the Gap, an after-school program; Teen Retreats; and numerous other initiatives on St. Croix and in Haiti.
Born and raised on St. Croix, Skepple received his bachelor's degree in aviation from Texas A & M University in Killeen in 1993. He received his pastor's license and ordination from the Christian House of Prayer in Copperas Cove, Texas.
As part of his nomination filings, Skepple disclosed he has substantial personal and business tax liabilities that he has been working to pay off over time.
"While I do owe the amounts … I am doing my best to stay current and have been current with my quarterly and yearly filings for the past two years," Skepple said.
Cole said it was important to disclose debts and other financial issues as part of the vetting process but that it would not necessarily cause him to automatically vote no. Cole also expressed concern that Skepple did not have much experience related to issues affecting the hospital.
Knight is a writer, historian, and a retired publisher and consultant. He is president of the St. John Historical Society, a Caribbean Genealogy Library member and board consultant, and a member of the Society of V.I. Historians.
He has published a number of works on the Afro-Caribbean Diaspora, two of which have become "standard references in this field," he wrote in his submitted biography.
For many years his company VIH&GRC was on the State Historic Preservation Office's list of registered consultants, during which time he performed or consulted on many historical resource assessments and cultural resource surveys, including Botany Bay in 2001, Tutu archeological investigations in 1997 and National Park Service archeological projects for Cinnamon Bay and Water Island.
Knight's family began visiting the territory in 1936 and moved to Charlotte Amalie in 1960,when he was nine and his father began practicing dentistry in Charlotte Amalie.
"After many years in the private business sector, first in the tourist and marine industries and later in the building trades as the owner operator of two St.John-based corporations, I embarked on a new path as a professional historian, writer, publisher and cultural resource consultant," Knight said, pledging to work to preserve the territory's heritage.
The committee voted unanimously to approve Frett-Gregory and Knight. Voting in favor of Skepple were Sens. Diane Capehart, Shawn-Michael Malone, Myron Jackson, Kenneth Gittens and Sammuel Sanes. Cole voted nay. Sen. Janette Millin Young abstained. The full Legislature will vote up or down on all three nominations when it next meets in session.