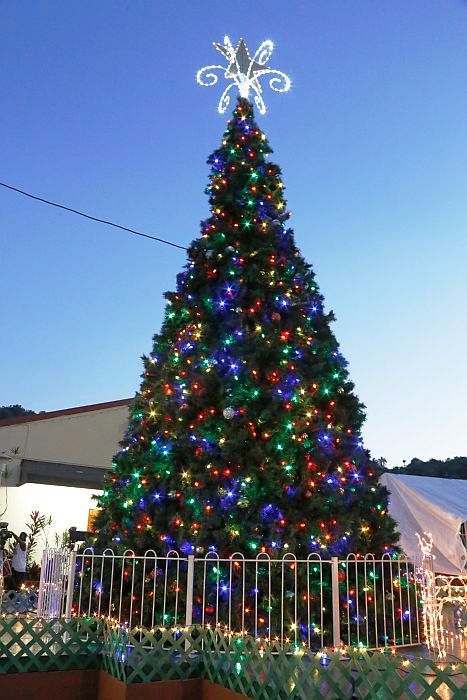 From toys for the tots and shopping deals for the adults, there was something for everyone this year at the annual Havensight tree lighting, which honored local radio personality Irvin "Brownie" Brown and his more than a decade's worth of contributions to the event.
"I've played Santa out here for about 15 years," Brown said after the event officially opened on St. Thomas late Wednesday afternoon. "It's always been one of my favorite spots. All the people that organize this have been my friends for years and it's such a wonderful feeling being here and honored like this."
Brown said he retired from the Santa gig about three years ago, but would still jump at the chance if he's called in.
"I hope everyone here with us tonight has a very Merry Christmas. Let's all have a good celebration, a clean and healthy Christmas, because we deserve it," Brown said to the crowd that lined up for the opening ceremony. "Good t'ing!"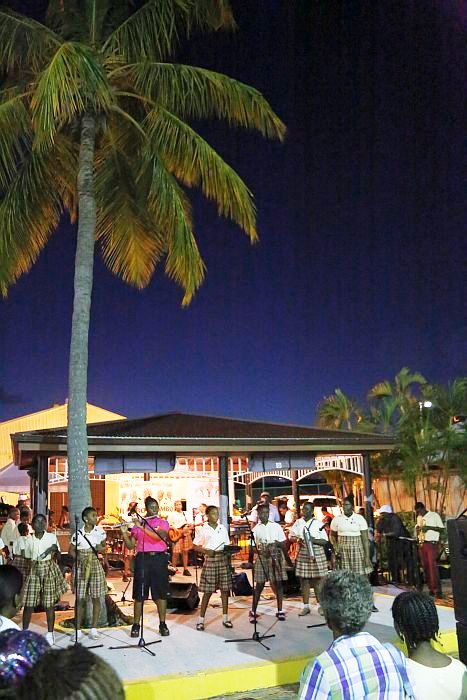 This year's Santa got to work around 6 p.m. and, as usual, there was a long line of children waiting to meet him. Free gifts were given out to the first 1,000 children while, in the background, Havensight officials got ready for the traditional lighting of the tree in the front building.
Pulling the switch this year was 10-year-old Gabrielle Boschulte from Yvonne Millner Bowsky Elementary School, who also took time afterward to visit Santa and welcome other children up to the stage.
This year the West Indian Company Ltd. also fused the event with its monthly Jazz at the Dock celebrations and brought several school bands – including Bertha C. Boschulte Middle School's Flambo Combo – out to entertain.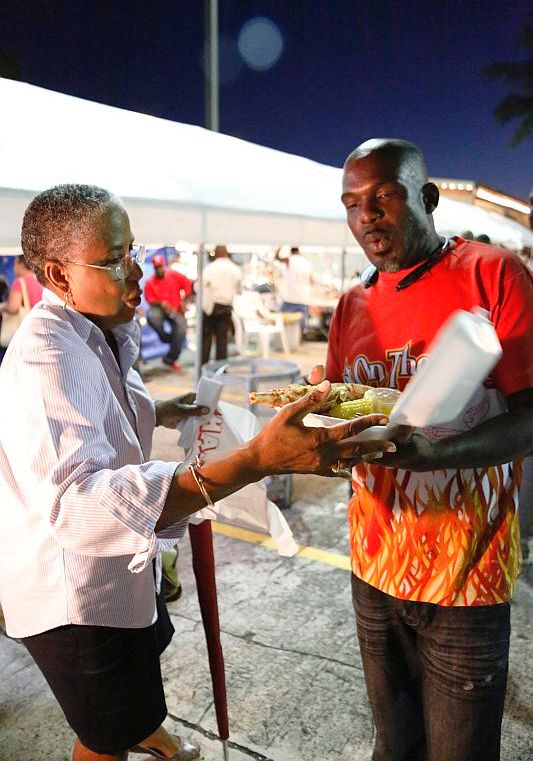 Flanking the dock were booths selling everything from lobster to light-up toys and ice cream, and residents took their time browsing for Christmas presents and good deals.
"It's a really nice event," Lt. Gov. Gregory Francis said as he walked around greeting shoppers.
WICO President Joseph Boschulte said he and his team were trying to keep the tree lighting as safe as possible this year, which included getting the V.I. Police Department out to patrol and direct traffic so that there were no major blockages on the roads – nor hazards for pedestrians walking over from Yacht Haven Grande and beyond.
"We wanted to put something together that would really be the official kick off for Christmas in the territory, and I'm happy to say that everything is going really well," Boschulte added. "It's great to have Irvin 'Brownie' Brown here, after he participated in the event for so many years. It's great to see all the families enjoying themselves. And it's great to see so many people out at the dock for the Jazz event. It all came together really well."