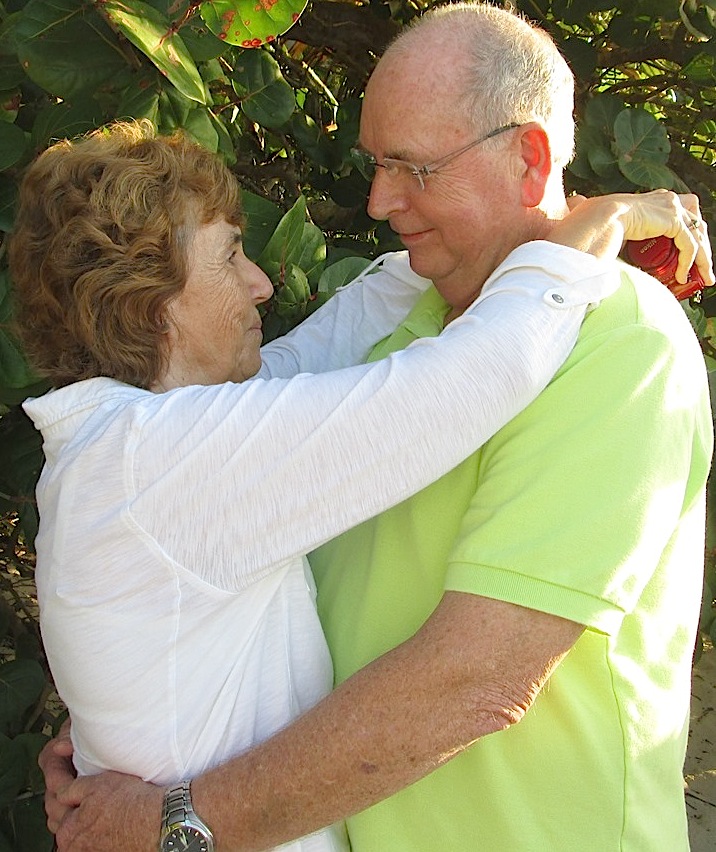 Married for nearly 47 years, Linda and Allen Strahl of Greenfield, Ind., celebrated their long-lasting love Friday along with 99 other couples by renewing their wedding vows at the 12th annual Celebration of Love ceremony held at Trunk Bay on St. John.
"She's very forgiving," Allen Strahl said when asked their secret to a long marriage.
The couple, who are vacationing on St. John at a Peter Bay villa, is married longer than any of the others who renewed their vows. There were several who came close, however.
Phil and Florence Ernzen of Plymouth, Mich., tied the knot 45 years ago.
"We're in love," Phil Ernzen said.
Florence Ernzen credited the fact that they sing together at church and have fun together with the longevity of their relationship.
"And keep looking for the beauty in each other," she said.
Staying at a Chocolate Hole villa, the couple said this was the third time they've come to Trunk Bay on Valentine's Day to renew their marriage vows.
Mary and Bob Schulberger of Quakertown, Penn., who are staying at Serendip, have been married 41 years.
"Compromise. It's not all one sided," Mary Schulberger advised when asked what she'd tell people about to get married.
Carolyn and Rich Sells got married at Hawksnest Beach eight years ago on Valentine's Day by nondenominational minister Anne Marie Porter, who presided over the vow renewal ceremony. Dressed in their wedding finery, they were on hand Friday to do the same again.
"We're still happy," Rich Sells said.
Rachel and Eric Thomas of Deep River, Conn., are married 13 years, and Eric Thomas said it was 14 years to the day since he asked her to get married.
"Wonderful things happen when you least expect it," he said.
Gena and Tom McGlone of Granger, Ind., have been married 10 years. They're staying at the Ritz-Carlton St. Thomas but made the trip over to St. John for the ceremony.
"It's just dorky enough to be cool," Gena McGlone said.
Porter said she holds the vow renewal ceremony complete with roses for the brides as well as flute and steel pan music to give couples the opportunity to honor their relationships.
"When you say I do today, you truly know what it means," Porter said.
While many of the couples renewing their vows hailed from the mainland, a smattering of local residents participated.
Kathy and Steve Crum wed 22 years ago at Caneel Bay Resort. They moved to St. John several years ago to buy Ocean Runner boat rentals. Steve Crum said that when bad times come, you fight through it and look for the good times.
His wife called marriage a growth experience.
St. John resident Nelda and Rick Ringsborg have been together for 28 years but married for 18. Their ceremony was on a July 4 at Lameshur Bay.
"I paid a lot of money to get that parade going," Rick Ringsborg said, laughing as he referred to the annual St. John Festival parade held to celebrate the July 4 holiday, not their wedding.
Married for 24 years, Sue Gant and Ron Yackel now live on St. John but met in Connecticut. They first came to St. John to celebrate their birthdays, staying at Cinnamon Bay campground.
Gant had this advice for those thinking about getting married.
"Don't lose who you are," she said.