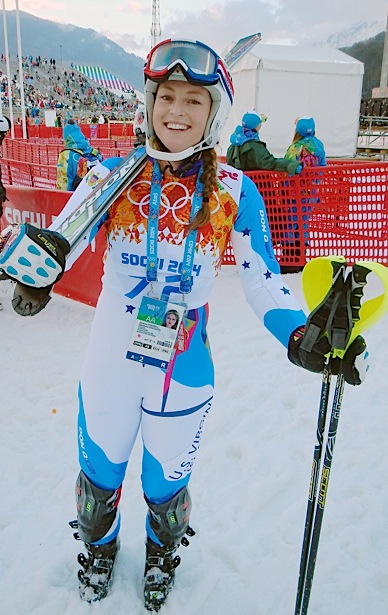 Jasmine Campbell, the St. John native representing the U.S. Virgin Islands in the Winter Olympics in Sochi, Russia, put her "best boot forward" in her final event Friday, cracking the top 50 in the women's slalom.
Campbell said she approached her final event – which was held at night under the lights – with a "nothing-to-lose attitude."
"I was positively stoked for the slalom," she said in a statement released through the Virgin Islands Olympic Committee. "This was my last race in Sochi and I just wanted to make the best of it, try my hardest and try to make those supporting me proud. I loved that the hill was so steep and challenging – I've never skied anything so steep and icy in my life," she said.
"I had a great time gritting my teeth and fighting the good fight though," she added. "I was fired up and really wanted to finish and be in the top 50."
Campbell completed her first run down the slalom course in 1:06:09, and then trimmed almost two seconds off that time, completing her second run in 1:04.28. She finished in 43rd place, 25.83 seconds behind gold medal winner Mikaela Shiffrin of the United States.
Shiffrin became the youngest person – male or female – ever to win gold in the Olympic slalom, barreling down the slope in 52.62 in her first run and an even faster 51.92 in her second to defeat defending champion Marlies Schild of Austria by half a second.
The bronze medal went to Austria's Kathrin Zettell.
Campbell finished just behind Turkish skier Tugba Kocaaga, who placed 41st, and Elise Pellegrin of Malta. She beat Ivana Bulatovic of Montenegro, which placed 44th, and 45-place Kenza Tazi of Morocco.
Campbell was born in 1991 on St. John. When she was 9 her family moved to Idaho, where she began skiing and soon was racing. In January she was picked by the VIOC to represent the territory in the Russian games after posting qualifying times in international competitions.
Tuesday she competed in the giant slalom, finishing 56th on as sloppy course that rain and warm temps had turned into slush.
Friday under the lights was different, she said.
"The conditions were incomparable. In the GS I was wishing for windshield wiper blades attached to my goggles, but today the rain had ceased by the time the race began. Really it was lucky it was scheduled so late in the day," she said. As for the late start of the competition, she added, "I've never raced at night and was surprised to find that I really enjoyed it. I thought I would be tired, but it was nothing a strong cup of nighttime coffee couldn't cure."
The experience of Tuesday's event helped her Friday, she said.
"I felt much more at ease going into the slalom since I already knew how to handle the pressure after completing the GS. During the GS, I was just trying to acclimate myself to my surroundings and get a feel for the difficulty of the course and hill. For the slalom I had more of a nothing-to-lose attitude. I just wanted to go for it, finish and hope for the best," she said. "The racing was just as intense as it was in the GS, but I felt more collected, focused and excited."
With the games drawing to a close, Campbell called her time in Sochi, "arguably the most amazing experience of my life."
"I came here in pursuit of one of my passions, and I believe that following where your passions lead is the richest and most fulfilling way to live," she said. "It didn't really matter to me that I wasn't a medal contender because that is not the only thing the Olympics is about. It's about generating international camaraderie, awareness and understanding of cultural difference."
"I've learned a lot from my time here and the journey that led to this moment," Campbell continued. "I'm a better, stronger more capable person because of it. I'm so blessed to be here and so grateful for those who've supported me throughout this process. I'm positively overcome with gratitude for this amazing opportunity I've been given. It truly is the highest honor that has ever been bestowed upon me."