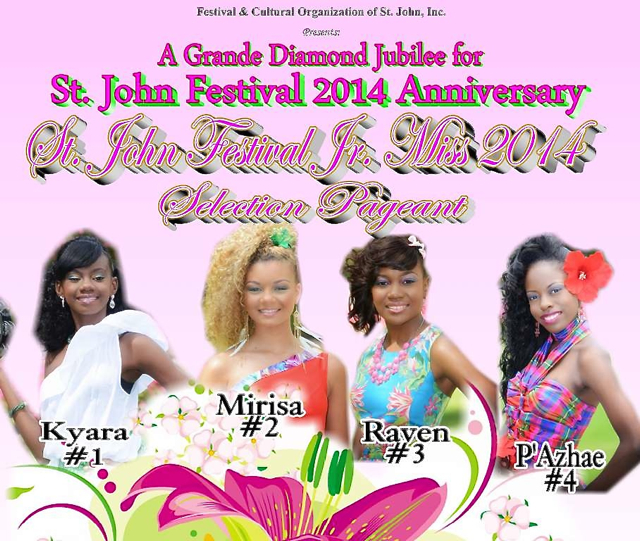 The annual St. John Festival kicks into gear Sunday and will run through July 5. This year marks the event's 60th anniversary.
"It's going to be memorable. A lot of folks are coming back to partake of it, and you're going to see folks you haven't seen in many years," said Leona Smith, chairman of the St. John Festival and Cultural Organization.
According to Smith, many of the festival royalty from the past 60 years will return to participate in this year's events.
Sunday the Junior Miss Selection Pageant begins at 6 p.m. at the Winston Wells Ballfield.
Contestants are: Kyara Ianthe Lewis, 14, a sixth grader at Lockhart Elementary School on St. Thomas; Mirisa Corean Clendinen, 15, who attends Antilles School on St. Thomas; Raven Phillips, 15, a 10th-grade student at Ivanna Eudora Kean High School on St. Thomas; and P'Azhae N'Dia Harrigan, 14, who attends Charlotte Amalie High School on St. Thomas.
Next on tap will be the Senior Variety Show, at 7 p.m. Friday at Winston Wells Ballfield. Once the seniors are done strutting their stuff, there will be a Calypso show featuring calypso monarch Patrick "deSoljah" Farrell of St. Thomas. He is the two-time and reigning calypso monarch for St. Thomas and the reigning Leeward Islands calypso monarch. The show will also feature St. Thomas boy calypso monarch Mighty Waggy as well as St. John calypsonians Chaplet and Super T.
"We are happy to bring the calypso art form back to the celebration," Farrell said, noting that this is the first time in years that St. John Festival had a calypso component.
The Festival Bike Race begins at 8 a.m. June 14 at the V.I. National Park dock.
Judges will pick the Festival's princess in a pageant that begins at 6 p.m. June 15 at the Winston Wells Ballfield. The contestants include Marlene Jamalia Warner, 9, a student at Bethel Baptist Day School; TaeZha Alanye Maduro, 8, who attends Ulla Muller School on St. Thomas; and Kaleya Ari Redding, 9, a fourth-grade student.
The Festival Musical Mix starts at 9 p.m. June 20 at the Winston Wells Ballfield. According the committee chairman JuJu Paris, reggae artist Freddie McGregor is the headliner. Other artists include Volume International, K-Victoria, Ras Batch, Red Lion Sound, and Dj Avalanche.
"It's real good entertainment," Paris said.
The Festival's queen will be named at a pageant that begins at 8 p.m. June 21 at the Winston Wells Ballfield. Contestants are Dyese Charlotte Amalie High School student Kalifa Turnbull, 16; Sharvelle Quilma Nicholas, 18, a Kean student; Kyrelle Lytisha D'Nique Thomas, 16, who attends Charlotte Amalie; Torey Viola Jena Challenger, 19, Kean; Kean student Shiquela N. V. Monsanto, and Makeda Lekenya Dawson, 18.
The queen will be crowned at Food Fair, which begins at 1 p.m. June 22 at Cruz Bay Park, also called Franklin Powell Park. This year's Food Fair honoree is acclaimed wood turner Avelino Samuel, who passed along his skill as a teacher at Julius E. Sprauve School before he retired.
"He has classes teaching kids all over the world," Smith said
June 22 is also the date of the Festival boat races. They begin at 3 p.m. in Cruz Bay Harbor.
"We're trying to include some kayaks and paddle boards in addition to the big boats," race organizer Glenville "Slim" Ross said.
The Festival Village opens at 7 p.m. June 27. The village is named in honor of Smith.
"She works hard to make sure the celebration is a success," committee member Nathalie Thomas said.
Smith is involved with each of the several committees that organize the Festival to make sure the work is done fully and timely, Thomas said.
The Children's Village at the Creek bulkhead opens at 6 p.m. June 28. It's sponsored by the Rotary Club of St. John.
"We have exciting toys and exciting games," Rotary President Joan Bermingham said, adding that Rotary needs volunteers to help with the event.
Emancipation Day will be celebrated beginning at 10 a.m. July 3 in Cruz Bay Park. Alecia M. Wells, who organizes the event, said events will go on all day and into the evening. The day features food, crafts and music as well as quelbe dancing. A play about Peter Von Scholten, whose July 3, 1848, pronouncement in front of Fort Frederik in Frederiksted, St. Croix, ended slavery in the Virgin Islands, will be performed in the afternoon at a time to be determined.
"At night we'll have a torchlight parade," Wells said.
July 4 is a big day, with J'ouvert beginning at sunrise. The parade through the streets of Cruz Bay follows at 11 a.m. It begins near Mongoose Junction shopping center.
Thomas, who chairs the parade committee, said she expects about 45 to 50 entries. And she said the committee will again try hard to start the parade on time.
Elise Thomas-Trotman is the parade's grand marshal. As Miss Independence, she reigned over the first carnival celebration on St. John.
The day wraps up with fireworks over Cruz Bay at 9 p.m.
Because July 4 falls on a Friday, the organizers will keep the village open through July 5.
Tickets for most events are on sale at Chelsea Drug and W&W Fast Food on St. John as well as International Records and Tapes and Mayrose Boutique on St. Thomas. Tickets to the Musical Mix are also available at Love City Barbershop.