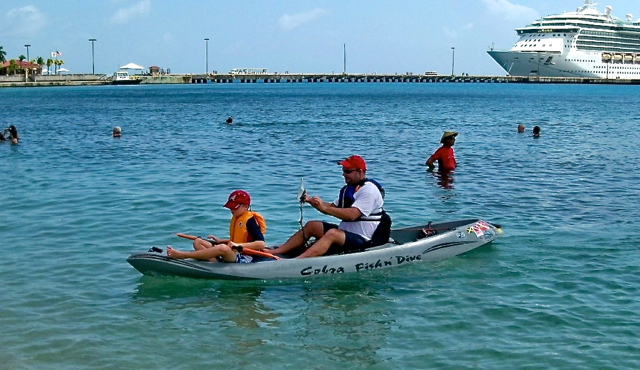 Combining a good cause with fun on the picturesque sea is how participants described the 15th annual Kayak for Kids Sunday.
Not only was it fun kayaking from Cane Bay Beach to Fort Frederik Beach with a stop at Hams Bay Beach, it was also a fundraiser for the Queen Louise Home for Children.
Kayakers were rewarded with applause and cheers as they glided onto the white sandy beach. The 90 entrants and volunteers were also rewarded with a complementary picnic party provided by J.T. Torres and Angie Morales of Villa Morales.
Emily Graci, director of public relations and development for Lutheran Social Services of the Virgin Islands, said Torres and Morales are phenomenal and are like the king and queen of kayakers.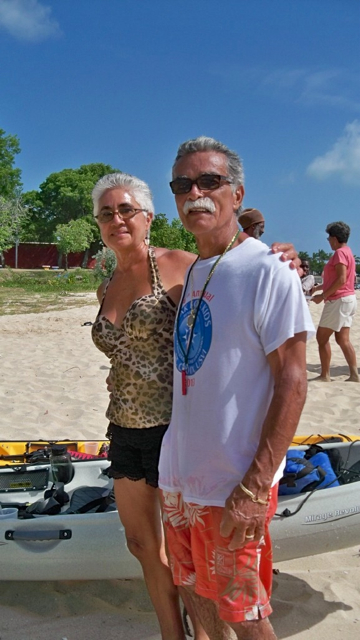 She said the couple is credited with organizing and spearheading the Kayak for Kids event and they raise thousands of dollars for the event every year. Graci said this year they have raised $7,500 and counting. Torres has a fundraising competition going with Luther Edwards, an early supporter and former LSSVI board chairman. Edwards raised $4,000 so far this year.
They do this all for the love of kids, Torres said.
"We do this because we love kids a lot," Torres said. "The kids coming from abusive families always need a lot of help. We just care about everyone. It does take a village, so I get some buddies together for fun and on the same token raise funds."
Graci said the event was everything they hoped for and they met their goal. Last year, it drew a crowd of 89 participants.
Jacob and Becky Pierpont raised about $665, getting pledges from the Cane Bay area where she is a waitress.
Junia Straker, CEO at Lutheran Social Services, said the reason the home has stayed open continuously for more than 109 years is because of events like the Kayak for Kids. She said she wants to extend a thank you to all the kayakers for supporting the home. The entrance fee was $50.
This year the kayakers were joined by a big group of stand-up paddle boarders. There were a few SUP participants last year.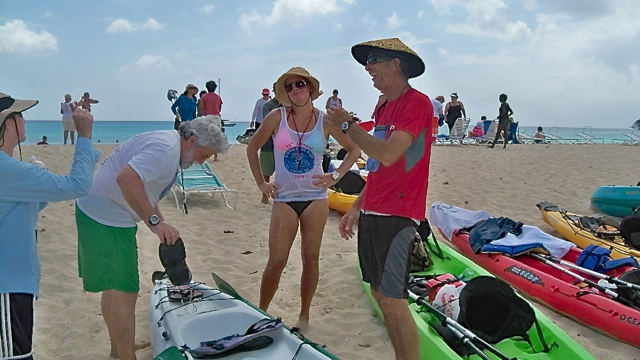 Nathan Bishop, a resident who did the trip on a paddle board, said he had a great time and it was for a great cause.
A group of 14 students from East Stroudsburg University of Pennsylvania, volunteering at Ginger Thomas Group Home for men with disabilities, took part in the event. Professor Richard Wesp said it is the third year they have taken part.
Graci said all proceeds from the event will go to general operations of Queen Louise Home. The home is undergoing renovations at Cottages A and B. The last time the cottages had any major renovation work was in1967. Since 1967, the home has had only minor and cosmetic repairs made as needed.
Major sponsors included Villa Morales, Continuum Care, Diageo, and O'Neale's Trucking.