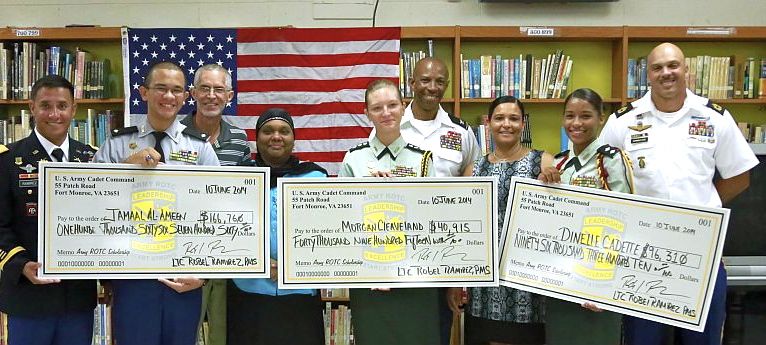 With the price of a college education continuing to climb these days, three of Ivanna Eudora Kean High School's graduating seniors can now breathe a little easier knowing that they have been awarded either full or three-year scholarships to pursue majors in criminal justice, medicine and software engineering.
The official scholarship ceremony was held at Kean's campus Tuesday, with checks being presented to three of the school's JROTC cadets. During the ceremony, each talked to their fellow students about the importance of staying focused in school, earning high standardized test scores, and getting involved with in-school or community extracurriculars.
"When you're just getting started in high school, you might not really give much thought to it, but as you get older, you will realize that all of this stuff matters," Kean cadet Jamaal Al-Meen said Tuesday. "I got involved with the JROTC program and that really helped me, but no matter what you do, the main thing is just to apply yourself and that application – what you do with yourself and your grades – will get you far."
Al-Meen was presented a check Tuesday for $166,760 for a four-year scholarship to the Florida Institute of Technology. Along with the scholarship, Al-Meen will also receive a stipend while attending school.
Kean's JROTC battalion leader, Dinelle Cadette, was also among the seniors receiving awards Tuesday. Described by the school's battalion commander, Col. Eddy Charles, as a "talented young woman with exceptional leadership skills," Cadette plans to attend the University of North Florida, where she will pursue her dream of becoming a doctor.
"There is so much you can do in high school to build your future," she said Tuesday. "Applying yourself is the biggest thing, pushing yourself and maintaining discipline is also important, but you also have to be part of something. For me, that was JROTC, and it has become such a big part of my life."
Cadette also received a four-year scholarship, and a check totalling $96,310.
While the other two have chosen to study abroad, senior Morgan Cleaveland said Tuesday that she wants to stay in the territory, study criminal justice and matriculate through the University of the Virgin Islands' Army ROTC program so that she can receive a commission upon graduation.
"Her drive is impressive," said Lt. Col. Robel Ramirez, who is in charge of the Army ROTC program at UVI. "She's ready to get out to duty and do great things, and we are excited to have her with us."
Ramirez also explained Tuesday that each of the students took the time to go online and apply for the ROTC scholarships, but did much to distinguish themselves in high school through the JROTC program.
"They have done their part to acheive their goal," Ramirez said. "They took charge of their future and that speaks of their character, of their desire to become better citizens and leaders in their community."
The University of Puerto Rico's Mayaguez Campus hosts the Army ROTC program. Instruction is provided to students of the UPR regional colleges, Catholic University, Inter-American University, and both UVI campuses. Senior ROTC programs at the University of the Virgin Islands were established on the Albert A. Sheen campus on St. Croix in 2005 and on the St. Thomas campus in 2008. The UPR program is the second largest in the Army Cadet Command's Southeast Region.