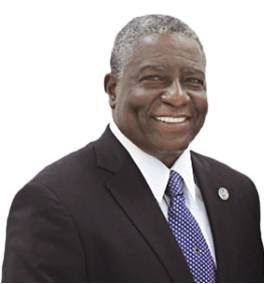 My fellow Virgin Islanders, I am Gregory R. Francis, and like you I call the United States Virgin Islands home. I was born here, raised here, and I am a proud native of St. Croix. My wife Cheryl and I raised our children here. I care about being a good husband to my wife, Cheryl, a loving and responsible father to our children. I truly care about our community where we have raised our family. I care about this Territory, and I am determined, working with our senators and local leaders, to empower our youths, seniors and disadvantaged groups, to grow our economy; expand small businesses; create jobs; and work to improve schools; worker skills and public safety.
As your Lt. Governor, I have appreciated your support for many years, and I look forward to becoming your next Governor. While serving as your Lt. Governor, I have done my best to focus on the job you elected me to do, and to remain true to the core values I believe defines public service and represents the fabric of who we are as a people – honesty, integrity, family, community, loyalty and doing right by the people I serve. I am loyal to the people and ideas that are important. I stand by my friends, loved ones, country and convictions. I keep my commitments, even when it's inconvenient to do so. Loyalty should count for something, and we should always strive to put our territory's progress ahead of our own personal pride or interest. I will not stop being a man for the people. And by the grace of God and the habits of respect, hard work and perseverance instilled in me by my family and faith, I am energized, and ready to serve as your next Governor.
Today, I am more excited about this campaign than ever before, with the selection and commitment of Patrick Simeon Sprauve as my running mate. Former Senator Sprauve is a rising democratic star. He is an outstanding choice as our territory's next Lt. Governor, with real experience in local government, the private sector, and a deep understanding of our legislature. Patrick, 44, is a faithful Catholic and devoted family man. His focus and commitment is towards expanding access to quality health care in the Virgin Islands and improving government services to our mentally ill and seniors. Patrick is a hard worker who stepped up when others stepped down. Instead of sponsoring a study, Patrick conducted 16 committee hearings and sponsored/co- sponsored 19 bills during his first term as a freshman senator. Patrick served as chairperson on the Health, Hospital and Human Services Committee in the Virgin Islands Legislature and has working relationships with many of our current senators. Together, Patrick and I will diligently seek to empower the working class, lower energy costs, reduce taxes, improve education, public safety, and promote the cause of those dissatisfied with the economy.
The Virgin Islands, like every state, commonwealth and territory in the nation, was hit hard by the Great Recession. From 2008, until now, leaders in every economy have been faced with difficult challenges. And while we have made some progress, with the support of our local businesses and residents, there is more still to be done. We are not yet in the clear, and there are additional challenges to be overcome to move our territory forward. This is no time to go yellow, return to colonialism, or delegate our future into the hands of our federal partners. I am confident that as your next Governor, working with our senators and local leaders, I can have a bigger impact addressing the unique challenges and opportunities we face in these Virgin Islands. And I believe that as long as we are willing to listen to each other, we will learn from each other, improve the overall quality of all of our lives, and make these Virgin Islands a better place.
Let us be the generation that restores our schools failing infrastructure and give our teachers the resources they need to succeed. Let us be the generation that empowers working families, by providing skills training and certification that leads to jobs and better opportunities. We will grow the economy, create jobs, and turn a budget deficit into a surplus. We will work diligently to increase the minimum wage to lift more of our working single moms from living below the federal poverty line. We shall not rest, until we have shifted the emerging stream of renewed prosperity away from mainland consultants, and outside interests, towards our communities and working families left to struggle on their own. That's why I'm in this race. That is what the Francis-Sprauve campaign is all about.
Today, we are at a critical juncture in our Territory's history. Virgin Islanders don't need a Governor, or Lieutenant governor for that matter, who looks down on them or dismisses their values. They need a Governor who stands up for them, and who will fight for them. A Governor who is not sold out to outside special interest, but committed to our community, and is vested in its future. We are responsible leaders who will not bring shame and disgrace to our highest office. As we officially launch our campaign, I ask you for your prayers, support and vote. On August 2, 2014, please vote number for (#4) on your ballot. The Francis-Sprauve team stands with you. As we work together, side by side, we will create a Virgin Islands where honest work is plentiful and our communities are strong.
Thank you. God bless you, and God bless our United States Virgin Islands.