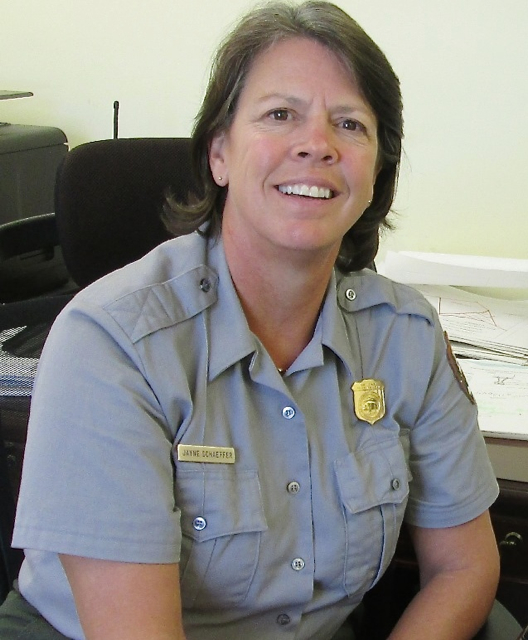 A career employee of the National Park Service, Jayne Schaeffer's newest job is at Virgin Islands National Park. She arrived in mid-May to take the deputy superintendent's job last held by Mike Anderson.
"When the job opened up, it matched my skill set," she said.
Much of her career has focused on infrastructure details, and she said she sees that as one of the biggest challenges facing the park. A lot of the maintenance work needs to be done "yesterday," she said, and she plans to figure out how to get the Park Service to come up with funding to get the work done.
Staffing is also an issue, but Schaeffer said she thinks the park will be able to hire some staff. Positions are vacant because several people left in recent years. Several more will retire shortly.
She said she's still in a listening mode, learning the staff and their stories.
"I'm just trying to catch up with everybody," she said.
That said, she's already faced some big issues. When the aluminum cans deposited at park beaches for recycling began to pile up because the non-park program organizers couldn't keep up with collection, she had to stop the program.
"We're going to work on that," she said.
She also hopes to guide the park into solar energy, an improvement that will help decrease the park's operating expenses.
Park Superintendent Brion FitzGerald said Schaeffer is doing a good job adjusting to the pace of operations at the park.
"She's already impressed the staff with her willingness to sit down and listen and reach a resolution," FitzGerald said.
Schaeffer, 53, started her Park Service career in 1983 at a seasonal job after graduating from Minnesota's St. Cloud State University with a bachelor's degree in recreation and leisure studies and outdoor management. She moved around with the Park Service, serving stints in the Park Service's Midwest Regional Office in Nebraska and San Francisco's Golden Gate National Recreation Area before landing in Denver.
She spent 22 years in Denver in various capacities. Her last job was that of transportation program manager for the park's Intermountain Regional Office.
"There were a lot of little steps in Denver," she said.
According to Schaeffer, she has no plans to move on to another post anytime in the near future, and she said she didn't know if a superintendent's job would someday come her way.
"We'll have to see how I do here," she said.
While in San Francisco, she got a master's degree in landscape architecture from the University of California at Berkeley.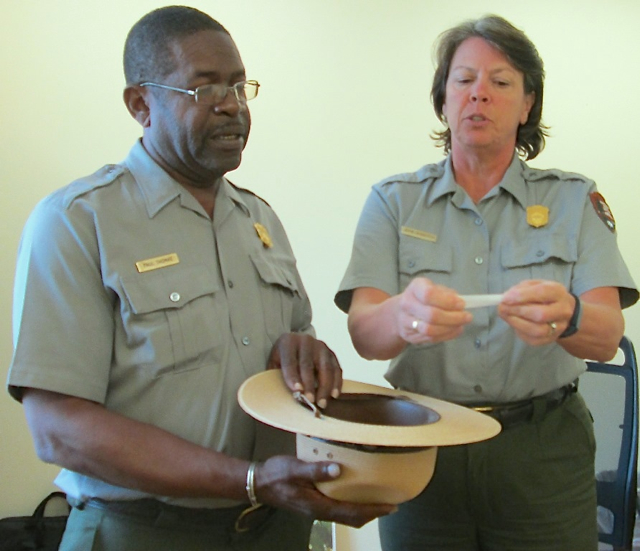 She also got a taste of disaster management in San Francisco when the Loma Prieta earthquake hit in 1989. She said that experience should help if a hurricane hits St. John.
Schaeffer and her husband, Skip Schaeffer, first visited St. John in 1996, camping at Cinnamon Bay Campground. They later bought a share in a Tortola yacht and spent a few weeks here and there sailing around the area.
Her husband is retired, and Schaeffer said he plans to do volunteer work for the park. He and their two dogs and cat moved with her to St. John.
Like most people who move to St. John from elsewhere, she's discovered some challenges, such as the cost of food. However, she said she finds she likes driving on the left rather than the right, like they do on the mainland. And she's become a big fan of water sports, with snorkeling right off the beach a big favorite.
"It's just spectacular," she said of St. John's gorgeous scenery.
When she's not on the job or in the water, she's in the kitchen cooking healthy meals. And while she was an accomplished ceramic artist in Denver, she said she expects to branch out and take up painting.
"And I'm getting ready to do the Beach-to-Beach next year," she said, referring to the annual power swim sponsored by the Friends of the Park group.