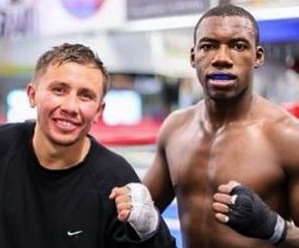 For the second consecutive summer, local boxing champion Julius Jackson is heading to Big Bear, Calif., for a month of sparring with Gennady Golovkin, the undefeated fighter who will be defending his title at the end of July against Australia's Daniel Geale in the big ring at Madison Square Garden.
Speaking with the Source before flying out with his brother John late last week, Julius Jackson said there's much he's already learned from the boxing champion – and even more he can learn as he prepares to fight again in August.
"Sparring with Gennady Golovkin is amazing," Jackson said. "I've learned a lot of things about balance, strength and power punching. He's one of the hardest punchers right now in the sport of boxing and he focuses a lot on key exercises that I've begun to work into my routine."
"I'm also looking forward to learning a lot more from him coming up," Jackson continued. "This is the second time I've been invited to spar with him, and besides getting a chance at being in the gym with him, his camp is in Big Bear, which is 8,000 feet above sea level. It's good for my lungs and even better for training. I'm looking forward to the experience."
While on the west coast, Jackson will be participating in an event hosted by World Boxing Cares, a charity organization under the auspices of the World Boxing Council that sends athletes into youth centers, orphanages and hospitals with messages of hope and inspiration.
"I don't know how they heard about me, but we're going up there to work with some of the kids and meet some of the champions that they've partnered with," Jackson said. "It's definitely important for us to be part of this, and it is amazing to be recognized by this organization and be part of the work that they do."
As far as the fighting goes, the latest word is that he might be back in the ring for his birthday on Aug. 1.
"The details are being worked out so we encourage our fans to stay tuned," Jackson said. "In the meantime, I'm excited to get back out there, show the world that I'm ready for the next big step and represent for the Virgin Islands."
Jackson has not fought since December 2013, when he emerged with ninth-round TKO over Argentina's Nicolas Dario Lopez (10-1, 4 KOs), which earned him the vacant WBA Fedebol Super Middleweight title.