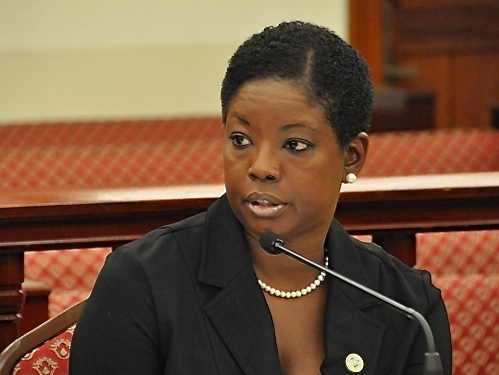 Planning and Natural Resources Commissioner Alicia Barnes testified to the Finance Committee about the many operations of DPNR, from environmental enforcement activities to building permits, during budget hearings Wednesday.
Like other departments, DPNR is trying to do more with less, as budgets continue a several-year downward trend.
The Office of Management and Budget has recommended a General Fund appropriation of $6.8 million for DPNR for 2015, a decline of $503,000 – or seven percent – from the 2014 funding level, which was itself a five-percent decline from the prior year.
Wages and salaries account for $3.8 million; Medicare and Social Security taxes and fringe benefits come to $1.5 million. Supplies are budgeted at $158,000. Other services and charges comes in at $809,000. Utilities are budgeted at $551,000.
DPNR expects non-appropriated local funds from construction permits, Coastal Zone Management permits and other fees and fines to contribute another $4.1 million, which is budgeted for personnel, benefits and so forth at similar rations as the General Fund appropriation. Last, DPNR expects $8.4 million in federal funds for FY 2015, for a grand total DPNR budget of $19.4 million – a $4.1 million reduction from the year prior.
DPNR is also slated to receive $1.2 million from the miscellaneous section of the V.I. budget.
The V.I. Council on the Arts is slated to receive $335,000 from DPNR's miscellaneous funding.
DPNR has 11 divisions, overseeing a wide range of functions, from promoting the arts to permitting construction. Those divisions are:
• Archeology and historic preservation;
• Business and administrative services;
• Building permits;
• Coastal zone management;
• Comprehensive and coastal zone planning;
• Environmental enforcement;
• Environmental protection;
• Fish and wildlife;
• Libraries, archives and museums;
• V.I. Cultural Heritage Institute;
• and the V.I. Council on the Arts.