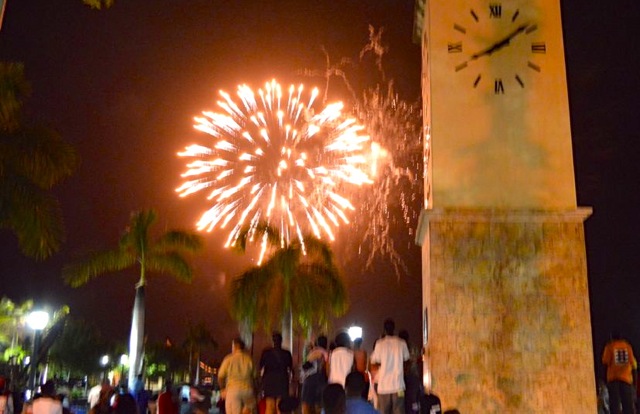 St. Croix took the day off Wednesday, flocking to the shores to swim, barbecue, drink, listen to music and generally enjoy the U.S. Virgin Islands' 97th American Independence Day celebration as a territory
The Frederiksted Economic Development Association once again put on a show for the community, organizing fireworks, a food and vendor fair and a full evening's musical entertainment at their Post Emancipation Jazz, Reggae and Soul Concert.
By 3 p.m. families covered miles of beach north and south of Frederiksted, barbecuing up a storm. Hundreds, if not thousands, of men, women and children waded and swam in the calm, clear Caribbean, while thousands more lounged around in the shade of sea grape, mangrove, palm and tamarind. At first it looked like rain would pour down, with darkening skies and swirling gray clouds threatening to send a torrent to drive everyone off the beach and indoors. But the clouds cleared and the crowd kept building.
The smell of cotton candy filled the air, a smell that prompts memories of carnivals, amusement parks, fairs and outdoor fun in the sun, wafting from a food truck emblazoned with a American Youth Soccer Association banner.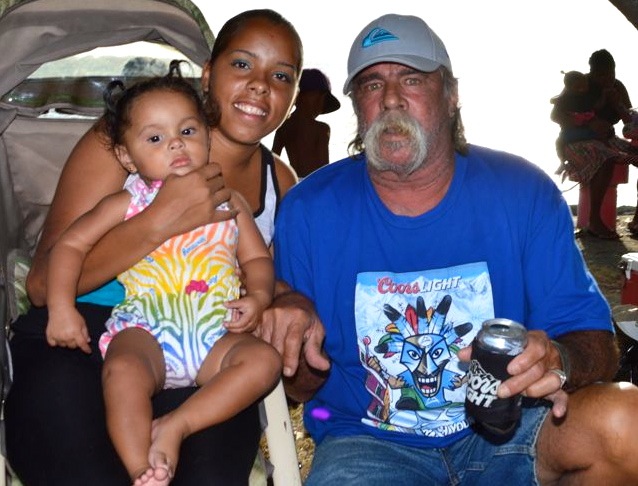 Many of the familiar food, jewelry, art and souvenir vendors set up their wares on Strand Street.
Liliana Belardo de O'Neal, who has cooked up hot Caribbean and Puerto Rican delicacies for Carnival, V.I. Puerto Rico Friendship Day and many other St. Croix celebrations for years, was there cooking with her husband, Humberto O'Neal, and some friends and family members, heating up the oil, rolling out johnny cakes and stacking hot boxes with piping hot alcapurrias, fresh out of the fryer.
The Allen D. Burke Foundation was there, selling food and raising money to raise consciousness of nonviolence, in the name of a young St. Croix homicide victim.
Diane's Roti Master and a dozen more familiar St. Croix faces were also there hawking their wares. "Crucian Cake Queen" Renita Johannes and her newlywed husband, George Lubrin, were serving a panoply of irresistible, if diabetes-inducing layered cakes, from traditional Vienna cake and black cake to modern favorites like red velvet cake. Johannes has served up sugary goodness at 11 V.I. Agrifests, five St. Croix Christmas Festival Food fairs and at every big St. Croix gathering from Jump Up to V.I. Puerto Rico Friendship Day.
Johannes and Lubrin got hitched in March and went on a cruise for their honeymoon in April, she said. While on the cruise, she said she chatted with some fellow passengers about her baking and one of them looked her up. "She looked me up on the Internet and saw this Source article from the Food Fair and said to me, 'Look you're famous,'" Johannes said. (See Related Links below)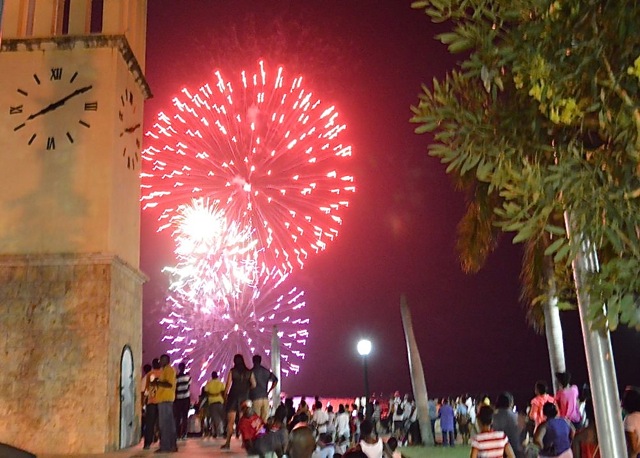 A posse of a dozen young men on horseback rode through town, trotting clip-clop southward toward the Frederiksted Pool, stopping to talk to friends on the way. A bit later, a group of older men on iron horses rode by, mufflers rumbling, past hundreds and hundreds of families grilling, swimming and sunning themselves on the island's long western shore.
As the sun set, casting a mellow orange glow over the cream-colored stone of Frederiksted's Strand Street, the waterfront slowly and inexorably began filling up with a huge cross-section of St. Croix's populous.
Blue Moon, Pier 69 and the other Strand Street restaurants filled and the cooks, waiters and bartenders began to hit high gear, focusing their minds and speeding up their hands and feet for the waves of hungry and thirsty revelers.
St. Lucian blues, jazz, rock and soul artist Carl Gustave rocked the waterfront, with bluesy, BB King-like guitar riffs cutting the air.
Then right at 8 p.m. on the nose, the first firework cannon went chonk, spitting a line of white sparks a short way into the air beyond the tip of the Ann E. Abramson Pier. For a couple minutes, all the fireworks were low and small, but then they pulled out the big items and, for the next half hour, the teeming throng of St. Croix residents joined together, oohing and ahhing to the fireworks. Teens filmed the phosphorescent explosions with their cell phones.
Suddenly a whole slew of charges went off: chonk, chonk, chonk, chonk, chonk, chonk, and the sky filled with many-colored lights, illuminating the smiling faces of the crowd.
Tarco and the Crucian Rhythm played a set and local roots reggae band Midnite rocked until late.
Isle 95 Radio, Cruzan Rum, Innovative, CBS TV2, ABC Channel 8 WSVI and the V.I. goverment helped sponsor FEDA's festivities.