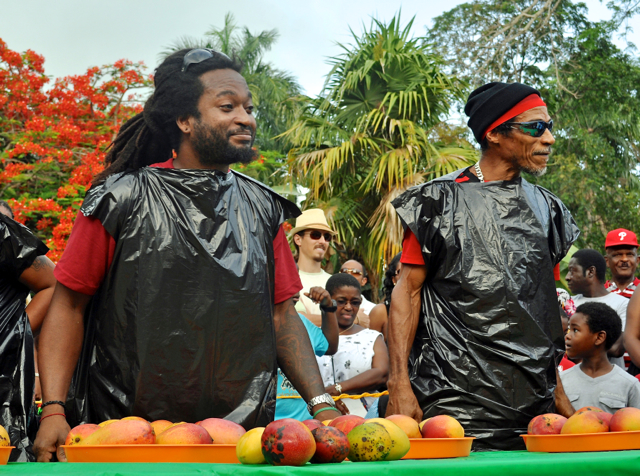 Though this year's mango season has, so far, been less than bountiful, the sweet, delectable fruit had its special afternoon in the limelight Sunday as St. Croix celebrated its 18th annual Mango Melee and Tropical Fruits festival at the St. George Village Botanical Gardens.
With cars lining the road and filling empty lots all the way from the botanical garden's entrance to the Queen Mary Highway, the event appears to maintain its popularity among islanders and visitors alike.
The festival started at noon, and near the garden's entrance patrons were invited to sample and rate a number of different types of hybrid mangos available on St. Croix.
By 4 p.m. the samples had run out.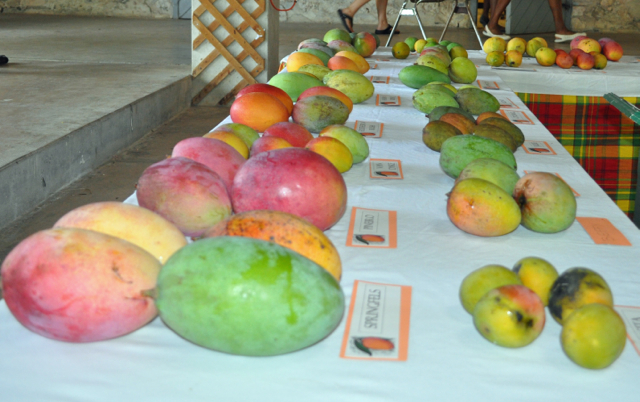 Among the Bombay, Glenn, Carrie, Nam Doc Mai and the V.I's official mango, the "Julie," the overall people's choice award went to the Bombay.
One volunteer described the Bombay as "firm and with no fibers."
Inside the garden's exhibition area, many other types of mangos – Valencia Pride, Manzana and Bandeleho, to name a few – were on display along with other tropical fruits.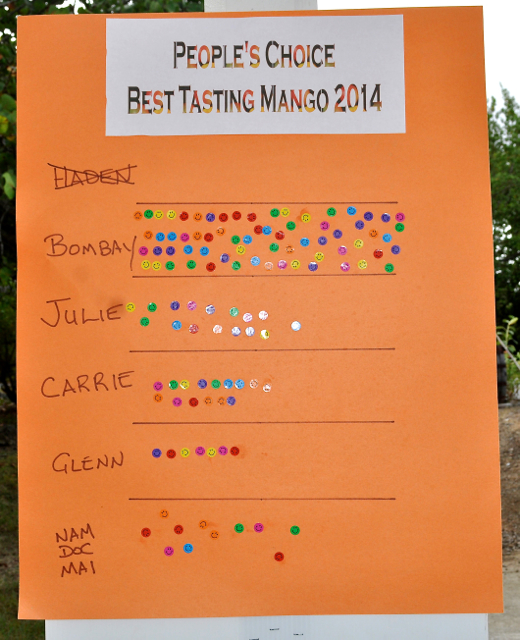 The exhibition area and the surrounding grounds were engulfed with vendors selling tropical-inspired foods and wares, and many featuring products that used mangos as an ingredient.
Queen Caribee's Toni Downs, who normally sells her products on Saturday next to the Southgate Baptist Church and on Wednesday's behind Polly's at the Pier, was one such vendor. She had jars of pickled okra and jalapenos for sale, mango chutneys and mango and sour orange-mixed-marmalades, among other things.
Downs took pride in her products, saying all of them, right down to the beeswax used in her soaps, utilized, "whatever is available locally."
"If it's fresh, I try to preserve it," Downs said.
She also said she liked the festival's sense of community.
"This is a huge cross section of everyone on the island coming out and it's just a really positive event," Downs said. "You see so many smiling faces out here that you just know everyone is really participating."
Neil Galloway of Queen's Maubi was another vendor selling juices and "horseshoe cookies" at the festival. He'd entered his "Mango Twist" juice in the food competition and said with his products he was "preserving Virgin Islands culture one sip and crunch at a time."
"I'm trying to bring things from the past into the present," Galloway said. "The young kids today don't have the palate for the maubi and we're like, losing the culture."
He said he liked events like the mango melee because it was "personal."
"People really need something safe and productive to do," Galloway said. "We need events like this because it gets the family together."
What always seems to be the main attraction of the melee, though, was the mango-eating contest, St. Croix's version of what Nathan's Hot Dogs does on New York's Coney Island each year, and this year the competition was unusually intense.
As 5 p.m. drew near, most people in attendance flocked to the roped-off table where contestants would vie for the prize of champion mango eater, determined by judges and based upon who finished their mangos first.
Children were allowed the use of both of their hands while adults could only use one.
So many people wanted into the contests that entries, besides the previous year's winner, had to be determined by lottery.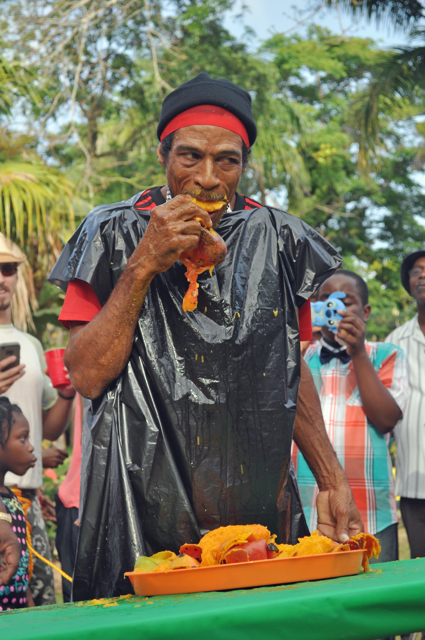 Nine children under 12 years of age started off the children's contest and when it ended Phi-Jah Merchant emerged victorious. Even though his face told a different story, Merchant said he felt "good" after his victory and would "probably" be back to defend his title next year.
The adult contest, which required contestants to eat 10 mangos each, pitted two men who were no stranger to the rigors of speed eating – defending champion Hector Gordon, Sr. and two-time former champion Olubayo Kaza. With the crowd cheering, the men matched mango for mango right to the end, finishing in a tie. For the first time in Mango Melee history, the contest had to be decided in an eat-off. On top of the ten mangos each had already eaten, the two had to eat three more each to see who would reign as this year's champ.
In a very close contest, Gordon became the event's now four-time defending mango-eating champion.
Gordon joked he'd like to eat 15 mangos next year and see a bigger prize than the current $100. He attributed his quick-eating skills to the mango tree in his yard and the fact that he always "comes hungry" to the big contest.
"I don't let them (the mangos) spoil," Gordon said. "I make good use of them."
Practice apparently makes perfect.