At last the two long-awaited ferries leased to local ferry companies by the V.I. government are plying Pillsbury Sound between Red Hook, St. Thomas, and Cruz Bay, St. John.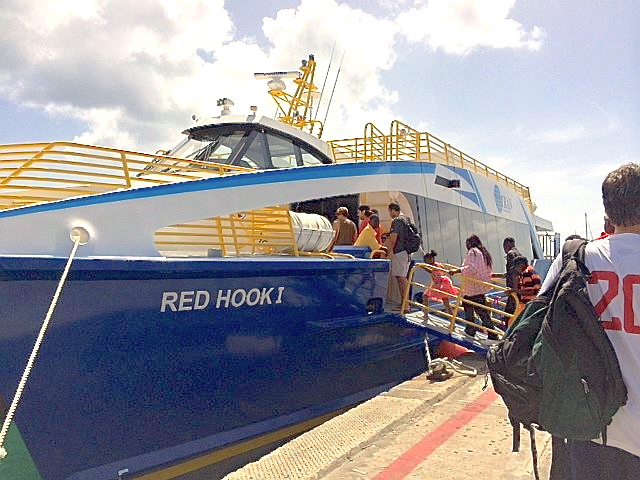 "I'm pleased to see they're actually in operation," St. John Administrator Leona Smith said Tuesday.
The ferries began operating July 3 just in time for St. John's Emancipation Day observation and Festival celebration.
When the ferries were dedicated in early December 2013, Public Works Commissioner Darryl Smalls said they should be in use by Christmas 2013.
Smalls did not return phone calls requesting comment.
Smith said the new ferries make the trip in seven to 10 minutes, about half the time of the other ferries.
Catamarans in style, they're named the Cruz Bay I and the Red Hook I. The ferries are operated by Transportation Services and Varlack Ventures, the two St. John-based companies that hold exclusive franchises for the route. Varlack's boat is the Red Hook I with Transportation Services using the Cruz Bay I. Both fly the VITRAN logo, the same as the Public Works Department buses, because they are government owned.
"Everything is running great," Delrise Varlack at Varlack Ventures said.
No one could be reached for comment at Transportation Services.
The new ferries augment those already in service and owned independently by the two ferry companies. Each of the 84-foot ferries carries a maximum of 204 passengers.
Varlack said there is limited space for luggage but the crews are making it work. "We have to," she said.
The ferries were built in Louisiana by Midship Marine and were paid for with $7.6 million in federal funds.
Varlack said the craftsmanship on the ferries is excellent. "Everything is wonderfully made," she said.
The ferries arrived in the territory in November 2013. U.S. Coast Guard inspections and preparation kept them out of service until early July.