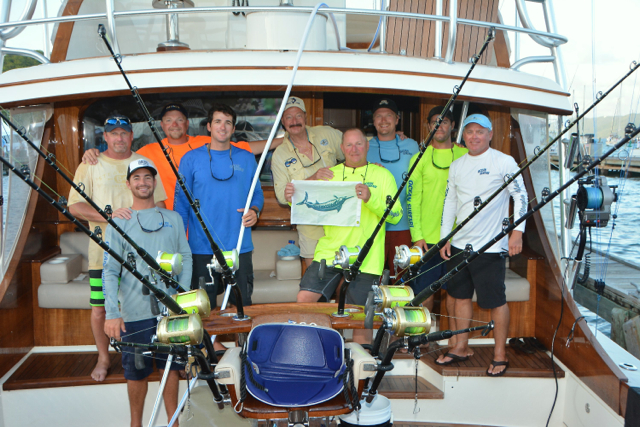 The fish weren't biting, but it wasn't for a lack of trying, as eight teams took to the sea Wednesday to compete in the 51st July Open Billfish Tournament.
By the time "lines out" was called at 5:30 p.m., three boats released one blue marlin apiece. This result was enough to put Indigo in the lead, followed by Reel Passion second and Wave Paver third, according to the V.I. Game Fishing Club, which sponsors the tournament.
"We hooked up about 11 a.m.," said Steve Shockley, the Fort Collins, Colo., based manufacturing manager of Grander Custom Tackle who fished aboard Indigo, a 61-foot Buddy Davis that is part of the local Ocean Surfari Charter fleet. "We're fishing with all of our own lures. I chose a large one with a purple shell and that's what worked."
Shockley's first release of the day put him in the lead for Top Angler, and the Capt. Johnny Harms 'Give Him Line' Trophy.
Less than an hour later, Charlotte, N.C., angler Bill Ingram, fishing aboard his
61-foot Billy Holton, Reel Passion, released a blue marlin.
"It was a nice size fish," mate Ross Thames said.
Finally, around 2 p.m., it was Jr. Davis, from Port Canaveral, Fla., who released a blue marlin from aboard his 61-foot Garlington, Wave Paver.
"We had one bite and caught it and we saw two more, but they didn't bite," said Davis, whose team won the 2013 USVI Open/Atlantic Blue Marlin Tournament and the 2014 four-tournament Bahamas Billfish Championships.
The fishing competition continues daily through Sunday.
IGFA trained observers, all members of the International Game Fish Tournament Observers, ride aboard each boat throughout the tournament to verify the releases.
The public can greet the fleet as the boats come back to the dock around sunset. The number of flags flying on the outriggers indicates how many billfish the boat's anglers caught and released for the day.
The JOBT is an all-release tournament. Proceeds from the event benefit the Boys & Girls Club of the Virgin Islands. Donations are tax deductible.
More information is online at www.vigfc.com,