Virgin Islanders with V.I. government health insurance who have not gotten mandatory health risk assessments by mid-September will face a $20 per paycheck/$500 per year fee, V.I. Division of Personnel Financial Management Supervisor Rochelle Benjamin said during budget hearings Thursday.
The assessment allows for the early identification and treatment of "at risk" participants before their condition becomes chronic or even fatal, Benjamin said. It also helps the government collect actuarial data, she added.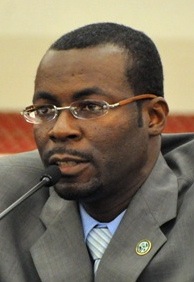 Sen. Clifford Graham, chairman of the Finance Committee, asked if employees were given enough notice to avoid the fee. Division of Personnel Director Kenneth Hermon said employees had been given notice and they were still trying to get the word out and motivate employees to get it done.
Hermon likened the fee to a fine for not wearing a seatbelt, saying he does not want to charge anyone and "would prefer that everyone wear their seatbelt and avoid their $500 fine."
Even though it is mandatory, only 24 percent of plan participants have gotten their assessments.
Sen. Judi Buckley asked what reason employees had for resisting the assessments. Hermon said many did not like to give out information and saw it as an invasion of privacy. "And that is all understandable," he said.
"But we do not get all the personal information from Cigna, just the overall data for who had the biometric readings and that is all," he said.
The division administers the personnel merit system, human resource information system, group insurance benefits for more than 15,000 active and retired government employees, management of employment records and the government's employee development program.
Benjamin presented the Personnel Department's budget request of $3 million. Of this, $2.5 million will come from the General Fund and $443,000 from the Indirect Cost Fund, which consists of federal payments for local government services.
The total budget is $120,000 less than last year, Benjamin said. It marks four consecutive years of similar cuts.
Wages and salaries account for $1.5 million of the General Fund budget request, with benefits eating up another $615,000. A similar portion of the Indirect Cost Fund budget will be allocated to salaries and benefits, according to the figures provided by Benjamin. Utilities are expected to cost $150,000 and "other services and charges" another $235,000.
No votes were taken at the information gathering hearing. All members were present.