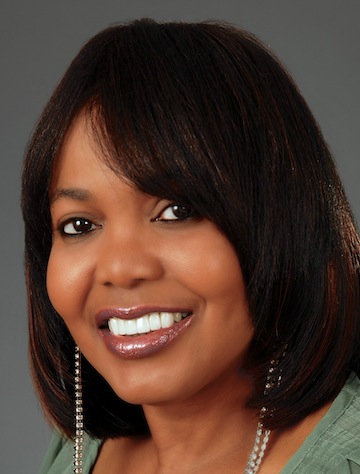 Jewels of the Virgin Isles is a feature series profiling Virgin Islanders in the diaspora who are excelling in their respective fields and/or positively representing the USVI abroad.
"Destiny demands diligence!" This is the credo by which Lorraine "LoLo" Milliner lives. For 21 years she has been the voice that soothes residents of the Baltimore metro area at the end of their days with the "Quiet Fire" on WWIN-FM (Magic 95.9), but her career in radio sprouted its roots in the U.S. Virgin Islands.
Milliner, known to her listening audience and those close to her as "LoLo," has commanded the airwaves for two decades with a youthful energy and bright smile. After graduation from the former Nazareth Bay High School (now Ivanna Eudora Kean High School), Milliner left the Virgin Islands to pursue a career in communications, completing her studies at the University of Illinois, Chicago Circle.
She has always had a love for music and entertainment, and a passion for reaching people through the art of communication. Milliner fondly recalls the day she entered the Communications Department at her university and says she knew right away that she'd found her calling. "I fell in love with communications – directing, producing and acting," she says.
Her entrée to the industry was in television, at the Public Broadcasting System station on St. Thomas, WTJX-TV Channel 12, where Milliner learned the basic techniques of operating a video camera amidst the beautiful backdrop of her island home.
However, she was always drawn to the magnetic pull of radio as she listened to WSTA Radio in St. Thomas. "I remember listening to the radio and telling myself, 'I can do that! I want to do that, so I applied to WSTA and the rest is history. Radio became part of my life,'" she recalls.
More specifically, Milliner marvels at the ability that radio announcers have to use their voices to communicate with listeners around the world. She says she is constantly amazed at the millions of listeners she has amassed in almost 30 years, calling it a "beautiful thing," to have that type of impact.
For Milliner, her progression in the radio business seems to have been divinely guided. Since she first stepped into the studio, she has been fortunate to have mentors to show her the ropes along the way. Though she had not done radio prior to her first job, she found a mentor in Peter Ottley, then the program director of WSTA, and quickly rose through the ranks as a midday announcer and, later, as music director.
With a seemingly natural knack for connecting with the public, Milliner would go on to manage one of the hottest night clubs on St. Thomas (Studio 54) and also try her hand at the marketing and sales end of the radio business to broaden her skill set before taking the plunge into the New York broadcast market.
"New York's WBLS-FM was my first stop," she recalls. "I remember being told, 'You're from where? Ha! You need to go down south and work your way back North,'" which is exactly what she did. Milliner left the Big Apple for Orlando, where she met another professional "guardian angel," Jack the Rapper, followed by Augusta, Ga., and Charleston, S.C.
As she continued to hone her craft, Milliner also realized that she had to streamline her Caribbean accent to meet radio's preference for announcers to have a nondistinct accent that could be easily understood by listeners. Refusing to let anything stand in her way, she was able to step into the mainstream with the mentorship of some of the leading figures in Black Radio, including Ray Boyd at Radio One.
Her big break into a major market came in 1993 when she landed her current position as the preferred nighttime announcer in Baltimore for the station owned by African American broadcast mogul Cathy Hughes, and she hasn't looked back.
"My loving and supportive family has helped to shape who I am today," says Milliner, who hails from a family of entrepreneurs and high achievers that include retailer Leslie Milliner and educator Yvonne Bowsky.
Milliner admits that she is inspired and motivated by the successes of others, including those in her family. However, her ultimate inspiration comes from her faith in God. "I believe the path to my success, and my purpose, have already been prepared for me," she says.
Despite her public persona, it's easy for Milliner to remain grounded when she reflects upon her upbringing in the U.S. Virgin Islands – "a beautiful place where racism was not the norm" and the leadership looked like her.
This love for her birthplace, along with the untimely death of her father, Luther Milliner Sr., from complications due to diabetes, led Milliner and her business partner to give back to the community by launching the Healthy Encores Lifestyle Festival (www.healthyencores.org), a health and entertainment event held during the third weekend of July in St. Thomas, that educates the Virgin Islands community on the impact of diabetes and other health disparities.
"I would like to see improved health care and managed care facilities in the territory," Milliner states. Through this event, I can be a blessing to others by providing information in an atmosphere that encourages visitors from all parts of the United States, as well as the Caribbean, to come to the beautiful U.S. Virgin Islands to enjoy a weekend of activities focusing on health."
There seems to be no stopping this powerhouse from claiming her destiny and she hopes to keep making a difference as long as she can. "It only takes a small group of people to make a big positive change," Milliner concludes, and by the looks of it, she's on the right track.
A Nugget for V.I. Youth: "Nothing just happens! Destiny Demands Diligence! Life experiences filled with twists and turns are a journey with no immediate destination. It's your story! Find your passion, dream big and enjoy the ride!"
Little Known Fact: LoLo enjoys playing the online game Candy Crush.
__
Loán Sewer is a marketing and tourism consultant and proud Virgin Islander who resides in Washington, D.C. She is also a founding member of the USVI Alliance Inc., an organization focused on reconnecting the Virgin Islands diaspora with the local community and host of the USVI Economic Development Summit on the U.S. mainland. Follow her on Twitter @LoTalksTourism or e-mail her at info@Lotalkstourism.com.