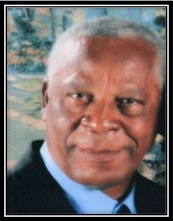 Joseph G. Mathurin, also known as "Gregory" or "Papa," died on July 7. He was 68 years old.
He was preceded in death by his parents: Andrew and Ivinia Mathurin
He is survived by his wife, Philomene T. Mathurin; daughter, Glenda Mathurin-Lee; sons: Imron Mathurin and Alvin Mathurin; stepdaughters: Jerry Delaire and Marilyn Cyprien; son-in-law, Neville S. Lee; daughter-in-law, Rosalina Mathurin; grandchildren: Cherelle Lee and Chyanna Lee; sisters: Shirley Clovis (Calif.), Felicity Julien (St. Croix) and Dolores Daniel (St. Croix); brothers: Albert Mathurin (St. Croix), Multon "Tony" Mathurin (Calif.), Marcellus Mathurin (Texas) and Johnson Mathurin (NJ); and brothers-in-law: George Clovis, Cuthbert Julien and Noel Daniel.
He is also survived by sisters-in-law: Patricia Mathurin, Chee Mathurin, Joan Mathurin and Joslyn Mathurin; nephews: Irving, Trevor, Sean, Andrew, Yonnie, Cameron, Steve and Marcellus Jr.; nieces: Nasha, Tashley, Techerina , Shernell, Cynthia, Christine, Zephline and Sandey; cousins: Elizabeth, Frances, Alphonse, Edmay, Cereta, Peter, Glory, Jean, Bonnie, Eustace, Joseph, Stanley, Hetty and Melvin; close friends: Thomas and Esma Peters, John Sonson, Gavin Simon and Starr St. Jean; as well as many other relatives and friends too numerous to mention.
Special thanks to Dr. Elizabeth Johnson and the Mayo Clinic (Fla.), Dr. Preston Dalglish and staff of Virgin Islands Oncology and Hematology (St. Croix), St. Joseph Catholic Church Shepherds of Christ, The Way Prayer Groups and Father Mark John, John Jehoshaphat and family, Continuum Care and Kathleen Solomon.
A viewing will take place at 9 a.m. followed by a funeral services at 10 a.m. on Thursday, July 17, at St. Ann's Catholic Church. Interment will be at Kingshill Cemetery. Professional Funeral Services are entrusted to James Memorial Funeral Home Inc.