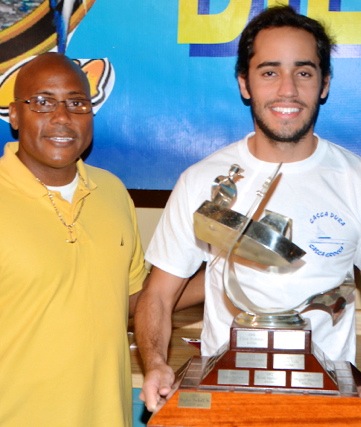 A blue marlin released within minutes of lines-out earned the team aboard Indigo the Top Boat prize in the 51st July Open Billfish Tournament that opened Wednesday and ended Friday with a razor-thin finish.
The Indigo team released three blue and one white marlin in the three days of fishing, according to the Virgin Islands Game Fishing Club, which hosts the tournament.
"That last hour was a real nail-biter," said Indigo's captain, Kevin Haddox.
Indigo, a 61-foot Buddy Davis that is part of the local Ocean Surfari Charter fleet, started the day in the lead. A fish came up on the right-short, then left-long rigger but never bit. Then, a few hours later, a call came over the radio that angler's Gabriel Abud and Oscar Faris aboard Casca Dura, a Brazilian-based 80-foot Merritt, released a double-header white marlin. This jumped Casca Dura into the lead by 300 points.
"We needed a blue marlin and the 500 points for its release to regain the lead. A white marlin wouldn't do, because that would have tied us on points, but Casca Dura would have won because they scored their points first," explained Haddox.
Then with a little more than an hour left in the tournament, Indigo angler Steve Shockley, from Fort Collins, Colo., hooked up a 300- to 400-pound blue on the same Grander Custom Tackle-brand handmade lure he used to catch his first blue of the tournament three days earlier. Twenty minutes later, Shockley released the fish, the second blue marlin of his fishing career, to earn Indigo its Top Boat honors.
"We just tried to pay attention, to figure out where the marlin were biting, and maximize every shot," Haddox said.
Casca Dura finished Second Top Boat, and Abud earned Top Angler and had his name engraved on the Capt. Johnny Harms "Give Him Line" perpetual trophy, by being the angler to first release two blues and a white marlin.
"My fish came up on the right teaser and Oscar's came up on the left long one. It was one right after the other," says Abud, who fished in the July Open Billfish Tournament for the first time. "We both released our fish at about the same time."
Abud's white marlin release, combined with his two blue marlin releases the day before, earned him his trophy.
The team fishing aboard Mixed Bag II, a Luhrs 40 Open Express chartered by captain Robert Richards out of the Westin, St. John, earned Third Best Boat with the cumulative release of two blue and one white marlin caught by James "Mac" MacNeil. Had the Mixed Bag II team not had a blue marlin disqualified on day two, they would have won the tournament based on the time of their releases.
Finally 17-year-old Tristan Lambert of Hillsboro Beach Inlet, Fla., angling aboard his father's 80-foot Merritt, Reel Tight, released two blue marlin on the last day of fishing to land the Top Junior Angler trophy.
"We didn't do anything different today," he said.
Lambert caught and released both his blues on 50-pound test line on stand-up gear rather than sitting in a fighting chair, definitely a talent.
Winners received hand-carved marlin head trophies by famous marine wildlife artist David A. Wirth.
The eight-boat tournament fleet released a total of 16 marlin – 12 blue and 4 white – in the three days of fishing.
IGFA trained observers, all members of the International Game Fish Tournament Observers, rode aboard each boat throughout the tournament to verify the releases.
The tournament was sponsored by Glazer's Premier Distributors LLC and the Virgin Islands Game Fishing Club. Proceeds benefit the Boys & Girls Club of the Virgin Islands. The club, a 501 C (3) organization, enables all young people, especially those most needy, to reach their full potential as productive, caring, responsible citizens.
More information is online at www.vigfc.com.