With prime destination wedding venue Turtle Bay Estate House at the luxurious Caneel Bay Resort as a backdrop, USVI Hotel and Tourism Association President Lisa Hamilton announced that the association will support the proposed V.I. Marriage Equality Bill.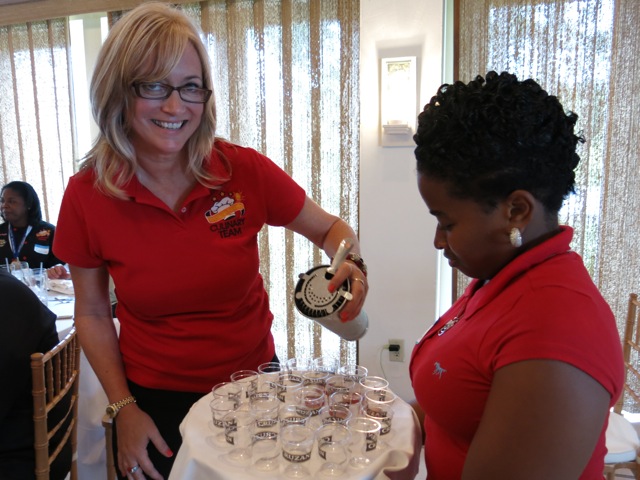 "The Marriage Equality Bill sponsored by Senator Buckley has yet to get into committee and, just today, HTA decided to support this bill for purposes of economic potential," Hamilton said during the group's monthly membership meeting Thursday afternoon. "We are not taking a moral stance as far as this issue is concerned. It makes sense from an economic standpoint and we are supporting it."
The proposed Barker Ban legislation to eliminate barkers from the St. Thomas waterfront — supported by HTA and the St. Thomas/St. John Chamber of Commerce — should be heard before the Committee of the Whole next month, Hamilton told HTA members during Thursday's meeting.
"The Barker Ban bill is almost there," Hamilton said. "It's still in committee right now, but I'm assured that it will come before the Committee of the Whole next month."
With HTA members both for and against a Healthy Workplace Bill, which would have given employees the right to sue employers over treatment by fellow employees, the association decided not to take a stance on the issue, Hamilton explained.
The group was able to remove a proposed bill that would have added a 5 percent consumer tax on alcohol from the Senate agenda before it even reached committee, the HTA President said.
"You already pay gross receipts on the alcohol and they wanted to add on a 5 percent consumer tax on top of that," said Hamilton. "We were able to get that pulled off the agenda before it went to committee."
HTA is also supporting the proposed Plastic Bag Ban, which will end the distribution of free plastic bags in the territory's stores.
Hamilton said, "The Plastic Bag Ban bill was supposed to be heard yesterday but it was canceled due to an emergency session and will be revisited. We support that bill and have submitted our position letter which will be read during testimony."
The Hotel and Tourism Association also recently wrapped up its 21st annual travel symposium, which brought a group of influential travel professionals to the territory for five days of leisure and adventure, Hamilton told members at Thursday's meeting.
"We've been doing this a long time and the past few years we haven't had a lot of new things to show these guys, but this year was different," Hamilton said. "We were able to show them the almost complete infrastructure upgrade at Yacht Haven, the completed renovations here and the in-process renovations at the Westin as well as at Sugar Bay. It was a successful trip and they told me that this was the best one of the all islands."
After wrapping up business for the day, HTA members were treated to a demonstration by USVI Culinary Team bartender Brandon DeCloux. On the heels of taking home title of Best Overall Bartender from the recent Taste of the Caribbean, DeCloux — a part of the gold medal winning USVI Culinary Team — mixed up a few alcoholic and nonalcoholic beverages.
Showcasing his nonalcoholic entry in the competition, DeCloux stirred up a Caribbean take on a classic cream soda, with fresh lime juice, cream of coconut and sparkling water. The bartender at St. Thomas' Sib's on the Mountain also demonstrated his tropical twist on an Old Fashioned using Cruzan Single Barrel Rum and a homemade herbal vermouth with sorrel and cinnamon.
With no ripe soursop on hand to share a taste of his gold medal winning vodka drink, a soursop and cilantro vodka mojito, DeCloux mixed up a few grapefruit and basil versions instead.
This was the first year the UVI Culinary Team won a team gold medal, which Hamilton chalked up to their improved team cohesion and use of local ingredients.