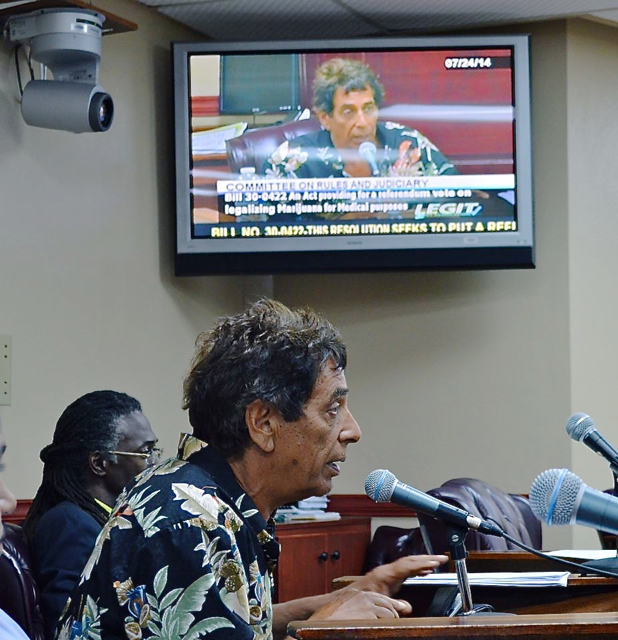 Voters will get a chance to voice their opinion on legalizing and regulating medical marijuana in November if legislation approved without opposition in the Rules and Judiciary Committee becomes law.
The measure, sponsored by Sen. Terrence "Positive" Nelson, would place a single yes-or-no question on the November general election ballot: "Should the Legislature enact legislation that allows for the licensing and regulation of medicinal marijuana patients, care-givers, cultivators and distribution centers?"
The bill also says the Legislature is not required to take action unless a majority of those casting ballots in November choose to vote on the referendum, and a majority of those who do cast a vote, vote in favor.
Thursday's vote marks the first V.I. Legislature action in support of reforming marijuana laws to make them less strict. A bill from Nelson to lessen penalties and decriminalize marijuana, while leaving it illegal, was held in committee in October 2013 for amendment, at Nelson's request. (See Related Links below) Nelson has also proposed a referendum on legalizing marijuana [Bill 30-0342] As written, that bill would have a referendum that asked voters not if they wanted marijuana legal for recreational use, but if they want to promote it as an industry for the territory.
An array of testifiers spoke in favor of the legislation, including local doctors, chiropractors, individuals with multiple sclerosis who depend on marijuana for relief, and one legal marijuana entrepreneur. None of the long list of testifiers opposed the bill for a referendum and many urged full legalization and commercial exploitation of marijuana.
Dr. Cora Christian, a well-known St. Croix physician, cited extensive clinical data that marijuana relieves nausea.
"In 1975 almost 40 years ago, the New England Journal of Medicine published the results of a double blind study on the effects of oral (use) on nausea and vomiting" According to the study "no patients vomited while experiencing a subjective "high"," Christian said. In 1999, a report by the Institutes of Medicine concluded smoking marijuana "would be advantageous for treating chemotherapy induced nausea," because it cannot be vomited up like a pill, she said.
She also pointed to a growing volume of scientific literature and anecdotal accounts suggesting marijuana components may be useful in treating an array of cancers.
University of the Virgin Islands Provost Camille McKayle said "in principle, UVI supports the use of medical marijuana for defined conditions." But she said medical marijuana would require extensive regulation.
UVI naturalist and ecologist Olasee Davis was one of a number of testifiers who told personal, heart-wrenching stories of family members and children suffering with chronic illnesses that may be relieved by marijuana.
"I personally want to see it prescribed by a doctor," Davis said, saying he did not think the territory was "ready for" full legalization. But Davis urged the Legislature to "let the people decide if they want marijuana legalized."
Bureau of Economic Research Director Wharton Berger neither supported nor opposed the bill and testified that more information would be needed to do an economic analysis of the impact of medicinal marijuana or legalization. Berger suggested, however, that a massive, worldwide increase in marijuana use could hurt the territory's rum revenues because marijuana use is associated with decreased alcohol drinking.
"One recent survey concluded a strong correlation exists between increased marijuana use and less alcohol consumption for people ages 18 to 29. As a result, as more jurisdictions legalize marijuana and as consumption may undoubtedly increase, the consumption of alcohol is predicted to decrease, directly impacting the manufacturing sector and general fund revenues as it relates to rum production in the territory," Berger said.
As only an extremely small percentage of rum produced in the territory is consumed in the territory, local laws would not impact local rum revenues.
Steve Kubby, founder of Cannabis Sativa Inc., a publicly traded, Nevada-based medical marijuana breeding company, said medical marijuana in the Virgin Islands would help fill hotel rooms with patients seeking it.
"Someone in the Caribbean is going to take the lead," Kubby said. "Right now in Jamaica it is illegal, a 10-day jail sentence. But they made a decision to set aside 10 percent of the land and that 10 percent is generating 90 percent of their revenue now," he said.
If people could come to the territory for medical marijuana, "there will never be enough hotel beds to accommodate them," he said.
Senators were broadly supportive of the bill and of the underlying issue of medical marijuana too.
Sen. Donald Cole said a referendum on medicinal marijuana would be a "watershed moment."
"Dispelling ignorance is one of the hardest things a community faces. … If this goes on the ballot in November we have three months to educate the voters as to the medicinal value of this plant. That is the battle we have to fight in order for this to be successful," Cole said.
Sen. Tregenza Roach said should the territory enact laws to allow legal cultivation for study, "we should let it be grown here for the purpose," rather than bringing it in.
"It is long overdue in the community," said Sen. Myron Jackson.
Sen. Sammuel Sanes said some have argued that if medicinal marijuana is legalized, some will abuse the system.
"Let me dispel that notion right now," he said, arguing that this is true of many, more dangerous prescriptions. "The fact is right now there are many prescriptions being abused, so if you say one, you have to say two," he said.
"I am in support of decriminalization," said Sen. Kenneth Gittens. "I am not certain where I stand on medicinal use but I will be guided by medical professionals on this issue," he said. Gittens said he was concerned the territory was not prepared to regulate medicinal marijuana. He also said he wanted to hear from the Police Department and Health Department on the issue.
Gittens, Sanes and Cole all emphasized the legislation before them was only for a referendum.
Voting yea on the bill were: Jackson, Gittens, Cole, Sanes and Sen. Diane Capehart. Sens. Shawn-Michael Malone and Janette Millin Young were absent. Sanes said the bill would be placed on the agenda for legislative session scheduled July 28.