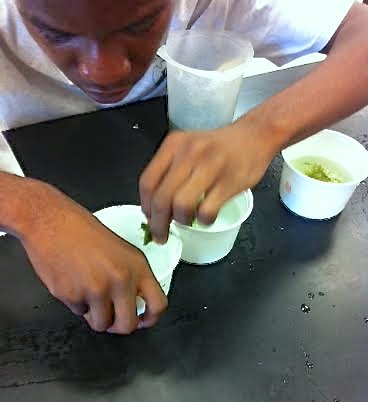 Perhaps it wasn't a burning question keeping them up at night, but eight high school students did their tiny part last week toward resolving a current scientific debate.
University of the Virgin Islands graduate student Ariel Hawkins guided the teens through an experiment at the Marine Science Center on the St. Thomas campus, testing her theory that sea slugs (Nudibranch) will eat just about any kind of algae.
First, they had to collect the algae. They needed a supply of Bryopsis, which some scientists claim is all the sea slugs want, and of Calurpa, which some other researchers believe looks just as good to a hungry Nudibranch. Then they needed a third, which turned out to be Kleptomorpholiun, so they had an alternative to the already established favorites.
Materials were readily available. All the students had to do was step outside the lab area to the shore and wade ankle deep in the water to collect the algae. Hawkins provided the sea slugs.
Back inside and working in pairs, students put a small amount of each type of alga into plastic cups of seawater, being careful to keep the amounts roughly equal in size. Then Hawkins slid a sea slug into each of the prepared environments.
Hawkins set a timer for 10 minutes and told the students to observe their subjects and to be careful not to move the cups, so the sea slugs would feel comfortable and could concentrate on feeding.
"We want to see what their preferred food is in their natural state of happy slug life," Hawkins said, adding that they can go months without food, "but they will never stop searching for it."
The experiment was just one of a number of activities the students experienced as part of Coral Reef Discovery Week.
Following their encounter with the sea slugs, they observed a spawning experiment with sea urchins.
Earlier in the day, they listened intently to a presentation by Shane Ramsey describing his work collecting and sorting data from several land-based weather stations and weather buoys in the Virgin Islands area. The stations are all relatively new, having been activated within the last five to six years, and they supply data to the National Weather Service.
There was also an introduction to Geographic Information Systems by Dr. Avram Primack; lionfish dissection with Dr. Richard Nemeth; sea turtle identification and biology and then a turtle assessment swim with Sam Mitchell; marine fish and coral identification with Elizabeth Kadison; invertebrate identification with Dr. Tyler Smith, and a few things just for fun – such as snorkeling at Flat Cay and a pizza party at Coral World.
UVI has been hosting the program for five years and for the past three professor Marilyn Brandt has been directing it, with substantial help from two other staff and guest lectures by a number of faculty.
"We've incorporated more science into it," she said. "We want to show (the high school students) what a marine scientist does."
The program is funded primarily by a national grant coming through the Virgin Islands Marine Advisory Service, but this year, Brandt said, the Community Foundation of the Virgin Islands also offered some support. It's free to participants.
Students must apply to participate.
"They have to be able to swim because we do a lot of in-water activities," Brandt said. The other main criterion is their interest. They had to submit an essay describing their interest in marine science and saying why they want to be in the program. Applications were assessed by a group of UVI faculty and staff who chose the participants. Because space is limited, only a few could be chosen.
Jonisha Aubain, a student at Charlotte Amalie High School, said her mother learned of the program by searching the UVI website. Her schoolmate, Jendahye Antoine, said "I've been going to marine camps for a long time." She started out about age 10 at the VIERS (Friends of the National Park ) eco-camp on St. John.
This year, most of the students happened to come from Charlotte Amalie High School, with one from Ivanna Eudora Kean and one from Antilles. Their ages ranged from 15 to 17 years old. But each year has been different.
"We try to get a mix of students from different schools and also of different ages," Brandt said.
So, what happened with the sea slugs?
Out of 40, 17 preferred Bryopsis, 11 liked Calurpa and 11 liked Kleptomorpholiun. And one guy apparently wasn't hungry.
"Zeroes are still important," Hawkins told the amateur researchers.
By itself, the afternoon's experiment is hardly likely to make it into a textbook. But Hawkins explained that she had the high school students follow the same protocol that a cadre of research students followed daily this summer as they helped Hawkins collect data for her thesis. So the high school students' results will be added in with the master study.