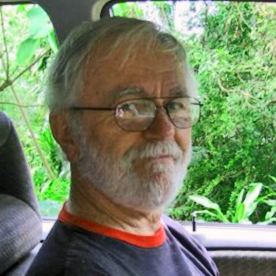 Harold "Sam" O'Meara died peacefully at his Caret Bay home Aug. 1.
O'Meara was born in Hartford, Conn. on Feb. 5, 1939. He was raised by his loving aunt, Margaret White.
An avid adventurer and traveler, O'Meara owned a bar in Torremolinos, Spain, ran the bulls at Pamplona, sailed the Caribbean and landed on St. Thomas in the late 60s, which he happily and quickly made his permanent home.
O'Meara in his 50 or so years on the island was a welcoming and gentle presence, soft spoken, quick to laugh, always with time for a good story, while his walrus moustache turned grayer, marking the years.
In 1970, he and Danny Linkey opened one of the premier watering holes of the 70s, the "Sandbox" bar on Back Street, where the establishment's Hobbit parties soon became famous, or infamous. Later, O'Meara partnered with Trent Lawrence at the bar.
O'Meara moved from St. Thomas to Hassel Island in 1974 where Lawrence and his wife Barbara lived on a houseboat, and where he met his future wife, Betsy Woodward, and the four formed a lasting friendship.
The O'Meara's son, Timothy, the joy of O'Meara's life, was born in 1983. Hurricane Hugo in 1989 sent the family back to St. Thomas, where O'Meara, a carpenter and landscaper, built their home on a Caret Bay hillside.
O'Meara is survived by his wife, Betsy O'Meara; son, Timothy O'Meara; cousins: Sally and Beth Howley of Connecticut; sister-in-law, Jean Woodward; brothers-in-law: Larry Flint of Cambridge, Mass. and Ralph Knapp of Martha's Vineyard, Mass; and special nephews: Josh Linkey, Devon Toulin and Justin Johnson.
He is also survived by friends: Barbara and Trent Lawrence, J. R. Coleman, Becky and Ted Luscz, Patrick Cuyler, Molly Morris, Jodi and Chris Rice, Joe Toulis and Bill Kenny.
The family extends special thanks to Continuum Care Hospice, Dr. Erole Hobdy, Nurse Clark, Dr. Scott Hartshorn and the Community Foundation of the V.I.
A celebration of O'Meara's life will be held from 4-6 p.m., Sunday, Aug. 10, at Hook, Line and Sinker in Frenchtown. Guests are asked to bring a dish to share.