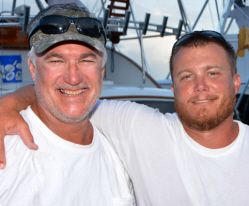 The number 13 proved lucky for the anglers and crew aboard Reel Affair. That was the number of blue marlin caught and released over four days of fishing that earned owner/angler Carlos Ramirez and his team the Top Boat title in the 42nd USVI Open/Atlantic Blue Marlin Tournament.
"We were focused on winning the tournament right from the start," said Reel Affair angler Wilson Colberg, who released two of the team's blues.
Reel Affair, a 56-foot Viking based in San Juan, Puerto Rico, started strong on Thursday when angler Michael Laporte caught the first blue marlin of the tournament. The team released three more for four fish total on day one. This landed them a second place on the scoreboard right behind the Miami, Florida-based team on Jichi, 68-foot Paul Mann, which released seven blue marlin that day.
On Day 2, Jichi went fishless yet held the lead with seven fish while Reel Affair's anglers kept the pressure on by releasing two more blues, for six total. Meanwhile, Jr. Davis' and his team from Port Canaveral, Fla., on Wave Paver, jumped into third with three releases or four overall.
Reel Affair took over the lead from Jichi by noon on Day 3 and one upped its main competitor by releasing a last minute fourth blue marlin for the day to score 10 blues total. The Jichi team rebounded with the release of two blue marlin for nine total and a second place. The 61-foot Garlington Wave Paver kept up its pursuit with another two blues for six overall and a firm footing on third place.
Monday, the tournament's final day, Reel Affair's Colberg kicked off a successful home stretch by releasing a blue marlin one minute before Jichi's anglers. Two more releases by Reel Affair, the last in the final 30 minutes of the tournament, secured the Puerto Rican team's win with 13 blue marlin. Jichi finished second with 11, and Wave Paver was third with 10 releases.
The Top Local Boat title went to Mixed Bag, Capt. Rob Richard's Luhrs 40 Open Express, with five blue marlin.
In angler awards, Wave Paver's Steve Davis earned the $10,000 top prize by catching five blue marlin.
"I was unable to make the tournament last year, this year was such a cool experience," said Davis, whose father Jr. Davis finished second by scoring his fifth blue marlin release right after his son.
"Stay focused, not miss a bite and work as a team. That was the plan today and it worked, but I was on the seat of my chair all afternoon listening to see if another angler would catch their sixth marlin and take the lead away from me."
The Top Female Angler prize went to Ft. Lauderdale's Jody Lewis, who fished aboard Freebie, the Viking 64 she and her husband Steve own.
"I caught what I saw," said Lewis, who won her first title after fishing the ABMT many times.
Rounding out the awards was Top Junior, won by 17-year-old Tristan Lambert, of Hillsboro Inlet, Fla., with the release of two blue marlin aboard his family's 80-foot Merritt, Reel Tight.
A total of 99 blue marlin were released by the 22 boat fleet in 4 days of fishing.
Started by Chuck Senf back in 1972, the ABMT has evolved into one of the most competitive saltwater sports fishing events in the world, according to tournament organizers. The ABMT is fished under International Game Fishing Association rules and is overseen by a board of captains and other qualified observers.
The tournament benefits the U.S. Virgin Islands Field Service Area, part of the National Capital Area Council of the Boy Scouts of America and helps to fund the Marine Vocational Program, which is operated and funded under the BSA by the organizers of the ABMT. The MVP program teaches local scouts to swim, scuba dive, sail and more in an effort to interest them to pursue a career in the marine industry.
More information is available by calling 1-340-775-9500 or 1-888-234-7484, or by sending email to loveto@islands.vi. Those interested can follow tournament news on Facebook: www.abmt.vi