The Virgin Islands Track and Field Federation (VITFF) has announced that three V.I. National Track and Field Team members continued to represent the territory well in international track and field championships competition for the second week in a row and made V.I. history in doing so. Allison Peter, Eddie Lovett and Leslie Murray took advantage of last-minute schedule changes and flew (Peters and Lovett) directly to Mexico from Canada, where last weekend they won medals in the NACAC (North America, Central America and Caribbean Athletics Association) Under 23 Championships and won two additional medals in the first Pan American Sports Festival held in Mexico City.
Allison Peter won the silver medal in the 200m; Angela Tenorio of Ecuador finished first in 22.82; Audra Segree of Jamaica finished third in 23.15
Lovett won the bronze medal by taking third place in the 110m hurdles with a time of 13.62 behind Ryan Brathwaite of Barbados 13.43, who finished first and Deuce Carter of Jamaica 13.52, who finished second.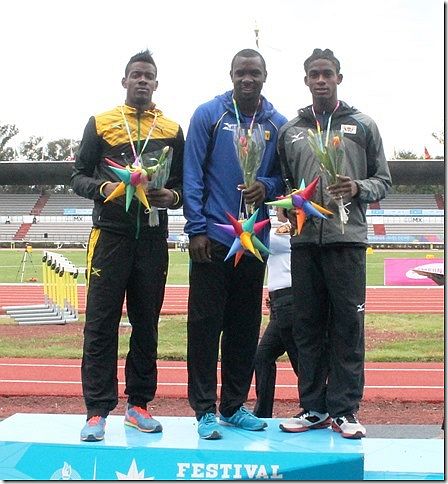 Murray, the bronze medal winner in the 400m hurdles in the IAAF World Junior Championships held in Canada in 2010, had a strong performance in only his second outing in the event this season, taking fifth place with a time of 51.12 in the 400m hurdles. Jeffrey Gibson of the Bahamas was first in 49.04; Joseph Robertson of Jamaica was second in 49.04; Andres Silva of Uruguay was third in 49.08 and Isa Phillips of Jamaica was fourth in 50.43.
NOTES:
1] The athletes faced adverse condition in Mexico City at the first Pan Sports Festival, which invited countries that will also be invited to compete in next year's Pan American Games to be held in Canada. In addition to the high altitude of Mexico City, which in most cases requires acclimatization, varying shifts in the climate also impacted the competition. On one occasion mothball-size hail fell.
2] The VITFF continued up to competition day to gain clarity to the entry standards for the competition with hopes of entering more V.I. National Track and Field Team members who had excellent chances to win medals and/or make it to the finals. As it was, some countries were able to enter larger numbers of athletes which was to their advantage.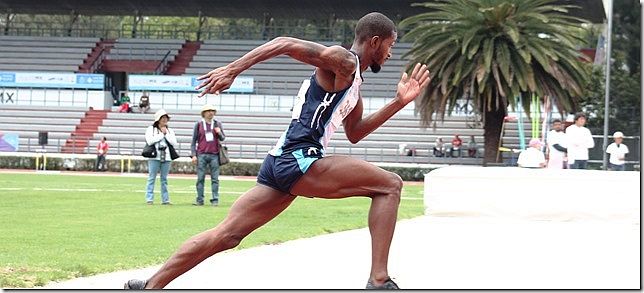 3] The Pan Am Sports Festival is the last regional championship before the CAC (Central America and Caribbean Games), which will be held in November in Veracruz, Mexico. These games present major challenges for the athletes because they are out of the track and field season that ends in August. This means that, except in the southern hemisphere, there are no competitions for athletes to enter, not to mention it's winter in the northern hemisphere, which limits training to indoors.
4] Funding for the Pan Am Festival is provided by the PASO (The Pan American Sports Organization), through the V.I. Olympic Committee and the VITFF. Mireille Smith was the team leader/national coach for the V.I. Pan Am Sports Festival National team.
For information, contact VITFF: ISV@mf.iaaf.org or call: 643-2557 or logon to: http://virginislandstrackandfield.org