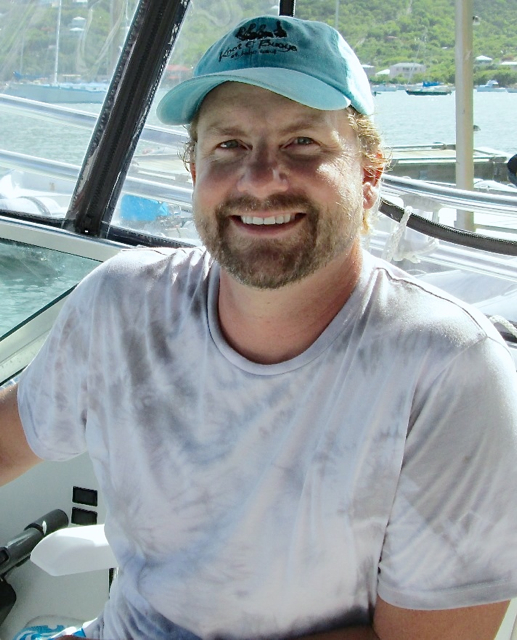 At the helm of Knot E Buoys, Capt. Jason Hayman takes vacationers to out-of-the-way bays and beaches. The 26-foot Glacier Bay catamaran carries as many as six passengers.
"It's a comfortable boat. It sits a little lower than most powerboats and cuts through the waves rather than bouncing off the top," he said, relaxing in his boat, tied up at the Coral Bay dinghy dock.
Hayman usually picks up passengers in Coral Bay but does collect them up in Cruz Bay when it's more convenient for them.
The weather is always a challenge in the boating business, and he said he sometimes has to tell customers it just isn't a good day to go to the Baths in Virgin Gorda or some other spot they had their hearts set on.
He prides himself on the personal attention he gives to guests. He said he recently had a man on board that was fearful of the water. He said he was clinging to the ladder, afraid to make the move into the ocean, so he helped him into the water and held his hand while the guest experienced 45 minutes of snorkeling. He said the man and his family were so pleased, they booked again for the next day.
"My goal is for them to say it's the best day of their vacation," he said, referring to all his guests.
Hayman, 42, got into the day charter business a couple of years ago after two herniated disks in his back put an end to his construction work.
He and his wife of four years, yoga instructor Nancy Stromp, moved to St. John after years of vacationing on the island. They made the move in 2010.
"We always came to Coral Bay. We loved the laid-backness," he said.
He said the couple enjoyed how accepting the community members were, always inviting them into their lives.
Hayman and Stromp bought a fixer upper house at Friis Bay, turning part of it into Pelican Beach vacation villa. They live upstairs.
When Hayman isn't out on the water with guests, he said he works on the house, serves as secretary at the Coral Bay Community Council, and studies to get his dive master certification.
"And I'm trying to learn Spanish and Italian," he said, with an eye toward a planned trip to Italy in a couple of years.
He takes care of all the maintenance on his boat as well as another. He said being able to make his own repairs is the secret a successful business because St. John doesn't have an array of marine mechanics.
He said he also learned to stock up on items he needs for the boat, for repairs and for St. John life, because getting items often requires a trip to St. Thomas.
"Prepare for the unexpected," he advised.
Like many transplants to St. John from the mainland, Hayman made a lot of stops along the way. Born in Anaheim, Calif., he moved with his family to Kingman, Ariz., while he was still in elementary school. After graduating from high school, he got a degree in electronics from DeVry University.
A job with Lam Research as a field service engineer took him to Eugene, Ore., Italy and France. He got laid off from that job while making a move across the country. He landed in New Jersey because he had a friend there, and eventually met Stromp.
While living in Little Silver, N.J., he served as a volunteer fireman and ran his own construction company.
He said he plans to stay put in St. John for the time being.
"It's a perfect fit for us," he said.
Hayman can be reached at 1-340-642-1001 or 1-340-775-0533. His email address is knotebuoys@gmail.com, and the website is at www.knotebuoys.com.