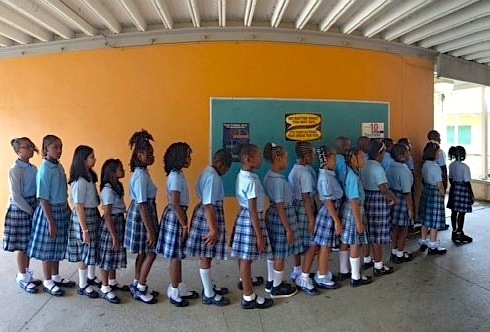 With professional development workshops for teachers and principals taking up several days last week, most schools focused Tuesday on finishing student orientation sessions for the new school year but, overall, many said that the first day back went "smoothly."
At Ivanna Eudora Kean High, Principal Sharon McCollum said Tuesday was freshman day on the East End campus, with ninth-graders coming in, getting their schedules, meeting their teachers and going over their classes. Like in most local high schools, freshmen are broken up into teams with approximately 100 students each, and students were also given the chance to meet and interact with their team leaders.
"This is a new thing we tried and it worked out so well," McCollum said. "This is a transition year for freshmen, who are coming over from middle school, and they were much less distracted without the other students around. It was great for us to be able to give them that special time getting to know the campus and their teachers."
Kean's freshman also got to meet for a half hour of each class in the afternoon and McCollum said the other students will be coming in over the next couple of days. Kean is using Nelson Mandela's famous quote, "Education is the most powerful weapon which you can use to change the world," as its theme this year, and will be empowering students to put their best feet forward in the classroom, McCollum added.
Over at Charlotte Amalie High School, new acting Principal Stephan Jurgen spent the morning in orientation assemblies that were meant to encourage students and parents to "really focus on taking high school seriously."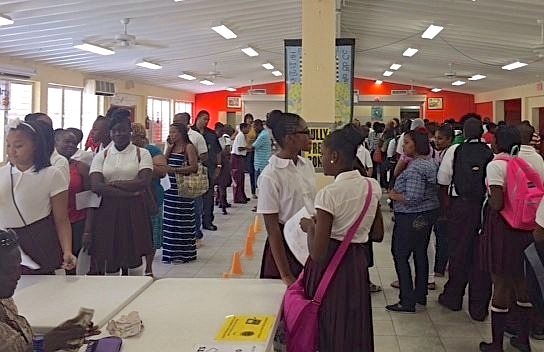 "Our theme this year is 'calling them higher,' and I explained to parents that it is important for them to encourage their children to do better than they did, and for students, I really wanted them to know why it is important to take this time in high school seriously. The message was well received," Jurgen said. Carmen Howell, the outgoing principal, was also on hand to give her official goodbyes to the students and to welcome Jurgen as her successor.
Jurgen, who was previously CAHS' ninth-grade assistant principal, said that the school's freshmen were in class Tuesday, while sophomores and juniors attended orientation. Seniors begin Wednesday, he added.
"Like all the other schools, we continue to be focused on implementing the Common Core State Standards, and we took a lot from the professional development workshops we just had, which focused on teaching strategies for the classrooms," Jurgen said. "Last year, we began the work by unwrapping the standards to students and parents and, this year, we wanted to focus on creating more learning opportunities, including giving them a chance to be more engaged in class, to speak more, to enhance their writing and improve their communications."
In 2010, the V.I. Education Department joined 48 other states and territories in adopting the Common Core Standards, which is geared toward making each student "college and career ready" upon graduation. New standards have already been adopted in English language arts and math, and Education will also be rolling out in the spring a new online assessment – designed to replace the old Territorial Assessment of Learning (VITAL) exam – that is aligned to what students are learning in the classrooms.
"One of the most important things about the Common Core is making sure the students use as much technology in the classrooms as they can," said Tejah Daley, Addelita Cancryn Junior High's seventh-grade English teacher. "So this year, I really want to embrace technology in the classroom and I have spent the summer preparing the classroom so that they have the resources they need, but also making sure that their learning environment is welcoming, warm and bright."
"The way you start off the year, I believe," said Daley on Tuesday, "is the way you end it, and I'm looking forward to working with them on all of the new, different programs we have."
On the north side of the island, Ulla Muller Elementary was one of the few schools Tuesday that had all students in class for a full day of instruction. Principal Symra Dee Brown said her staff worked hard over the summer to structure orientation sessions so that classroom time was not compromised and, other than a 45-minute session for kindergartners and their parents Tuesday morning, all students were able to start their lessons on time.
"It was a perfect day," Brown said afterward. "Everything went smoothly and we are so excited to be there with the students, who were ready and excited to learn."
St. Thomas-St. John Superintendent Jeanette Smith-Barry said she expects all district schools to be operating fully by Wednesday.
"We just want to make sure our parents know that our students need to be in school and we expect them all to be there on Wednesday," Smith-Barry said. "School has begun, orientation sessions are over and it is time for them to be back in their classrooms, starting with instruction."